Article by Paul Beasley Sunday, October 13th, 2019
DONCASTER ROVERS AT HOME
But First …..
England 5 Scotland 1 – Home International Championships. 24/05/1975
This was a very long time ago but it was one of those football experiences I won't forget. I'm pretty sure it was when the second goal went in – a Kevin Beattie header – when I started jumping up and down hugging a fellow England fan close by. In these very different times, as a home fan at the old Wembley in this competition that at the time meant a lot, we were out-numbered by our visitors from across the border. It's just the way it was but they weren't particularly friendly and going two down in a matter of minutes had made them even less so. A spirit glass was hurled at us and shattered on the railings close by. From then on I didn't celebrate goals three, four and five in such an exuberant manner and sensibly the other England fans in our pen acted in the same way.
I'd got my ticket for the match from Oxford United as was the way then. A number of other Oxford/England fans had obviously done the same. The person I embraced that day was Andy James. I knew his face from the Supporters Club but probably hadn't spoken to him up to that point. This was the first time I got chatting to him.
Over the years, no decades, he became as much part and parcel of the experience of watching Oxford United as any XI young men representing our club at any point in time. He was always there. Everyone knew him. If not his name, then his nickname – WOMBLE. (Who actually came up with that and when?). "Shut up Womble" from the away terraces and seats will have informed them.
He was very much a football person going years and years without missing an Oxford game. I think it was a broken down car on the way to Burton that finished a massively long unbroken run. He used to travel all over watching England away and if Oxford weren't playing he'd be off to a match somewhere else. I'd guess there may have been times when he got to about a 100 a season.
It wasn't just spectating either. For many years he refereed on a Sunday morning. It was his life.
A true gent who I never once heard swear or utter a bad word about anyone.
Although we knew it was coming, when I heard of his passing I'm not ashamed to admit I had tears in my eyes. He'd battled his illness for a couple of years and kept coming to football as long as his body would allow.
It goes without saying that he'll be missed, he really will be.
I suppose it is quite fitting in a way that the day he left us his football team did what they did.
Here's to Andy "Womble" James. Time to raise a glass/bottle of Newcastle Brown to him over the months and years ahead.
R.I.P mate.
Our Opponents
Donny have experienced life in tiers two, three and four of English football within the last six years and I would guess their natural home is currently roughly top third of L1 with the possible occasional crack at trying to survive at the level above. Of course their fans will obviously know better than I where they're actually at.
Like us it must be remembered that they had to suffer a number of years outside the Football League. Five in fact.
They won the Conference Play-Off final in 2003 under David Penney with a sudden death "golden goal". Then in 2003/04 were Division Three (League Two) Champions.
In 2007/08 they beat Leeds in the L1 play-off final to gain promotion to the Championship where they remained for four years. In the first two seasons they achieved comfortable mid table finishes but in 2010/11 they only finished one place above the relegation slots. That set the scene for the following campaign when they finished bottom. They didn't hang around in L1 though going straight back up as champions only to come straight back down. In 2013/14 they finished 13th but the following season could only manage 21st and fell into L2. One season was enough for them. They finished third and back up they went. In 2017/18 their points total was 56, the same as ours, but they had a better goal difference to end up 15th. Last season they lost in the play-off semis on penalties.
In the current standings they sit a place behind us with the same number of points but have played two games fewer.
For me two players spring immediately to mind when Doncaster Rovers are mentioned, John Marquis and Jamie Coppinger. The former moved on to Portsmouth for one of those "undisclosed" fees in the summer. When I looked up his record I was surprised to learn that he had only been at Doncaster for three seasons. In that time his goal scoring record was a highly impressive 61 in 134 league starts (he never came on as sub). His departure is bound to leave a void in the ranks of the Yorkshire outfit.
On the other hand Coppinger has been with Doncaster for almost ever. He joined on a free in the summer of 2004 from Exeter, for whom he clocked up 71 starts and 13 goals, and has since started over 500 league games for his current club and has also come off the bench 60 times. He's netted in the league 63 times for them and still appears to be going strong even though he'll be 39 years old in January. He is indeed a very rare sort.
This season their average home gate is 8,732 which is nearly 2,000 better than our 6,799 which quite frankly I find very disappointing.
To understand the finances of the football club it is not the accounts of Doncaster Rovers Football Club Ltd that need to be scrutinised but those of Doncaster Rovers (Limited). The last published accounts are for 2017/18. They lost over £2.5m and have total losses of £31 million which are basically financed by £26 million of shares and £5 million of interest free loans from the owners.
Oxford United 3 Doncaster Rovers 0
In Karl Robinson's post-match interview he confessed to not seeing this result coming given what a good footballing team Doncaster are considered to be.
I too was surprised by this score line. For me the massive feel good buzz generated by the Lincoln, West Ham and Gillingham performances had largely dissipated. Perhaps I'm a SAD sufferer and the grey autumnal skies are taking effect, but failing to win at Accrington and not playing well against Pompey in the Leasing.com Trophy where on each occasion our keeper was dodgy to varying degrees, played quite heavily on my mind. As did the mounting injury crisis. We've now got some real talent out for lengthy periods.
Then on the day of the game we lost Matty Taylor and heard that there's illness and sickness in the camp.
So to secure our third successive three – nil home victory in these circumstances strongly suggests that we're now the real deal. When we looked disjointed earlier in the season I said we'd got some very good players but not a good team. We now have a good team too, a very good one on recent showings. Or more to the point, a very good squad.
The first half was a very even, entertaining watch with neither of two passing teams able to dominate the other. Patience was the name of the game. The visitors had only let in ten in ten so in theory it wasn't going to be easy to breach their defence. With a whole half and some to go it wasn't time to panic and get the ball forward too quickly if there was nothing on only to lose possession.  Chances were thus very much at a premium in the first quarter of this contest. James Henry did put one low shot just wide following strong work by Josh Ruffels.
Mid way through the first 45 minutes it appeared that the injury hoodoo was going to continue to have its wicked way with us. When Mark Sykes went down the immediate raising of his arm was done in such a way that said it's a bad one. Amy Cranston (another suffering from illness) was in attendance for a few minutes and Shandon Baptiste was stripped and readied to join the action. It looked like a stretcher would be required. Then miraculously Sykes limped to the touch line before gingerly re-joining the action. The problem, whatever it had been, was soon run off. Phew!
Photo, Simon Jaggs
Next to go down was Simon Eastwood, stood on by an isolated Donny attacker, as he tidied up. Referee Seb Stockbridge lacked awareness and was too far away to have spotted this anyway. I feared our stopper had suffered a twisted ankle but once more he was put back together.
In the 33rd minute we came the closest yet to opening the scoring. A low Sykes cross from the right found its way to Tariqe Fosu on the left. After the slightest of mis-controls he brought the ball back onto his right foot and from an angle bent it onto the far post and out for a goal kick.
Doncaster weren't without chances too. They had a couple of efforts which went very close and the same could be said in the second half too. In total they had seven shots but tellingly not one was on target. We had 20 and nine of these were on target. That's a big difference.
Before the interval down went Sykes again and up went his arm just like the first time. It must just be a natural reaction. This time his head needed bandaging but once more all turned out to be well.
With so many stoppages Stockbridge correctly added six minutes and it was during this period that we took the lead. It was simple but effective play with straightforward passing. There was no need for anything complex. Ruffels to Cameron Brannagan. Then Brannagan to James Henry who was far from being tightly marked. His second touch was a screamer from well outside the box. Being honest I was just a little disappointed to discover on listening to his post-match comments on Radio Oxford and watching replays that it took a deflection. Even if the ball was encouraged on its way with a bit of upward elevation off the defender it surely had enough venom to go in anyway. Still a great goal.
Two minutes after the re-start we'd largely made the game ours. With the visitors' defence being bunched on their right, possibly trying to crowd him out, Fosu was able to get the ball to Sykes who'd come in from a bit wider out on the other side. Chris Cadden overlapped with top sprinter speed but Sykes opted to hit one. A defender blocked it but CC put the brakes on and side footed into the area for Brannagan in similar style to place the ball beyond Timothy Dieng in the Doncaster goal.
As well and sensibly as we'd performed in the first period we now got even better from an attacking perspective and were very pleasing on the eye.
Not that long after this the game should have been properly put to bed. Cadden, who had moved inside, slipped a pass through to Henry who began to look like the dribbler that Fosu is. This though stopped when Fosu took over. On this form he has a magnetic quality. Half the Rovers side were automatically forced towards him as if it was the most natural reaction in the world. This meant Sykes was in the amount of space forwards dream of. Fosu laid it on for him with perfection. It could possibly have been hammered home first time but the best chance of converting was to control with the first touch and shoot with the second. The problem here was that the first touch was poor and as Dieng came out and a defender rushed across with the reduced angle the shot only found the side netting.
With the result ending up as it did and the overall display being superb, any criticism will no doubt, and possibly quite rightly, be looked on by some as being churlish in the extreme. Of course all players will make mistakes and they don't do these things deliberately but on another day those tiny margins can cost a team.
As ever at 2-0 we're thinking next goal, if there is one, is so important. At 2-1 they'd be right back in it.  And I thought there was a five to ten minute spell when our standards and concentration dropped. With our foot off the gas Doncaster had more of the midfield. For the vast majority of the 90 plus minutes Fosu merited a mark close to 10 out of 10 but during this period I thought he got sloppy, not releasing the ball for a simple pass and getting caught a couple of times. Once on the edge of our box he tried to bring the ball down under heavy pressure when it might have been possible just to whack it away somewhere. From this Doncaster had a shot that didn't go that far wide.
But we survived and for that John Mousinho has to be saluted for a block that had "we will not be breached" written all over it.
Then we got back to what we had been doing earlier and that brought a third goal with 12 minutes of regulation time remaining. With movement and vitality restored the red and white hooped shirts were finding it increasingly difficult to stop us playing. An angled Henry pass was helped on its way by a sliding Jamie Mackie into the path of Shandon Baptiste. He gave it to Fosu then got it back and his cross struck Tom Anderson's arm. Harsh, but under the current laws of the game a penalty which was struck home by Henry despite Dieng going the right way.
This was our fifth clean sheet in six league games but we're still only 15th best defensively over the season as a whole conceding on average 1.3 goals per match because of the leakages against Burton, Bristol Rovers and Coventry. We're now so much more water-tight.
Eastwood looked sharp. Although he didn't have a shot to stop, he was quick to do whatever was required of him and looked well placed if required to keep out most of the efforts Doncaster sent close to his goal. Mous read the game perfectly and must now be playing his best football in a yellow shirt. Alongside him Rob Dickie was a giant and I'd argue an unsung hero. He continues to improve, winning just about everything in the air and getting the ball away from the danger area. Bringing the ball out from the back is clearly something he can do too and playing it patiently across to his partner when needed is all very much part of his game. There was a time when this gave me the jitters but they're so good at this now that I should learn to sit back and enjoy. What I also had to applaud as much as the silky side to our game was the two times when he just put his foot through the ball sending it skywards and some or into the back row of the stand. That was what was needed, that was what he did.
The full backs were involved from start to finish. Long gone are the days when players occupying these positions once they'd done their defending could have a rest just inside their own half as the midfield and forwards got on with the attacking stuff.
What amazes me is how they're still going strong in the final seconds and the way Cadden brought down the high ball that was played to him near the end of proceedings was something to marvel at.
Sitting in front of the back line Alex Gorrin was always there and is integral to the way things work.
The four in front of him operating behind Mackie linked up so well together as did all sections of the team come to think about it.
Brannagan showed that he can hit accurate long cross field passes as he picked out the always available Cadden more than once. He's technically gifted too and looks comfortable up with the most advanced attackers or deeper in the middle of the park.
We had numerous contenders for man of the match and Henry was one of those, playing more centrally he was heavily involved. But how can that meaningless award not be given to Fosu? I've often thought the comment "at times he was unplayable" to be utter nonsense but watching him take on Rovers I have to consider that there might be something in it. What entertainment he provided. Throw in his defensive work too which was immense and there's no denying we've got a tremendous asset on our books and he's not 24 until next month.
Sykes contributed too and must realise the levels required to get into and stay in this team the way things stand at the moment even with the treatment room rather full.
Photo, Simon Jaggs
Last but not in no way least of the starters there's Mackie. I thought he had a top game. For a 34 year old where that energy comes from only he will know. I love the way he's all arms and legs as he winds himself up to get across the pitch and close down. Never once did he let up to give the Rovers rear guard time for a breather and on the relatively rare occasions when we'd been forced back a bit the way he intelligently ran to the wing to collect the clearance was evidence of what an experienced pro he is. The mix of age and the more youthful is a blend that seems a perfect fit. Remember Mous will be 34 too in April.
Of the subs Dan Agyei wasn't around long enough for any judgements to be made but the other two were. To be able to bring Baptiste on says we still have strength in depth even with the injury crisis. Robbie Hall, who hasn't impressed me much so far this season, did a few bits and pieces that suggests he might not quite be finished after all. It would be sad if he was as he's still only in his mid-twenties.
Dieng had to produce a spectacular flying save to stop his free-kick from way out and one dribble in the box for a brief moment had this could be special written on it. It came to nothing though.
Where we're at now is so much healthier than I could have imagined even in my wildest dreams after the Fleetwood defeat. It's not the first time I've said this but still we keep going so why not repeat it? It's true. This run, like all others, will not go on forever but whilst it does enjoy it people.
Just look at the leading goal-scorers chart for L1. Joint third, Henry on seven. Joint 12th Brannagan and Fosu on five. We're now averaging over two goals a game. Only Peterborough who have the top two scorers can better this.
Although many teams have played fewer games than us, three in Pompey's case, sitting eighth having won one more game than we've lost brings a good deal of satisfaction.
In the long run for this all to really have true meaning we have to keep going as we have been, starting at Rotherham next Saturday. That will be another huge challenge. They won away at Blackpool in their latest game and destroyed Coventry 4-0 the week before.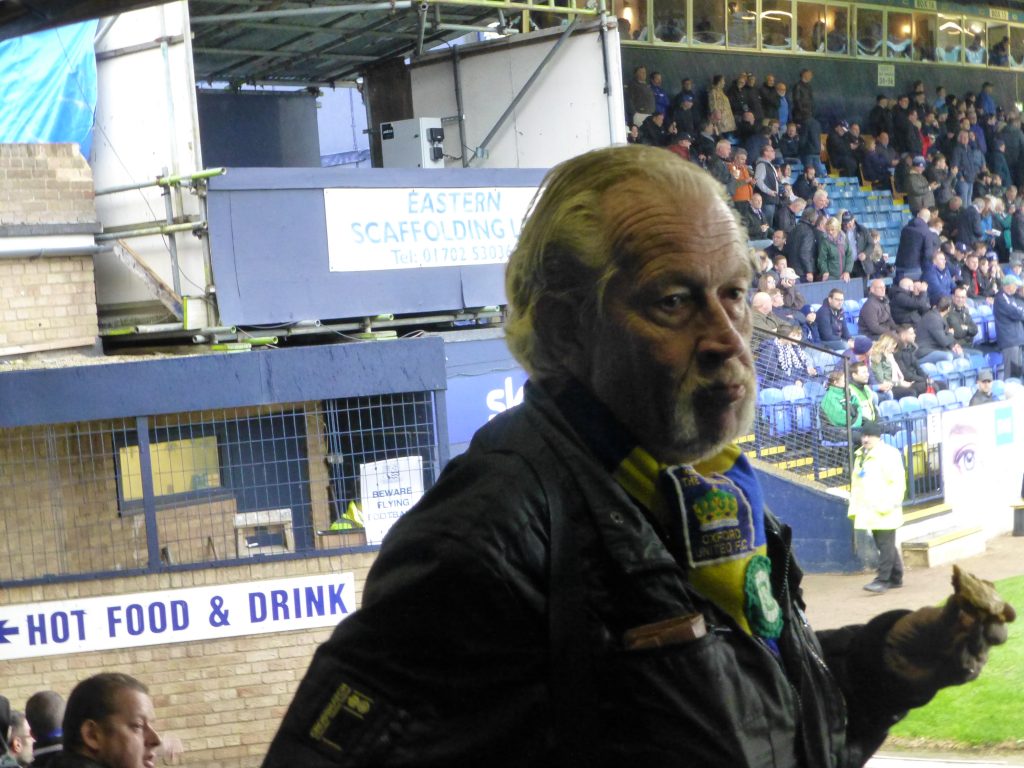 Goodbye my friend. Never to be forgotten. R.I.P Womble.