Article by Paul Beasley Monday, November 11th, 2019
F.A. CUP ROUND 1 – HAYES AND YEADING AWAY
Our Opponents
In the previous FV I noted that ten years ago our opponents, Pompey, were in the Premier League. Quite hard to believe now but even harder to get one's head around is the fact that we were in the same league as Hayes and Yeading that season. They now compete in the Bet Victor Southern Premier Division South which, as well as being a mouthful, is non-league step 3, the same level as Banbury United.
The 2009/10 season was of course the one where we got ourselves back in the Football League so on the whole a largely enjoyable campaign, even if the ecstasy was matched by pure relief that the ignominy of not being one of the 92 was over. We only lost eight league games but 25% of that total was to H & bloody Y. They did us 2-1 both times. 5,045 witnessed the home defeat which was particularly humiliating as the visitors had a man sent off a few minutes into the second half. It was Steve Basham who twice put the ball past Ryan Clarke. There were only 1,655 present for the away fixture.
We have previously beaten them twice in cup competitions. Those being an FA Cup qualifying round in 2008 and the FA Trophy in 2009.
No wonder I've wiped virtually all of this from my memory even though I'm pretty sure I was at every one of these games.
They were only formed in May 2007 when Hayes F.C. and Yeading F.C, both at the time Conference South clubs, merged.
I couldn't tell you the name of the ground when we last travelled to play them away but do know it was a different venue to their current home – the SkyEX Community Stadium in Beaconsfield Road, Hayes. They moved there in 2017-18 after ground sharing at Woking, Maidenhead and Beaconsfield Town for a few years. It is on the site where Yeading used to play.
In 2012 they lost their place in the Conference and suffered relegation again two years later dropping down from the Conference South and at some stage fell even further because last season they won the Isthmian League South Central Division, another mouthful, putting them where they are today.
I'm guessing their usual crowds are not on the large side even for tier 7. Only 179 people watched their last home league game against Hendon.
For a small club their balance sheet looks to be in good health. The last accounts show £2.9m total equity.
FA Cup Round 1: Hayes and Yeading 0 United Oxford United 2
So much for parking being a big issue even with cones, needlessly in my opinion, being placed on roads leading to the SkyEx. Just use the Minet Country Park carpark less than five minutes walk from the ground even for slow people. It was free too. Sorted.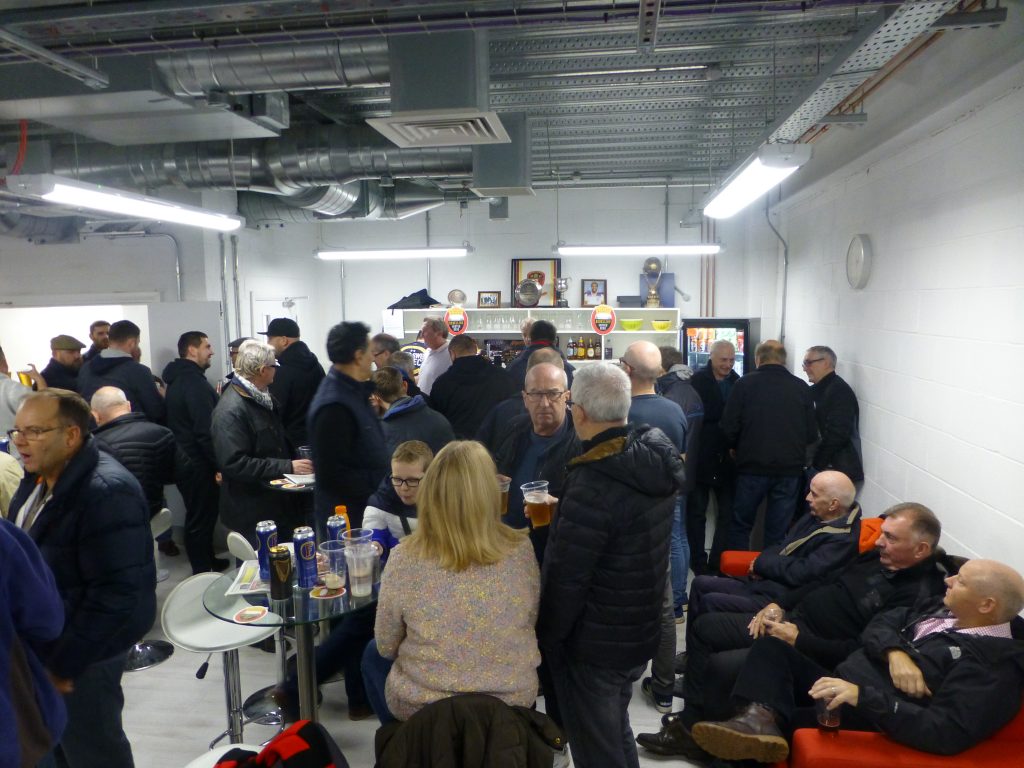 Beer and pubs, not sorted. Just the "bar" which was basically a small room with whitewashed walls selling nothing but fizz. One pint was enough. This is not a criticism, it's just the way it is at H&Y's level and the area they are located in. They have some (a few) proper fans, as all clubs do. I now know their previous home was called Church Road. A supporter in the bar was wearing a shirt commemorating their last fixture there in 2011.
The SkyEx allegedly has a capacity of 3,000. We were supposedly given 400 terrace tickets and 200 seats to sell and according to the OUFC website they all went pretty quickly and if anyone who had missed out wanted to attend they could put their names on a waiting list because there was a chance we might get more tickets. I also picked up from the local Hayes press that the home allocation had sold out.
I purchased my ticket on line about a quarter of an hour before they were advertised as being first up for grabs. I only had a choice of standing, seats were "not available".  I assumed others had jumped the gun even quicker than me.
My mates who missed out on the initial tickets were successful later on but somehow got seats.
The attendance ended up being 1,501 with 719 following Oxford. This doesn't make much sense with the "sell-out" communication nor does the fact that there were lots of empty seats in the away section. This being so I just walked into the stand for the second half and sat down where the view was tenfold better than on the "terracing". I say terracing but there was no such thing there at all meaning that any fan who wasn't actually leaning on the perimeter fence would have had a very poor view of the contest.
There was none of this ploughed up field stuff making for a leveller as the playing surface was in pristine condition. I can't remember one bad bounce or it cutting up at all. The groundsman deserves huge credit for this.
This was perfect for our passing game and we immediately knocked the ball around with ease, keeping possession for lengthy spells and throwing in some pieces of pleasing individual skill for good measure. The movement off the ball was good too and on the rare occasions H&Y looked like they might have a little break on and be able to build something, we sharply made the ball ours again.
One thing was glaringly missing though and that was goals. When we were flying along destroying Lincoln, West Ham and others we were absolutely clinical. Not here. James Henry's radar was well off and other efforts were more likely to hit the woodwork than find the back of the net. On another day the scoreboard, if there had been one, would have been ticking over. But not when a player decides to fire a shot off straight at a defender stood a couple of feet away, which we did a few times. We ended the game having had 31 shots with nine on target.
The first goal eventually arrived just shy of the half hour mark. It didn't come from neat open play but one of the 13 corners we had. Rob Dickie won the initial header which was turned goal-wards onto the bar by Matty Taylor with the rebound being nodded home by the alert Sam Long.
Tariqe Fosu, who'd earlier hit the bar with a fine shot, then hit the post with a free-kick, the keeper Jack Smith who played really well getting lucky with this particular rebound.
So it was just a single goal lead we took in with us at the break.
We'd very much outplayed H&Y in the first 45 minutes but they had given a couple of tiny glimpses of what they were capable of. They began the second period having made two changes and were greatly improved. We were closed down much quicker and had to work harder to keep the ball. A little bit of sloppiness crept in to our play. There were a few occasions where we lost the ball and the red shirts in midfield seemed to have space that was not there earlier. This may have had something to do with Alex Gorrin's standards having dropped. With all this happening Simon Eastwood who had mostly been a spectator in the first half was called on to make a number of very good saves.
We had 67% possession but if the figure were split into the two halves I'd wager the second session would come out quite even.
For a team at their level Hayes & Yeading impressed me. I had watched Oxford City the previous day being slaughtered by Solihull Moors and the hosts here, even though playing their league football in the tier below City, looked like a vastly superior football team to them.
Before we got our second, Eastwood twice had to keep our lead intact. First from a back heel from Joe Grant which was straight at him then from a tight angled smash from Ogo Obi who had gone past Dickie.
Not long after this we got our second and for all the improvement our opponents had shown we had still been producing some very watchable football.
Shandon Baptiste controlled a tricky ball on his chest, kept possession and laid it back to Elliott Moore. A first time pass went to Gorrin with another first touch getting the ball back to Baptiste. All this was taking place in our own half but when it was Long's turn to have the ball at his feet he tried to burst down the line. The pass he tried to push forward came back off a defender but was seized on by Baptiste who placed it where it was intended first time. Running with the ball at his feet Fosu has such control and trickery that there is always a chance that something positive will happen. He can dribble, shoot and pass. The latter option was selected here. Taylor then controlled on the edge of the box, dragged the ball back a few inches and with the most delicate of little chips played in Robbie Hall who showed everyone how to finish. Truth be told he was possibly marginally offside but without VAR we weren't without the goal.
Still H&Y came at us. Their heads had not dropped. Eastwood had to stretch to push a long range effort round his post. Then with a strong fist kept out a header from a corner.
We too came close to getting more goals or more specifically Hall did including once more hitting the frame of the goal.
In summary this was a job done performance which is absolutely good enough in a game where we were on a hiding to nothing. Overall we can't be disappointed with how we played but H&Y have every right to be as pleased with their display as we were with ours, if not more so.
In addition to a share of the gate money, of which there won't have been much, this game netted us £111k which is well worth having. That was made up of £75k for being on the television and £36k for winning.