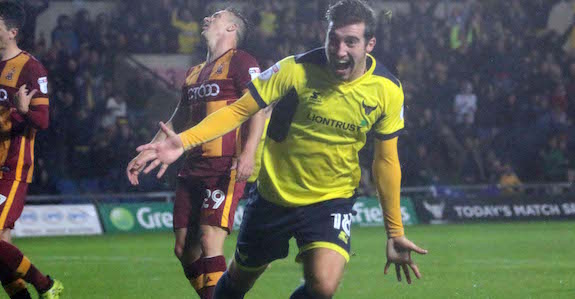 Photo courtesy of Steve Daniels
Article by Paul Beasley
Bradford City
I'm at least roughly aware who the owners are of quite a few football clubs without the need for research. Not so Bradford City.
In May 2016 they were bought by two Germans, Edin Rahic and Stephan Rupp. It has been reported that Rupp alone is worth £100 million. Rahic moved to England and became chairman and chief executive. Apparently they'd looked at a number of clubs in England and believed that Bradford were the ones that had the potential and fan base that appealed to them most.
Talks with the previous co-owners / co-chairmen Julian Rhodes and Mark Lawn went on for about a year before the deal was done.
Rhodes, with a former chairman, Colin Gibb, saved Bradford from administration in 2002 and 2004.
Lawn, who incidentally was a co-founder of nationwide business Driver Hire in the early '80s, joined as joint-chairman in 2007 after agreeing to wipe out the clubs remaining debts.
Rhodes and Lawn no longer have any involvement but I've no idea whether they left with any money in their back pockets or shouldering losses from their time at Valley Parade as there doesn't seem to be a publicised sale price anywhere.
At the back end of last season the German owners announced they would charge only £1 per match if they got into the Premier League, their logic being that with the massive TV money, tickets sales would represent such a small percentage of total income anyway that it didn't really matter. Bradford had really cheap season tickets before the take-over in a bid to engage with the public, fill the ground and create an atmosphere game in game out.
What's not to like? It's a shame but I don't think that approach would work for us. The ground we play in is nowhere near as big as theirs. I would hazard a guess that even at reduced prices their take on tickets is higher than ours. I also don't think we've got anywhere near the size of latent support that they've so successfully enticed to Valley Parade. Additionally the economics of the north are very different to those down south. Think property prices and beer too amongst other things.
So very little similarity with us then? But wait. In 2003 Valley Parade was sold to Gibb's pension fund for £5 million and their offices, shop and car park sold to Development Securities, a London based company, for another £2.5m. In 2011 the cost of the rent for the year was £370k to the pension fund. With other rent payments, rates, maintenance and utility bills the budget for the year was £1.25m. You can make your own judgement on whether they're getting a better deal than we are but it is never quite comparing like for like and again we need to remember we're located in very different part of the country.
Bradford have security of tenure through a recently signed 25-year lease and whilst the new owners want to buy back the stadium sometime in the future, they currently admit to having more pressing priorities which I think are focussed on the playing side of things.
I was intrigued then, given tickets were cheap and they weren't getting income from the ground because they didn't own it, to see the state of the accounts.
What I found, or didn't find, rather surprised me. Bradford City Football Club Ltd have been filing "total exemption small company accounts" for many years. Under the Companies Act 2006 to be deemed a small company at least two of the following conditions had to be met: annual turnover had to be no more than £6.5 million; the balance sheet total had to be no more than £3.26 million; the average number of employees had to be no more than 50. If two of those conditions were met it was permissible to file just abbreviated accounts.
However, there have been recent changes to UK company law. The Companies, Partnerships and Groups (Accounts and Reports) Regulations 2015 – abolished abbreviated accounts, and they can no longer be filed for any company accounting periods beginning on or after 1 January 2016. This will impact them for their next set of accounts but there are still ways and means not to release much meaningful information into the public domain.
Their abbreviated accounts to June 2016 do not contain a p&l account. So there you don't have it other than that the p&l figure on the balance sheet shows a loss of £1.9m. Shareholders' funds stood at just over a £1m.
Before I move on to the football I'll just throw in one more thing. In June 2004 the Managing Director at the Bantams left to join Leeds. That MD had been at Bradford for about 10 years. His name, Shaun Harvey. That's a whole new path that could be gone down here but there's not the time to do so.
Bradford were beaten play-off finalists in May and I suspect if they don't improve on that this time it will be looked on as a huge failure within the club.
It is of course though a very competitive league. They'd won away at previously unbeaten Peterborough on Saturday putting them in fourth position two places and two points better off than us and were obviously going to provide a very stern test. We'd already played two of the other sides that sit above us but were unable to turn either over. Letting in just the one goal against Scunthorpe, which we did, is very likely to mean defeat as they'd only conceded two. Table toppers Shrewsbury had beaten everyone except us so that draw looks even better now. It has to be concluded that we were very much in with a shout going into this. The bookies thought so too with best odds available being 29/20 us to win, 21/10 Bradford to win and 5/2 the draw.
Oxford United 2 Bradford City 2
This was a game of football that provided tremendous entertainment with every single player on both sides doing their utmost to try and ensure their team, if not coming out on top, did not get beaten.
The winds that were to arrive later in the night thankfully didn't put in an appearance at the Kassam stadium but a sustained downpour meant the playing surface was somewhat sodden and at times tricky to remain upright on.
It was a travesty that only 6155 Oxford supporters and 403 followers of Bradford turned up. Yes the weather was such as to keep the local armchair supporter remaining seated at home, yes there is work in the morning, yes people have genuine reasons and many of our fans live too far away to get to fixtures other than at weekends, but come on. Does the Oxfordshire public in general really deserve Championship football, or even care? Where were all those fake merchandise flag waving Wembley bandwagon jumpers? Did they even know there was a game on? Did they care?
As soon as the game was underway high levels of skill were evident from both sides. Each had good shape with no easy way through to goal. Given the speed at which the game was being played and the conditions it was inevitable that there were a few mistakes but this didn't affect confidence levels one bit.
When Bradford took the lead on the half hour mark we were the side that were doing most of the attacking. It would probably not be fair though to say that we were on top given the nature of their defending and their obvious threat when they did have the ball.
Hall sent on a sprawl. Picture, Steve Daniels
We know Robbie Hall is a good player but he's never mentioned as one of those for whom we will receive a big money offer or we're worried will be tempted away for better wages when his contract runs out. That's COD, Kemar Roofe, Johnny Lundstram, Chris Maguire and Marv who've gone and our captain and Ryan Ledson who are still with us. The way RH started this game he should absolutely be in the same category as these guys. He was electric going past opponents with pace and trickery and the way he turned and in doing so made a Bradford defender slip onto his arse over by their fans was wondrous. He was so quick that when he burst into the box and went over it was impossible to tell from the stands whether it should have been a spot kick or not. He was also doing some good defensive covering.
Then came a spell that one can see why he is not categorised with those mentioned above. Too much head down and running with the ball straight into traffic which results in lost possession.  But he came back good and I think was justifiably man of the match when again there were many contenders. I can't recall an Oxford player having so much of the ball during a game and to his immense credit he never noticeably looked knackered, which was a fate I thought might befall all starters who remained on the pitch throughout, given the nature of the game.
Our pressing and closing down created some chances but these never amounted to anything quite clear cut which was as much down to Bantams defending as the ball not falling kindly for us.
We also had a few efforts from distance which were complete wastes of time as they were fired at a defender stood a foot or two away.  Bradford's opener was nothing like this. It was so good I applauded it. (Is that wrong?)
Nicky Law, one of several very impressive performers for the visitors carried the ball through the midfield before finding Charlie Wyke, a £250k signing from Carlisle in the last January transfer window. Wyke was another who caught the eye with some very good centre-forward play. He knew how to sneakily hold an opponent and if he crossed any line it was only very marginal and I think I would say the same about a lot of the Bradford play in the initial stages. Wyke then beat John Mousinho before finding Omari Patrick. Patrick had a bit of room and that's all good players need. There would have been very little worry had we been playing lower down the pyramid, but this is L1 and the ball was curled past Simon Eastwood.
For the rest of the half I thought they looked like they had taken charge, just. They'd come, they'd observed and got the lead and it would now be difficult to wrest that lead from them.
During the interval the only thing I had a gripe about was that we were losing. How are we going to get back into this I wondered? My brother pointed out that the visitors had only kept one clean sheet all season. Definite hope then.
As the second half progressed Bradford seemed to me to have largely got our measure. They'd set up solidly and much of our play was across the pitch as we could find no way through. It reminded me of Mapp's early days. I should have more faith.
It was still a case of our opponents being a danger when they had the ball and they very nearly went two up. A scramble ensued after James Henry was beaten by Alex Gilliead on the bye-line on the edge of the box which resulted in Patrick hitting the bar.
Gilliead, on loan from Newcastle, was another of the Bantams I rated but the main thing that I'll remember about this small section of play is the header from Mike Williamson to Eastwood to tidy things up.  It was the epitome of cool.
We'd made two substitutions before we got our goals and the changes we're making appear to be fairly predictable given the starting line-up. I suspect if fit, John Obika would have started and would have made way for Wes Thomas at some stage. Gino van Kessel for Henry on about the hour mark is standard as is possibly swapping Jack Payne for Alex Mowatt. That's amazing talent. If only we could accommodate both these players into the team without losing anything. But I fear we probably would.
Last week I said Richardinho isn't your normal footballer and there's something a bit different, and possibly strange too, about GvK. He's a powerful direct runner but is as likely to try and run right through an opponent as around him. He does though bring something to the table but that isn't defensive quality.
He was heavily involved in the equaliser as was the other sub. Mowatt found Joe Rothwell who stopped, looked and gave the ball back. Mowatt has a special ability of making passes with the outside of the foot and slipped the ball to Hall who first time moved it onto GvK. From way outside the box he smacked it goal-wards. As it moved in the air for a split second Colin Doyle went the wrong way and therefore couldn't hold it. Thomas had read the situation and was first on the scene to blast home.
It was a poacher's finish and we know he can poach. The role of lone striker doesn't seem to come as naturally to him as it does to Obika and he wins a lot less in the air. Also at times he appeared a split second slow in knowing where the ball would end up. That changes when he is near the goal of course and he also produced some top flicks and lay-offs. Plus he kept going to the end which isn't bad for someone supposedly injury prone. A commendable performance and I've just reminded myself that this was his 3rd league goal. Obika of course is yet to score but edges it as the hold-up player.
Now for the first time we looked like we were in a position from which we could genuinely win. We were taking the game to them and looking threatening.
Ryan Ledson celebrating Joe Rothwell's goal, Picture, Steve Daniels
Thirteen minutes later we had the lead and this was a pure footballing goal, as good as any I've seen for many a day.
Mousinho down the line to Hall just in his own half. Once more RH controls and goes round his man. Through to GvK lurking between the front man and midfielders. The fact that he wasn't Payne or Mowatt may have bought him space. GvK then briefly takes it forward before a magnificent run by Rothwell had the ball in the net with his second touch before any of the defence can properly set themselves.
That was enough drama for me but unfortunately there was more to come. An equaliser in the very last seconds of added time. Bradford knew they were capable of getting it and had the desire and belief to make sure they did. That's not to say we didn't feel the same way about keeping them out.
They had space on the right. Space that a Henry rather than a GvK would likely have occupied. Josh Rufffels went across but Law was allowed to bend in a telling cross and Romain Vincelot attacked the ball sending it past Eastwood. Hard as it is to believe, Williamson was beaten in the air.
That was the first time we've let in two in the league this season and given the experience we had at the back I would have said the chances of us holding onto that lead were greater now than it would have been with the various back lines we've had over the last decade and longer.
That tells how confident I am in our defence in the long-term, whatever long-term is in football. Mousinho can play at right back and I'll emphasise the word play. He rarely, if ever, looked to boot it away even when in what looked to me really dangerous situations. But the most heart stopping moment of dribbling one's way out of danger went to Richardinho. Edge of the seat stuff but when it comes off, what a sight.
Richardinho. Picture, Steve Daniels
Now a bit of a shock, I'm going to praise a referee for the second game running. This one being Christopher Sarginson. It annoyed me a bit when he didn't have words when City players knocked the ball away when we had free-kicks or throws but he got most things right, allowed the game to flow and kept cards to a minimum. Rothwell's was fair enough. He naturally knows the laws of the game better than the vast majority of the crowd. I wasn't 100% sure at the time so kept fairly quiet but did think that, just like with a goal kick, the ball has to go out of the penalty area before it can be played. My son who doesn't have a season ticket and had opted to sit in the non-premier seats and save himself a couple of quid ended up next to Womble. Andy the ex-referee had confirmed that yes Sarginson was of course correct.
Law 13: The ball is in play when it is kicked and clearly moves except for a free kick to the defending team in their penalty area where the ball is in play when it is kicked directly out of the penalty area.
So, those who were loudly telling the referee and his assistant that they did not know the rules were plain wrong and as Womble will tell you, as he has done me, they're laws not rules. And before we go any further I thought the ball was played on the line, which the laws will tell you are part of the penalty area.
On to Blackpool who, like Bradford before this one, are two places and two points above us. We'll beat a team above us at some stage but this is going to be a hard ask again. They've a 100% home record but wouldn't it be boring if it was easy.
(Just over 3k words for you Tim B. Happy?)