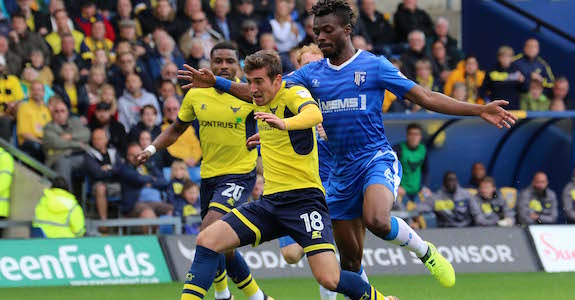 United put Gillingham to bed with minimal fuss. Paul Beasley talks you through it...
Article by Paul Beasley
The Gills
Until I get bored with it I'm going to make my now customary start where I give a bit of a lowdown on the opposition's monetary situation and a few ownership details. I know this sort of stuff isn't for everyone but I think it just shows where we're at vis-a-vis our L1 competitors.
Quite eye opening it is too even if the latest published accounts are always at least a year behind where a football club is actually at financially. So how can any club claim they have the 5th, 6th, or whatever highest playing budget in a particular league if figures are not released until well after the event? It's all guess work, surely.
Gillingham's financial year ends a month earlier than the norm in May not June. 2015/16 was their third consecutive season in L1 and as such would have greater income and a likely higher wages budget than if they'd been in the same division as us that year.
Paul Scally bought the Gills for just one pound in 1995 and took them out of administration shortly before they were to be liquidated. Scally became rich by selling his photocopier business.
He is also the sole owner of Priestfield Developments Ltd formed in 2007 with the purpose of buying the club's stadium for £9.8m as part of the debt restructuring. This deal allowed GFC to use the ground for 3 years at just a pound a year. Tenancy was secure for an additional 7 years at a rent which wasn't specified however in 2011 the club bought the stadium back for approx. £1m.
Let that sink in for a moment. Then have a little think about the Firoz Kassam era. Well the era when he was club and ground owner.  Just the one now unfortunately. And just the 3 sides for which we're paying an exorbitant rate for a facility that isn't treated with TLC.
Scally has wanted to relocate the club since 2003 but that is by the by.
In the Chairman's notes to the accounts Scally, who took £192k in consultancy fees, writes, "the season started well with the team in the top three for the period to end December 2015, however the loss of key players through injury led to an unsettled side and what was looking like at least a play-off spot at worse ended up seeing the team finish a disappointing 9th place".
Oh, those pesky injuries. We all have 'em.
The Club's catering company unilaterally exited a long term contract with years to run resulting in a loss of guaranteed income and profit of over £400k.
Um, we've never been in a position to have even dreamt of getting such income.
Their turnover was £5.68m made up largely of football ticket sales £1.57m, banqueting and catering £1.15m and TV & radio income £1.33m. Transfer income was 305k.
Cost of sales was £5.18m giving a gross profit of half a million and with admin expenses of 1.27m and a bit of interest they were £887k down with a property revaluation of £800k resulting in a loss of only £86k.
Property, once more if only.
Staff costs were £3.5m and the balance sheet showed share- holders' funds of £1.58m but it would be easy to be fooled by this net worth. The "Ultimate Controlling Party" of Gillingham FC Ltd is GFC Holdings Ltd who have one director, Mr Scally. There does not seem to be any easily available accounts for Holdings Ltd since 2015. They were then £7.8m in the red.
And to throw in some proper intrigue one of the listed directors of the football club on the accounts is Michael Anderson. As at May 2016 the club owed Anderson £443k.  A few days ago Anderson was charged by a United States grand jury of healthcare fraud totalling $5.7m.  If found guilty he'll not only have to repay that amount but could also face a jail term of 60 years. Anderson was vice-chairman of Gillingham but has just stepped down.
Scally has come out and said that "Mr Anderson has no shareholding in Gillingham Football Club nor associated companies, he is a non-executive director and has no executive involvement in the day to day running of the football club or associated companies."
Before he took up his role at Gillingham Anderson had passed the FA's fit and proper person test.
In 2006 he quit as Director at Ipswich after just three days. When David Sheepshanks welcomed him on board he failed to mention that he'd been involved with two other football clubs, Aldershot and Kettering Town, when they went into serious financial trouble.
Football clubs can so easily get dragged into the mire by one or two individuals. I'm not saying that this is the case here but once again we need to be thankful for who we have as owner at present. Some people it seems will never acknowledge that fact.
On the field of play Gillingham's 2016/17 effort was a continuation of their 2015/16 drop in form referred to earlier. They survived by one point but have been stuck in the same vein this campaign. This brings the inevitable social media threads pointing out they'd not won a league match this season or indeed even scored an away goal which meant it was a given we'll lose. I know that feeling. In 2010 they got their first away victory for 18 months at our place.  Not again, surely?
Being honest I was pretty confident but that in itself can be a dangerous thing.
Oxford United 3 Gillingham 0
In the first half we had a downpour and a wind assisted opposition kicking toward the East stand. Some may disagree but I don't think there was much difference between the two sides at all in this period.
It was an open game with both teams playing reasonable passing football where space in the centre of the park was quite easy to find but chances, whilst not being overly plentiful, were there at each end.
It was goal-less at the break but should really have been 1-1 as each team had been guilty of a shocking miss.
Early on a high ball was played invitingly for Conor Wilkinson into our box. It was right on his head and a goal was beckoning but inexplicably instead of trying to score he attempted to nod to his colleague, Tom Eaves, to his left and gave us a goal kick.
Eaves was a bit of a handful up top and knew how to hold a marker without attracting the attention of the referee. Michael Salisbury was the man in charge and I'm happy to admit that he had a pretty reasonable game. On reflection I liked that he managed not to book anyone. It wasn't a particularly dirty match but more fussy individuals would no doubt have waved around some yellow.
Where Mr Salisbury did let himself down a bit in my opinion though was in getting in the way of our flowing football. He didn't actually get hit by the ball or cause us to loose possession but managed to stand in the line of sight to prevent a quick pass. As he'd done that a couple of times in the first part of the game I was probably looking for further instances and indeed did spot some.
With the game nearly a quarter in it was our turn to miss a golden chance.  We'd come forward with purpose. Robbie Hall is a willing ball carrier but he also sometimes quickly moves it on too. After Jack Payne and James Henry had tried to work a tight situation, Hall had continued his run and was onto the loose ball in an instant going between two defenders and instead of trying to beat the keeper at the near post squared the ball on a plate for someone. It went behind Payne so that someone was Jon Obika. He had one defender in front of him but other than that it was an open goal. From just outside the six yard box he put his foot under the ball and sent it wildly into the carpark.  The hands of many yellow shirted men went to their heads including those of the culprit. A bad miss.
I can however forgive him that because he brings so much more to the team. (And of course because we won, others showing they can finish). Obika really can play that lone role up front. The ball sticks and he wins a decent amount in the air. Even if this isn't setting things up it means the ball is not coming straight back at us.
The second half was an altogether different affair. We'd comprehensively won the game just eight minutes in and it was a big surprise we didn't add to those three goals.
Alex Lacey thinks it's offside. Photo, Simon Jaggs
For the first we had Obika and Hall working away together down the right engaging three defenders and the latter got away but on this occasion opted to shoot instead of pass. It was quite easy for Czech keeper Thomas Holy to parry but the clearance from Connor Ogilvie was awful. It tamely landed at Obika's feet in the box. Following good control he sold a little dummy to two blue shirts. They went left whilst our man went right. We had four in the penalty area to their seven but we knew what we were doing. From Obika's pass Hall side footed towards goal. This may or may not have been on target but if Jack Payne had not intervened I believe a defender would have prevented it going in. Payne's cheeky back heel flick ensured there was no chance of that but I have to admit there was a suspicion of off-side.
The second came when Joe Rothwell had so much space ahead of him that he was about to pass but couldn't resist what was on offer so off he went into the Gillingham half. With the outside of his right foot he played a pass to Payne and kept his run going. With the ball fed back to him almost the entire Gills team had been taken out of the game. A quick tug of the shoulder by Gabriel Zakuani did nothing to stop Rothwell's path to goal and the finish was a deft side foot past the keeper. At the time I thought it was going wide.
The third was only two minutes later in arriving. Payne received the ball on the half way line, turned and played a perfect pass to Obika who had timed his run immaculately.  After controlling it he rolled it with his studs behind him to the not very well marked Hall. This time the wrong option was the right option. After one touch with his right a low left footed shot was fired past Holy at his near post. Beaten and slumped by that post their last line of defence didn't look the most agile of sorts.
Only the most mean spirited would fail to acknowledge that we played some stunning stuff in the second 45 minutes. We moved the ball so quickly, looked to go forward at every opportunity, had great movement and understanding plus technical ability aplenty.
Where the sheen can perhaps be taken off a bit is the quality of our opponents. Of course they weren't great and their league position tells they are in big trouble even this early in the season. I didn't think they were quite that bad though. It is clear they're a bit leaderless and are vulnerable to crumbling once they go behind. Bad form is self-perpetuating but given how they played in the first half who knows what the outcome could have been if they had got that early goal? It may well have been much more of a slog to have got all three points knowing that the Kassam Stadium is not a fortress.
But could it become one at long last? When was the last time we attacked our home end with such conviction thinking that we could score every time we did so?
The better the team and squad, the more likely this is to come about and I'm beginning to feel that what we've got before us now is even an improvement on what we had under Michael Appleton and that's saying something. The building continues in a positive fashion yet still we have negativity amongst some so called fans. They're not happy with our latest signing Agon Mehmeti because he's not played in the right leagues. Well, we've got a bloody good squad anyway so if he's not good enough he won't get in. Perhaps we'll hardly see anything of Xemi.
It's all about competition. Obviously only eleven can start with seven on the bench. Some have to miss out. There's no room for those that are not up to it.
After the first few minutes I thought the defence was superb. Simon Eastwood did everything he had to, flying to his left to get two hands on the ball and force it away for a corner to protect that clean sheet right at the end.
Richardinho has a mistake in him but what a footballer. In the first half right in front of us the ball was coming out of the sky and a normal player, at most levels, would have left well alone and taken the throw. Our Brazilian shaped as if to let it go out but he isn't your normal player. He brought it down on his instep and we were in possession. Amazing.
In the other full-back position Canice Caroll, a last second call up due to Christian Ribeiro's injury in the warm up, played with the assurance of a player ten years older than he actually is.
We are now ridiculously spoiled for centre-halves. Early on I had Curtis Nelson down as the one ahead in the man of the match stakes. By the end of the game there were many contenders and he was still definitely one of them. John Mousinho fitted in seamlessly alongside him. Experienced with obvious quality he reads situations well, can defend and play football. I also found it massively encouraging the way he talks and his focus. You can tell he's already very much in the building with Oxford now being his team. A team he is going to give his all for to get to the next level.
A week or so ago we were saying Mike Williamson was vital to our defensive solidarity. What now? Does three into two work? Or will it play out that Nelson will be off for big money in January, leaving us with a Williamson / Mousinho combination? That wouldn't be bad would it and I've not even mentioned Charlie Raglan and Aaron Martin.
The talent we have in central midfield is phenomenal too. Plenty has already been written about Payne but we've now got Alex Mowatt too. Yes, he's only on loan but let's enjoy him whilst we can.  He's just 22 but has great experience already at a higher level and it showed. I wonder why Leeds moved him on and it has not yet worked out for him at Barnsley. He was seeing and getting off passes most other L1 players could only dream of.
Whilst I'm at it I mustn't forget those that are permanent employees. Ryan Ledson did his usual job which is one that helps win battles and therefore matches and alongside him in the middle Rothwell gets better with game time. Two very gifted players.
It wasn't many days ago most fans were praising Josh Ruffels and saying that he's definitely doing enough to stay in the team. He has done nothing wrong but didn't get any game time. Yes, that's strength in depth.
Again Henry wasn't spectacular but I really like his work rate and I think he's the sort of player that will be started in order to win those battles which determine who the victor will be. It should not be forgotten that the goals were scored whilst he was on the pitch.
Gino van Kessel is some player to have to bring on. He's strong, quick and direct. He excites.
Robbie Hall has now scored in the last three games and in the league has joined three others on two as joint top scorer. He's not what I'd term an old school out and out winger but he's probably more winger / wide man than anything else. Wingers tend to be inconsistent types, or at least come across as being so. Perhaps that comes with the territory with RH then but I think it was almost all good from him here. He may be quiet in some periods but then he'll explode past a couple of opponents and something will look on.
The only player who played a part I've not yet mentioned is Wes Thomas, another of our leading scorers and the one with the best ratio of goals to minutes on the pitch. He would have improved that ratio if he could have sorted his stretching out as he put a late Richardinho shot, which was probably going wide, over.
For all the positivity I got from this performance a couple of things annoyed me.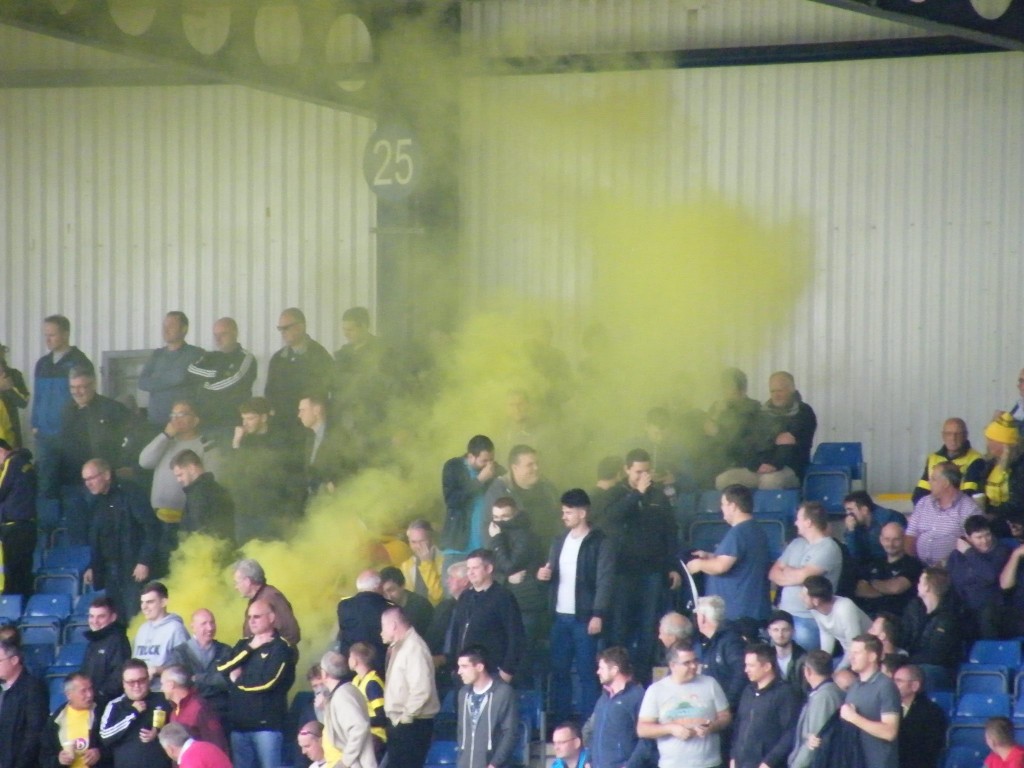 Photo, Simon Jaggs
The football we played deserved to be witnessed by more than 6,348 home fans. Again amongst that number we had some idiot bringing in a smoke bomb. Forget the fact that it might add to the atmosphere, it is illegal and can land the club in trouble. How many times do people have to be told? The club have been warned before. There's no precedence for a points deduction but there's always a first. More likely a fine which would mean the club having less money to buy players or pay wages.
If CCTV enabled the person responsible to be identified no doubt a justifiable ban, possibly lengthy, would result. I don't want anything to jeopardise the chances of my football team being successful. Also it could lead to more intrusive searches and inconvenience everyone entering the ground.
We have not got much to moan about really though, have we? Unlike the Gillingham supporters. They want Scally out. They want Ady Pennock, the manager, out. The players are not fit to wear the shirt. They've had enough.
I can't get enough of Oxford United at the moment and can't wait for Tuesday's challenge when Bradford visit. They'll be way better than Gillingham but we now boast the second best defensive record, joint 4th best goal-scoring record and the best goal difference in League One.