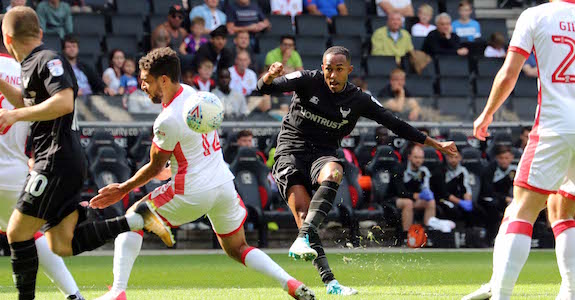 Photo courtesy of Steve Daniels
Article by Paul Beasley
Checkatrade
I don't like the Checkatrade Trophy. That's a given. I've documented my reasons many a time.
This week we began our 2017/18 campaign in this godawful competition at Stevenage. Needless to say I didn't attend. Only 152 Oxford fans did. A fraction of the travellers we used to take there for league fixtures.
I decided to see how long I could go without knowing the score. At 9:40 my son popped his head into the lounge and said. "6-2". I asked the question even though I knew the answer. "Who to?" He had seemed just a tiny bit excited when he said it. Was I pleased? Well just a little I suppose because to have been on the wrong end of such a score to the bra-checkers would not have been good.
Transfer Window
Out went Marvin Johnson as suspected to Middlesbrough and in came another two. I can't keep up. I can't even remember the names and faces of the many others who arrived earlier this summer.
Alex Mowatt and John Mousinho appear to be very sound additions to the squad.
Yet still we have some fans who are not happy. Complaining that we can't keep a player who wants to leave. Complaining that we're not bringing players in when we are. It's destructive and a bit debilitating too.
As for Johnson, he will now have almost set himself up financially for life with his two year deal. There's also the possibility of a third. A Championship side with pocketed parachute payments can afford plenty in wages. No league 1 team can compete with that. You can't blame him for taking what was offered, after presumably lengthy negotiations by his agent. You can blame him for not playing his heart out up to the final moment he left our building.
MK Dons
I don't like them and I've documented my reasons for this many a time too.
The club are owned by InterMK Group Ltd which is wholly owned by Peter Winkelman. People will know the history, or lack of it more like. When the original Wimbledon went into administration in June 2003 Winkleman put money in to keep it going and paid to get the National Hockey Stadium in MK into a fit state to host league football. InterMk bought the relocated club in September 2003. Name, badge and colour changes followed as did the move to the impressive 30,000 seater stadium they now play in.
I bet Winkelman expected MKD by now to be an established Championship club at the very least. Their only season at that level in 2015/16 saw them immediately return to L1 ten points adrift of safety.
It's a hard world where success and league ranking is actually earned on the field and not presented on a plate. It gave me great satisfaction that we finished above them last year and have established another lead over them this season.
I'm now finding it hard to resist looking into the finances of every L1 team we come up against and making some comparison to our situation. The big factor that hits home time and again is obviously ground ownership.
To y/e June 2016 MKD had a turnover of £11.6m. This turnover figure was largely made up of match day receipts £5.1m and commercial £5.8m. This being their Championship season was naturally very different to the previous campaign when these two figures were £2.6m and £2.1m respectively.
A reminder that our 2016 turnover was £5.1m.
Strangely though MKD made a loss before tax and interest of £1.5m which is only £300k shy of our red figure. Their operating expenses were almost £14m so perhaps owning your own stadium isn't a guaranteed money spinner. However by claiming tax on losses they managed to come out only £17k down. No doubt a qualified accountant would be able to explain. I can't.
Their balance sheet showed a deficit of £9.7m, but that's almost irrelevant in itself because there are a number of other companies within InterMk Group Ltd and when all taken together the turnover is £27m.
MKD staff costs for all employees were £8m but it is difficult to tell what percentage of that went on the playing side where they had 82 employees as there were also 78 admin and commercial staff. Most of it though, presumably.
Compared with England's walking football sleep fest the previous night, this encounter appeared to begin at 100 mph. For the first couple of minutes I thought the game was too quick for the level of technical ability on show but we soon settled into the groove and began playing some excellent football.
We were quick and playing incisive first time passes in such a way that was taking the game to the home side. Whilst not attempting to play long Lunny style wonder balls, our passing in general had more distance than is sometimes the case and we did not get bogged down playing the very short stuff in highly congested areas which takes us nowhere.
1-0. Photo, Steve Daniels
Our goal came early. Following good work by James Henry who was able to control the ball and get away from defenders despite being tightly marked, his shot which was much too ambitious came back off a defender and was seized upon by Jack Payne. He and Robbie Hall then passed the ball to and fro unpicking a relatively compact defence as they went.  Hall's precision finish ended the move in a fitting fashion.
I'm not one to have a go at a player who returns to a former club in the role of villain. For one thing it usually just spurs them on.  Hall did not play in this fixture last season so this was his first time back and there was plenty of booing from the home fans. In a way I was kind of happy with this. It told me they feared him and also that they did have a bit of passion and understanding of how football fans who have followed their team for years behave. They've been in existence 14 years now and there will be some in attendance in their twenties that will have known no other team as their number one. I also thought their fans made more noise than in that disappointing 0-0 a year ago.
Am I mellowing?  Hate to say it, but possibly.
Hall was indeed inspired and it was a pity he did not get better protection from referee Dean Whitestone who actually had quite a reasonable game.
Jon Obika's hold up play was good and we were the better side but the efforts we produced on goal did not really look like finding the back of the net and as the half wore on it was evident that the game was slowly turning.
It is probably unfair to criticise our back line as only one team that has played the same number of games as us has conceded fewer goals. Also here we were without Curtis Nelson and had to adjust again with the injury to Dwight Tiendalli on 28 minutes. However, I can't help but note how narrow we get at times at the back with the full-backs tucking in to such an extent that the opposition has the freedom of the flanks. On one occasion I think all four were within 15 yards of each other.  An obvious pass found a player on the wing and the cross could so easily have been buried.
There was another instance before the half was over when we could have been pegged back. They sliced through us and forced Simon Eastwood into a save which pinged back into play off his body.  I think there was then a strong case against Mike Williamson for dangerous kicking but we all know that such things are rarely, if ever, given in the box. Elsewhere on the pitch, yes. This lack of logical application of the laws of the game worked in our favour here. After a bit of juggling by our keeper, Ryan Ledson did the no nonsense thing with a high up and away over his shoulder.
At the start of the second half it was confirmed that the home side had gained the ascendancy and a quarter of an hour into this period they'd got their equaliser. Callum Brittain had the ball on the right wing but this time we had a player out there with him. That player was Henry but much good it did us. Brittain was able to come inside relatively easily and get the ball into the box in plenty of space for a shot.  That shot went through Ledson's legs and just out of Eastwood's reach. He made a valiant attempt to keep it out but I don't think that's the first time he has been beaten with a shot coming across his body.
For all the Dons possession and shots, very few were on target but we did get undone with a ball over the top which was a bit of a worry. Luckily for us the finish was poor.
With the game almost over we could and should have taken all three points. Gino van Kessel's strength in our own half set up a 2 v 1 breakaway. The player who took the ball on was Obika who had ample opportunity to have fed GvK who would have been able to bear down on goal with no white shirt ahead of him. Obika himself never broke free so only he will know why he refused to pass and ended up with a woeful finish. Up to then I thought he'd had a good game but that stunk. Bet the coaching staff will be giving him a good talking to.
GvP about to go past Nicholls. Photo, Steve Daniels
That was in the 89th minute but we still had another golden chance. A powerful Williamson defensive header was flicked on by Obika and GvP was away. As Lee Nicholls came out of his box our man had the opportunity to try what Carlton Morris had done against us last week. Instead he toed the ball past Nicholls and for a split second I thought that was it, game won. However I had not noticed the speed with which Brittain was covering. It was excellent defending on his part. I'm not saying it was actually a foul and it was outside the box anyway but didn't Nicholls just catch GvP and put him off balance, altering his stride pattern.
All in all a draw was a fair result. I heard some say that MKD were poor and we should have beaten them. I'm not so sure. All I'll say at this stage is that we are in the mix. That mix being a very large one because there's probably not much difference between nearly all the L1 sides. At present there are two still pointless and four yet to be beaten. Things can change very quickly though.
It still looks to me as if goal scoring will be a greater problem for us than goal prevention and I'm still trying to work out whether I'm happy or not having come away with a point.
One thing that is concerning me is our injury list. Ivo Pekalski, Charlie Raglan, Sam Long, Dwight Tiendalli, and Curtis Nelson off the top of my head. Some are very long term and others will be back much sooner but that's a lot of wages tied up for no return. That's football.
Having been disappointed with our numbers at Scunny I was well impressed with nearly 3k turning up for this. I was only expecting circa 2k. I thought the atmosphere was pretty good too but why oh why did someone still think it is acceptable to bring in a yellow smoke bomb? The club have been warned but what more can they do? Some people just don't care and are arrogant enough to think that the rules don't apply to them. Yes, it might look pretty but that's not the point. In this day and age there is a valid reason for security searches and it worries me that such things can be smuggled into football grounds. That some people do so just plays into the hands of stewards who can't wait to be able to behave like they did at Stevenage against Grimsby.