Article by Paul Beasley
The opposition
Once it became clear in the second half last week that we were the better side, my brother remarked that Portsmouth still looked like a League 2 outfit. I would not disagree with that one bit and recall last season and the time it took us to properly get to grips with a week in week out higher standard of opposition.
Which brings me to the Iron. They are L1 hardened, knowing inside out what needs to be done to get into the play-offs and promoted. Forget that they are a supposed smaller club than we are with a smaller ground and smaller fan base. Last season they finished 3rd on 82 points, scoring 46 home league goals along the way. They made it to 18 October before suffering their second league defeat but between 4 Feb and 11 March picked up just three points from a possible 27. Winning their last five meant they were comfortably in the play-offs and after drawing at the New Den they must have fancied their chances of that Wembley final, only to be turned over 3-2 in the semi second leg.
Since 2004/05 they've only had one season in the bottom tier and have had three campaigns in the Championship.
They're owned by Peter Swann who took over in the summer of 2013. Swann, who was previously chairman of Gainsborough Trinity, had an estimated family fortune of £340m in 2013. He is the owner of the company which operates the Sands live music venue in Blackpool, so if any of you are beside the sea in mid-September and decide to pop in, you'll be helping fund a rival football club.
Finances don't seem to be an issue with Scunthorpe. A couple of years back their (I'm assuming playing) budget was around the £3m mark so I would guess they're pretty much currently on a par with us when it comes to the payment of wages. However they almost certainly haven't got as many clubs with bigger budgets and greedy eyes on their players as we have.
There, have I managed once more to convincingly claim the role of underdog which suits us fine? The bookies seem to think so: the best odds available on a yellow victory being 21/10 with Scunny at 29/20.
The saga of Scunthorpe moving from Glanford Park, their home of just 29 years, rumbles on. Their current ground holds 9,000; last season they averaged 4,536 – hardly a case of being too big for their environs. There have been plans for a while now for them to move a short distance to a 12,000 capacity all-seater stadium costing £25m as part of a £1.2 billion housing development called Lincolnshire Lakes (LL). With safe standing looking like it really may be coming, Scunthorpe seem to be both ahead of and behind the curve on this as the current home end at Glanford Park is still terracing. (If they'd not been relegated from the Championship in 2010/11 they would have had to cover it with seats. Go on work out the logic in that. No health and safety issues that I know of but that's hardly a surprise given the fans are not fenced and penned in like animals).
Originally the intention was for building to start in 2015-2016. It didn't and I was pretty sure when we visited last season that we would be coming back to the same ground next time we rocked up. And so it proved.
The new stadium was to be built in the northern half of LL.  The developer responsible for this is KMG, a Cyprus based company. Apparently there have been difficulties with KMG and the build can no longer be a northern one. The football club have already invested £4.9m into the project and I suspect that will largely be written off. As things stand (or sit) the club have now signed terms with the company responsible for the southern half of LL and intend to build there.
It is never simple moving home is it and sometimes the issues never go away. They intend to have four sides, as most forward thinking football business strategists would and at least initially the ground and football club will be under the same ownership, as it is now. I still have a feeling this isn't the last we'll be seeing of Glanford Park.
Setting off early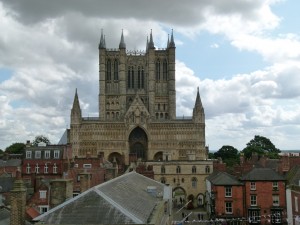 Scunthorpe has not got one of these
With a bit of family business to take care of we left for Lincolnshire on Thursday. Lincoln boasts a cathedral and castle; Scunthorpe doesn't. Plus Lincoln is home to more pubs than Scunthorpe. A no-brainer then on where to stop for three days.
I know a few years back there was an off field thing between certain sections of our fans and those of the Imps but I don't think you could have met a more hospitable bunch than the inhabitants of this fine city we came across. At about 9:30 pm on Friday night we realised we needed food so stood in the street searching the web on our phones for a clue when a young bloke came up to us and said "I saw you in the Cardinal's Hat (much) earlier, can I help you"? He did by pointing us to a very good Indian restaurant.
Earlier it had absolutely hammered down with rain and hail which meant moving from pub to pub was best done swiftly. In my back pocket in a plastic wallet I had a number of maps of Lincoln streets with various pubs highlighted. As I ran across one major road to the sanctuary of the traffic light island in the middle, unbeknown to me I'd dropped them. A man cycling by at speed alerted me to this fact. Naturally the maps scattered. I managed to grab one after it had been run over just the once but had written off the rest. They weren't worth risking life and limb for. At this point though a fit looking guy in shorts who was also waiting at the lights to cross the second section of road, ignored them turning to green, sprinted back into the road behind me and retrieved 5 or 6 sheets of paper which he promptly handed to me. Even though I was speechless I managed to thank him.
This may all be non-football related but a further little incident in the Jolly Brewer made me chuckle. The JB is described in the Good Beer Guide as being "an idiosyncratic pub attracting a diverse clientele".  It was the day Bruce Forsyth had sadly passed away. This kept cropping up in conversation. Mrs FV and I sat near a couple of men playing darts. One was quite short and stocky and heavily covered in tattoos. He wore three quarter length florescent shorts which were obviously part of his working attire. "What Bruce Forsyth has died?" "Yes."  He then said, "A great entertainer, like Ronnie Corbett". We said, "He's dead too." Surprised he came up with, "He's not, is he?" "Yes, he died a year or two ago." His next line was, "I've got a tattoo of Ronnie Corbett". He then proceeded to raise the leg of his shorts to reveal the inked image of the diminutive little man on his calf. (Perhaps you had to be there).
In the Joiners Arms the conversation was largely football related and with a little Oxford United link too. We were accepted as soon as we walked through the door. Some reports state that Lincoln City have sold 6,000 season tickets for 2017/18. I wondered if these new found "loyal" fans were likely to stick with the club if things do not continue in such a successful vein as last season. The verdict was no. One of the blokes we were chatting to explained that he was not a Lincoln fan – being from Cumbria he supported Carlisle. He told us he'd been to the Kassam Stadium and then added he'd been to the Manor too. He said "I just ran onto the pitch because everyone else did. I don't support Oxford, or Wigan but I just did it." He'd been present for our protest against Maxwell's Thames Valley Royals plan on 23 April 1983. Small world. (A football match did eventually take place that day. 2-0. Scorers, Andy Thomas and Chicken George).
Scunthorpe United 1 Oxford United 0
As our starting point was not far away, we arrived in the town of iron and steel just gone 11:00. This gave us time to visit the GBG listed Malt Shovel which is too far away from the ground to get to on foot. When faced with a line of hand-pulls I always take time to consider which to go for. A man sat at the bar gestured towards the pump on the left. It was Old Hooky. "I'm not having that," I said. "I can get that at home". "Long way to come for no points" he said in a straight faced light banter sort of way. Turned out he owns Scunthorpe United shares but had not been to a game for two years because he had fallen out with the club. I didn't really get to the bottom of what this was all about but it seemed to stem from a time when a manager bullied the players. (Brian Laws had his second stint in charge from Oct 2012 to Nov 2013).
Next, the Honest Lawyer boasted London Road cocktails. For a Wetherspoons, the Blue Bell, was excellent and the Berkeley provided its usual pre-match Sam Smiths drinking environment with more football conversation about the old days with the locals. For the Manor and the Kassam read the Old Show Ground and Glanford Park.
For a neutral I think this would have been a very entertaining game to have attended. The whole event took place at a rare old pace. Again it was noticeable that we were moving the ball faster than last season. Scunthorpe though were playing a tiny bit quicker than us.
Whilst this was not a game of constant goal mouth scrambles or chances being created every few minutes, there were goal scoring opportunities with a lot of good technical quality on display.
I realised early on that my talking up of the home side was no such thing; they were genuinely really good. Their defence looked very solid and in Paddy Madden and Josh Morris have players who can score goals. New signing, Belgian midfielder Funso Ojo, is rated too.
There were a number of times throughout the 90 minutes when I was thinking I'll take the draw and this became increasingly so in the second period. That said, I just don't get those who thought we'd been poor and I heard a view that we were crap in the second half.
There was no separating the teams in the first half. Early on Jack Payne hit the bar with a header from a James Henry centre. That it made contact with the goal frame and not the back of the net was down to Matt Gilks in the Scunthorpe goal. The standard of keeping in L1 is high.
For all the slick fluid football being played by both sides, no clear cut openings were being created which was largely due to good organisation and defensive play.
After the break I got the feeling that the Iron, knowing what they are capable of, began to believe more and more that they could win the game and came forward in waves like all such home sides do when attacking towards their own fans.
There were spells where we were no longer keeping possession; clearances were just being made and nothing was sticking. Neither Wes Thomas nor Jon Obika had it in them to win the battles against the sturdy Iron centre halves and there was never any hold up play of note.
Not long after the re-start Thomas should really have given us the lead. A cross from Silva had the appearance of one that was completely mis-hit and going to soar high and wide out of play. However, he can do things with a football others can't – there was one helluva bend on it which resulted in it dropping invitingly to be knocked over the line. Fair play to Thomas for getting there, but like most of the crowd, he'd not read it either. Instead of scoring a simple goal he contrived to handle the ball. (Well that's how I saw it all).
Scunthorpe though were getting more chances and equalised in the bar hitting stakes. A high ball was played in following a free-kick; we didn't deal with it and the ball was lofted goal-wards. That we didn't deal with it was in my view down to a foul, missed by the referee, on Mike Williamson. I'm obviously biased but I still think that most teams are better (or worse, depending on your viewpoint) at these things than us.
Madden nearly scored for them and after an Oxford break, Gino van Kessel was thwarted by Gilks. GvK had replaced Payne who hadn't been allowed to display the trickery we know he possesses.
We didn't actually buckle and concede our first league goal of the season until seven minutes from the end but with the space we afforded the opposition at that point we only have ourselves to blame. I don't think I can recall us being so wide open in any area of the pitch at any time under Michael Appleton.
Ojo received the ball with no yellow shirt anywhere near him. To his right there was 40 yards of freedom for Josh Morris to exploit. My initial reaction was to blame Silva but James Henry had gone off and we had no-one playing left sided mid-field. I still thought Silva backed off too much though and made it easy for Morris to come inside and get the shot away. Could Simon Eastwood also be questioned a bit here?
Far from accepting defeat we went for it, even throwing our keeper up for a corner. That's not something we've been known for. When the ball was played back in it was Eastwood who sent an overhead kick goalwards for Obika to head onto the bar. Very close and spectacular but GvK had shaped to smack an effort at goal before our custodian got involved. Would that have resulted in an equaliser?
Unable to get past this man in green. Photo, Simon Jaggs
A draw may or may not have flattered us. The hamstring injury of convenience ruled out Marvin Johnson. A fit and fully committed MJ would have greatly helped our cause in a game of such pace. Unfortunately I am beginning to think we'll never see such a thing again. If he does once more wear yellow would his heart ever be 100% in it? That's not to say we should just let him go without playing hard ball with the player himself or any potential buyers as he still has quite a lengthy contract for this day and age.
I'm obviously disappointed with the defeat but can see positives and plenty to build on in this performance.
Next up, Shrewsbury who have gone above us having yet to drop a point. I hope people turn up at the Kassam in numbers and get right behind the team just like the 556 present on Saturday did. I've got to say though, I was expecting that figure to be nearly double what it was.