Article by Paul Beasley Sunday, April 22nd, 2018
Doncaster Rovers 0 Oxford United 1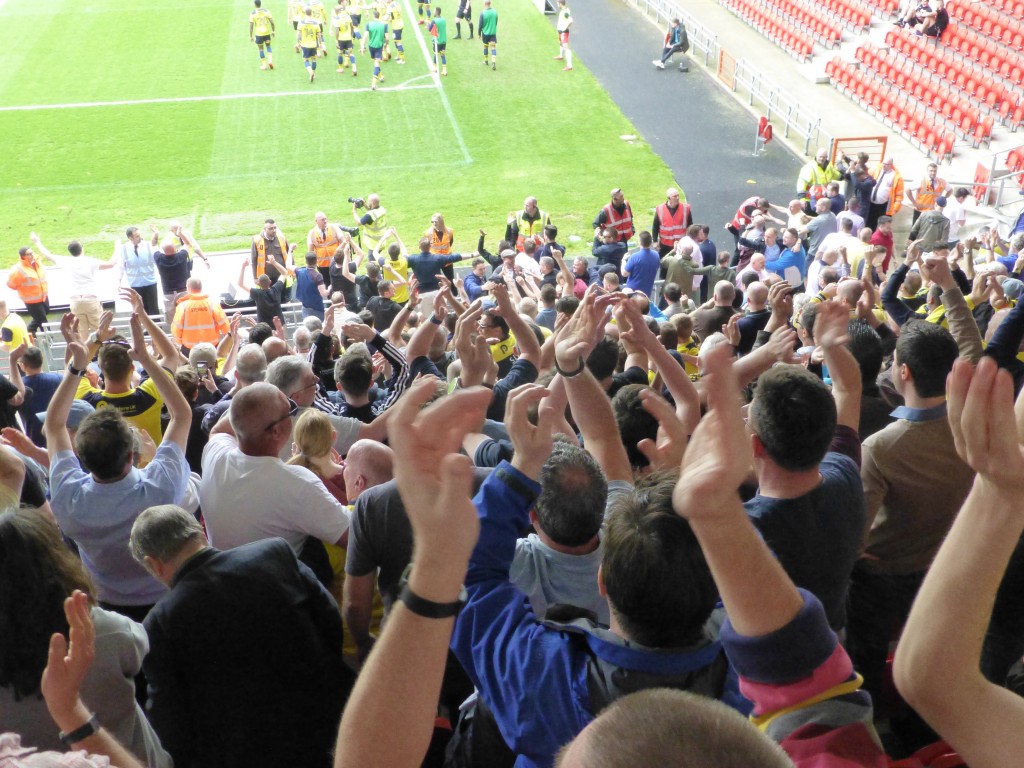 At the business end of any campaign, other than for a few mid-table teams that, depending on initial expectations, have either hit their target or under-achieved, it's all about getting the points needed to avoid the drop, get an automatic promotion place or make the play-offs. Playing football that is pleasing on the eye doesn't come into it.
With that as a backdrop, this wasn't our most impressive performance of the season but was probably the most important result. Job done. Well almost.
At half-time I had a very different feeling to the one of almost total relaxation I've now slipped into.
Although our back line no longer looks like crumbling every time a serious question is asked of it, I thought the home forwards were much more likely to play their way through to our goal than we were to theirs. We might have had two forwards on the pitch but they weren't posing any threat and weren't as quick as their counterparts in red. Nor were they holding the ball up when it did come in their direction although to be fair they weren't given a lot to work with.
To make matters worse at the break other results weren't going our way. It was quite worrying reading and, assuming we'd get nothing at Ewood Park on the final day, pointed to our last home game against Rochdale potentially being an all or nothing affair. Dale had taken the lead just before half time at home to Bradford. They weren't to relinquish that advantage until added time. Walsall were on for a point until Scunny got the only goal of the game in the 76th minute. Plus Wimbledon were beating Oldham. That was a concern because at one time I had the Latics down to possibly win their last three. That this game ended up as a draw was kind to us too. These four mentioned relegation rivals all have a game in hand on us. One team that doesn't are Gillingham and they are now below us in the table. I don't think I had mentioned them in previous FVs as possible candidates for the drop in case I was tempting fate by looking at teams above us at the time but I had mentioned it to the family and had them down to pick up just three points from their last four games. I thought they'd beat Blackpool; they didn't – they lost 3-0 at home to them and Blackpool are one of those definitely going nowhere sides. Gills fans should worry a lot more than us although they'll probably still just survive. Northampton and MK Dons have all but gone and a few others look even more vulnerable. Rochdale are at home to Plymouth this coming Tuesday which means we could potentially send them down in their next game. Intriguing and nail biting stuff, but not anywhere near so much for us now.
That this is the case is largely down to the solitary goal scored at the Keepmoat.
Throughout the first 45 minutes, based on what I'd perceived the evidence before me to be, I was much less optimistic than the mate stood to my left. He was all full of, we're doing well, they're not getting anywhere near our goal, they're not hurting us, which to me was not real world stuff. Then it struck me. Perception and interpretation are influenced by many things and one ingredient is the amount of beer consumed. I, being the designated driver of the day, had to restrict myself to a half or two of lower strength ale. Others did not.
Time now for a quick mention of Doncaster drinking establishments.  There are plenty of high quality ones for us real ale freaks clustered together in a very small area. We visited four and found other Oxford fans had sought them out too. The (Little) Plough adorned with black and white photographs of old agricultural scenes. The Leopard under the control of Doncaster Culture Leisure and Tourism DCLT) where bands such as the Angelic Upstarts are soon to be performing (who killed Liddle?). The Corner Pin where drivers (me) get free soft drinks, tea or coffee. And finally the Doncaster brewery Tap. In here you had to walk through the brewery to get to the toilet. They too have live music here, including a forthcoming gig by a folk singer I'd heard of, Jim Causley. The beers we had everywhere were all rated but my favourite was in here and I was also taken by the half dozen or so people sat around playing ukuleles in the corner of this establishment. That didn't work for some of my mates though. Each to their own but I like to have variety in the pubs I visit.
I don't think the game altered that much in the second half but the change was just enough to swing things are our way. There were huge contributions from a player or two that helped us along too of course.
I've said more than once that a very much on song James Henry equates to the Oxford United team doing well. I'd never previously thought about this with regard to him coming on as a substitute but did so here. Come on James, it's down to you. (No pressure, but we really could do with these three points. We're doing okay and a little bit better since the interval but need something a bit extra to break the deadlock).
Seven minutes after coming on he'd done just that. From midfield Wes Thomas played the ball to his left to Ryan Ledson. Our midfielder's run was focused on progressing down the centre but the pass forced him wide to an area of the pitch that was so lacking in bodies I was looking for the sign warning of contamination and telling people to keep away.  His first touch, right on the angle of the penalty area, was to get his foot under the ball and chip it towards Henry. This was 100% meant as he'd looked up a couple of times to spot his colleague's movement. A diving falling header connected and one bounce later the ball was in the net. Our ex-Wolves man is now just one league goal behind WT in the race to be our leading scorer.
The remaining 27 minutes felt a lot longer than that and when referee Martin Coy added on a further six I'm going, what really? Yes, we're better at game management than we were but we're now doing what other teams have been doing for years and rarely is that much tacked on at the end.
No matter, we made it safely to the final blast of that whistle with another clean sheet under our belts. That's three in five which has to breed confidence.
One of the main reasons we managed this is that Simon Eastwood has returned to his magnificent best. Not only did he pull off some spectacular saves when the trigger puller was very much the favourite, his positioning appeared faultless and he came and caught crosses.
There was 50% change in personnel in the four in front of him. The two, Todd Kane and Rob Dickie, who had retained their places played as we have now come to expect. Consistency is a great asset, but so too is being able to shuffle the pack and get the most out of the assets available. I cannot recall in all my time watching Oxford having so little idea of what the next team line up is going to be.
John Mousinho came back in for Curtis Nelson. I can only assume CN is deemed to not yet be fit enough to play two full games in three days. His introduction for Joe Rothwell, who wasn't particularly influential, with a quarter of an hour or so left added support to the rearguard with John Mousinho pushed further up. Mous had followed the job spec of a L1 centre half in that he'd won quite a few headers and actually put the ball into the stand on one occasion, much as it probably went against his grain. He did however once nearly get horribly caught out.  Perhaps I should accept that this is going to happen every game in L1, but I can't.
Josh Ruffels was moved from midfield to left back as the replacement for Ricardinho. Ruff had a really solid game and during the first half in particular I though he was possibly our best outfield player. He looked really strong and if he was to give the ball away it was a rarity.
I'd wondered why Ricardinho had been left out and although Radio Oxford apparently suggested it may have been to do with height, our manager later gave a more logical reason. If he plays again his contract triggers another year. KR wants him to stay but not on the terms previously agreed. So either the player will walk away and not play again or after negotiations he'll agree to fewer pounds in his pay packet. This suggests to me that Pep Clotet handed out rather lucrative deals. The next logical thought process is how much have we wasted, and are wasting, wage wise on  Dwight Tiendalli, Gino Van Kessel, Aaron Mehmeti and Ivo Pekalski? Huge amounts for L1 I'd wager and that's without Xemi and any pay off. Oh Mr Clotet what did you do?
I doubt our current incumbent will make similar mistakes and it is pleasing to hear that he's already in talks with a few players with next season in mind. We've just got to see this one out first then we can file it under "a wasted year but could have turned out a lot worse".
Wasted or not there's still some satisfaction to be had when winning football matches like this and yet again our fans did the club proud. The fact that this was the first time we had played at Rovers home of eleven years may have accounted for a few amongst the 1,000 plus away contingent but the vast majority would have been there regardless. At times like these positive passionate vocal backing can make quite a difference.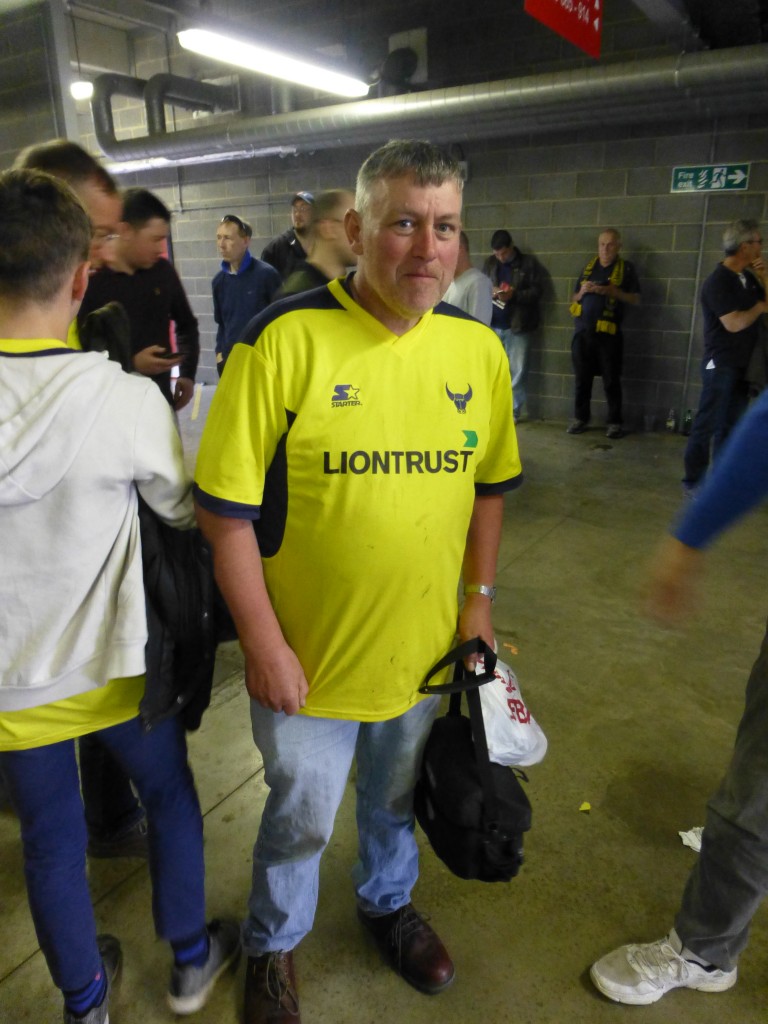 Some even cycled to the game from Oxfordshire. Well done Doug Hedges.