Article by Paul Beasley Sunday, March 11th, 2018
AFC Wimbledon 2 Oxford United 1
I usually spend a bit of time drafting a structure of sorts before I put together a Fan's View but I'm quite disinclined here to bother with meaningful planning because that will fit in neatly with Oxford United as things currently stand both on and off the field.
It's so easy to be wise after the event with many coming out after the final whistle signalling yet another defeat saying told you so. If that's what people believe then be brave enough to say so before hand and if by some miracle we do a Charlton then put your hand up and say, well I got that one wrong.
Although the mates I regularly travel with are not such people I was interested to know how they genuinely thought we would get on as we sat on the train heading to Marylebone. All three had us down to win. In one case by three goals to nil. I had no such optimism and would go no further than either a single goal margin victory to one of the two sides or a draw.
Heading home I heard comments such as "shower of shit" and it would be quite easy to leave it at that. The only positive being that although we lost yet again it was indeed by just a single goal. And if that's a positive we truly are screwed.
Kingsmeadow is a terrible ground at which to watch football. We have this debate every year. £17 is quite cheap by L1 standards but if you can only see something between 10% and 80% of the pitch from the shallowest of terraces, depending on your height, it is vastly over-priced. There are plenty of people who don't bother trying to get tickets for this trip for this very reason. The shorter the person the more likely they are to give it a miss.
Another annoyance was the dozen or so home fans stood in the seated area in very close proximity to the tiny seated section for visiting fans. It was obvious they were just out to be obnoxious and stir things up. This behaviour is bad enough as it is but with seating at such a premium is probably even worse. Not once did I see a steward telling them to sit down. In contrast a few Oxford fans were thrown out but I didn't see what they did or didn't do so it may have been justified.
This isn't the football club we were all once upon a time supposed to love because they are not MK Dons. I've said this before and on closer inspection I'm not totally convinced such a club ever existed.
Bearing in mind the view, or lack of, and given that it was just about at pitch level it is hard to come away with a proper perspective of the game. I'm over six feet tall and missed a fair bit of the (non) action.
What's going on?
That said, I thought the standard was abysmal. Two teams that didn't look like they'd be challengers even if they'd been playing in L2. More National league level?
Although there were goals in this game the "lucky to get nil" quip was large in my mind. The score should have been 0-0 with both sides lucky to get that. Perhaps the most appropriate score would have been AFC Wimbledon -1 Oxford United -1. Given the nature of this affair it was always going to be decided by a mistake (or mistakes).
The honour of committing those mistakes went to Christopher Sarginson and our defence for the way they didn't deal with a free-kick. Taken together that equals no points and that is becoming a very common theme.
The first half was about even and the way we came back from being on the wrong end of one of the worst decisions you'll see from a referee was, on reflection, quite pleasing. But given what we are, it counted for nowt at the final reckoning.
On the day it did not look like a penalty to me but I was kind of hoping that I had missed something like Todd Kane deliberately sticking out a leg as he went down to stop Harry Forrester getting to the ball. Or a sneaky shirt pull. Having watched it back there was none of that, just Kane slipping over and Forrester then running into him and going down. I doubt the Wimbledon man could have avoided it as it all happened so quickly. However if Kane had not gone to ground, Forrester would just have run into the back of a turning defender. What would the decision have been then?
Kane's post-match comments were obviously ill advised but in the circumstances quite understandable particularly as Sarginson said at half time that 'I've watched it back, he fell over you'. So what did he think happened at the time? Was he really looking and concentrating?
It wasn't just that incident though. On one occasion a Womble slid in studs up. Yes he got the ball as the referee indicated but if a yellow player had bothered (possibly an unfair use of the word) to go for it as well the outcome could have been a messy one. Pity Sarginson didn't resort to charades when he gave the spot kick. Go on, give us a clue.
Like many referees there was an occasion or two when he insisted that a free kick be taken from a spot a couple of yards from where the ball had been placed and then allowed others. And throw-ins too to be delivered ten yards or more from the correct location.
It wasn't just him. The assistant in front of us was as frustrating. A few yards from him Lyle Taylor threw himself to the ground with contact, if any, being the slightest of brushes. Result a furious waving of the flag and Taylor having a bloody good laugh. (Memories of the Beano sending off, anyone?) Up to then I thought the flag had been instructed only to leap into action to signal when the ball had gone out of play because a massive shirt pull not far from said assistant went without any acknowledgement whatsoever.
But we mustn't get diverted from the sad state of affairs that is OUFC by focusing on officials who are way off an acceptable standard. In our own sphere we're as bad if not worse.
Let's talk relegation. I've broached this subject a few times during this campaign. I've long argued that if a team is in mid-table a reasonable amount of games in and there is legitimate consideration of making the play-offs then it is only right and proper to also consider going down. There are those that then accuse anyone daring to debate this route out of L1 as heretics.  Me, I like balance. (Something Todd lacked at what turned out to be a crucial moment, or perhaps two).
A few weeks back I said we'd not go up or down. Whilst an honest feeling at the time, I now have grave doubts. On the return journey I asked the same three if they thought we'd go down. They all said no although one did concede that it would be a struggle. He added that he was worried and then "and that's not like me". His worrying worries me and that's on top of my worry. My conclusion before seeking these views was that whilst not nailed on we have a very good chance of going down.
Why do I say that? Firstly it's that where are the wins going to come from question. Even if we were to magic another Charlton out of the hat that alone wouldn't be enough as we're likely to revert to type for a run of games thereafter. Goals just don't look like they are going to be scored. We're not creating. We still have to travel to Shrewsbury, Wigan and Blackburn. That though is probably irrelevant because we don't currently seem capable of beating anyone.
I challenge anyone to pick the four teams that are worse than us and will finish below us. I challenge anyone to pick the four teams on worse current form than us.
Two weeks ago I quoted the best odds for each team to be relegated. Bury and MK Dons have now all but been written off. Worryingly though Rochdale have gone from 8/15 to 8/5 and Oldham from 5/2 to 5/1. Fleetwood and Northampton have been judged to be marginally more likely for the drop since then and the same with us at 7/1. I think that is generous but wasn't allowed to put the couple of quid left from the kitty on this trip on such a wager. Fleetwood are of course still to visit and we couldn't even score against the Cobblers in the previous game.
Even before this game I felt very uneasy and can sense an inertia surrounding the football club. Presumably Tiger will act at some stage but until then what? And even then, what?
I'm incredibly angry and disillusioned but so far have managed to hold most of it inside. I want to hit out, if only in words and print, but who to blame?
Is it the manager's fault? Well, we've only got a caretaker and he wasn't dealt the strongest of hands so not fair to do so, but come on. We've got worse under Faz. In six games under his guidance we've had one win (Yes, Charlton.  Oh, how they teased us with this all will be right with the world delusion. And by that I mean comfortable survival), one draw and four defeats. Worse than under Pep and with an alarming decline in league position.
Pep to blame? Our former Chairman told someone at the Oxfordshire Senior Cup quarter final at Court Place Farm that Pep had been given a top three budget to spend. In the circumstances I'd be peeved. That must be huge wages on injured / under-performing / over the hill / over-rated (by Pep) players. But Darryl Eales employed Pep.
That won't do though because Pep's gone and DE is only now Mr 10% even though we're all being led to believe that Craig Bellamy was as close to being a done deal as a done deal can be without actually being one. Then in came Tiger so can you blame him for anything?
Yes it's a bit early to be having a go but I'm perplexed as to what our football club is now all about. I'm struggling to have faith in us having a sound future.
Tiger lives in Thailand. He plans to come over about once a week I believe. His command of the English language isn't total. Where's the evidence he has contacts at the very heart of the game in England from whom he can get meaningful advice and with whom he can do business? That press conference was underwhelming to the extent of embarrassment and to say "If the right person comes in and makes an immediate impact and lifts things and we win ten out of 12 games then we can still make the play-offs".  That was one of the biggest Ifs I've ever heard. Can we still do it Tiger with now the need for ten from 11? Let's get real shall we.
There's not just one pantomime villain in our decline, which 12 months ago would have been unimaginable and our current crop of players cannot get off scot free from criticism but as Chrissie Allen reminded us at the Manor Club: no player goes out there to play rubbish. I also think that when our fans come out with "most of this lot don't care" they're talking bollox. If Kane, a loanee, didn't care why did he react as he did when that microphone was put before him?
None of them have covered themselves in glory recently but I believe a motivational, tactically astute coach would have them much further away from danger. It goes without saying that more than ever the team need the fans to get behind them and help out but I fear in this world of blame with the easiest of targets being sought there are a significant number not far off turning with real venom on the players both individually and collectively.
Some are now cottoning on to Simon Eastwood's declining form. He got nowhere when he came off his line for the Wimbledon winner but there was downright rank defending all round. We didn't have a dominant centre-half getting or even attempting to get a head on the ball. The groupings in the box seemed to be blue shirts and yellow shirts with marking a secondary consideration. Wes Thomas, Isaac Buckley Ricketts, Cameron Brannagan and Kane were there but doing nothing, each stood nowhere near an opponent. No wonder we lose football matches.
I must give credit to Kane for getting our goal though. Also I feel the need to stand up for a couple of our players, not because they're performing to a level that gives me hope but because I consider they're getting over the top criticism. At one time Thomas getting into double figures for league goals appeared inevitable but he's not registered since the first day of 2018. There's no doubt he's disappointed but to call him a useless c**t to me is way out of order. He only had half an hour game time here and whilst he probably should have scored having seen the replay of his effort a minute before we went behind for the second time, I don't think he did that badly. Plus it was a good save.
John Mousinho is part of a back line that can't defend set plays very effectively but there are plenty of times when he looks a decent footballer and decent intelligent defender too. Others don't see that at all.
The depression is high but over 24 hours later I note that we've got a game in hand on Doncaster and two on Walsall, the two team just above us. The law of averages or some other such nonsense says we'll start winning again doesn't it? Please tell me it does.
The day out wasn't all gloom though, it was about another crack with mates, proper pubs and proper beer and crossing paths, if only briefly, with supporters of other clubs who also carry burdensome crosses of woe.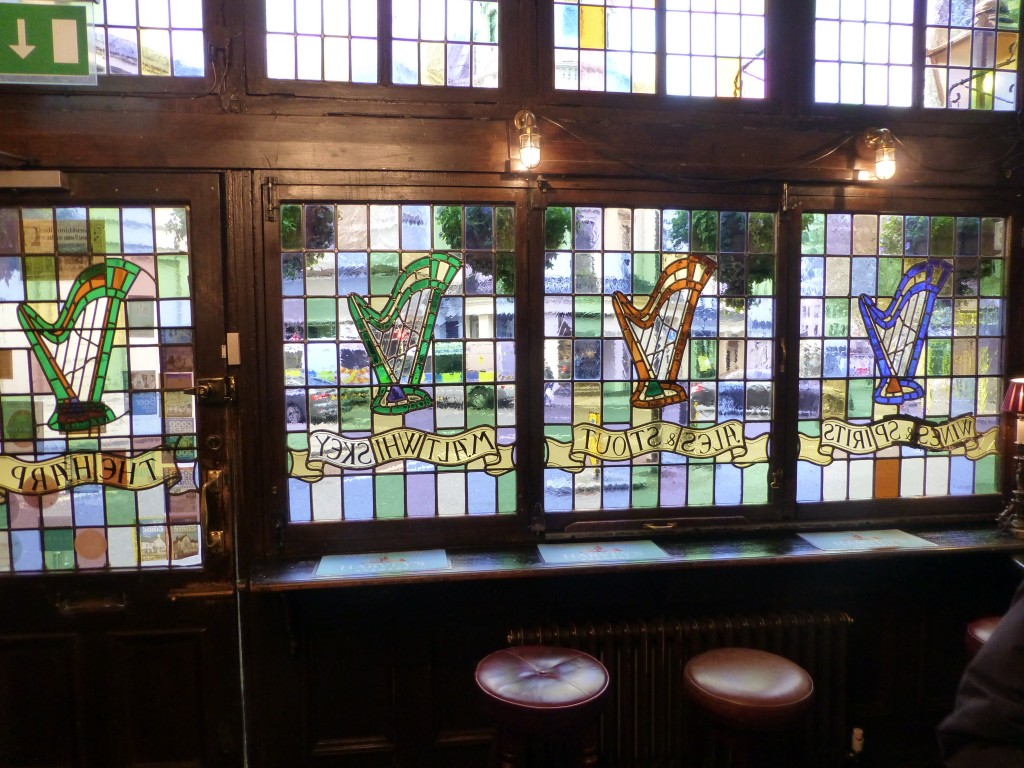 The best pub we went in all day was the iconic Harp in Charring Cross. We can't speak highly enough of this establishment. In there we met four or five Sunderland fans on their way to Loftus Road. One was even older than me. He first started going in the 1950s. He goes to most games. He knows they're terrible and almost certainly going down. Whatever division they're in next season he'll still be going. We said the same applied to us.
On Marylebone Station waiting to get back to Bicester I struck up conversation with two young (well most people seem young to me now) Torquay fans heading back to the Midlands. They'd seen their team lose to an 88th minute goal at Maidstone. They are second bottom of the Vanarama National League nine points from safety. They know they'll be visiting Oxford City in 2018/19.
Does all this someone somewhere is always worse off than you thing make me feel better? No, not really but it is a bit comforting to know that we're not the only ones. There's this kind of brother (and sister) hood of suffering that only true football supporters who spend hours and hours travelling the country only to witness abject performances and defeat after defeat will understand. "Good luck for the rest of the season" we say, full well knowing that misery is likely to outweigh anything else.  But perhaps not. Is that why we continue to put ourselves through this?