Article by Paul Beasley Sunday, February 18th, 2018
Oxford United 0 Plymouth Argyle 1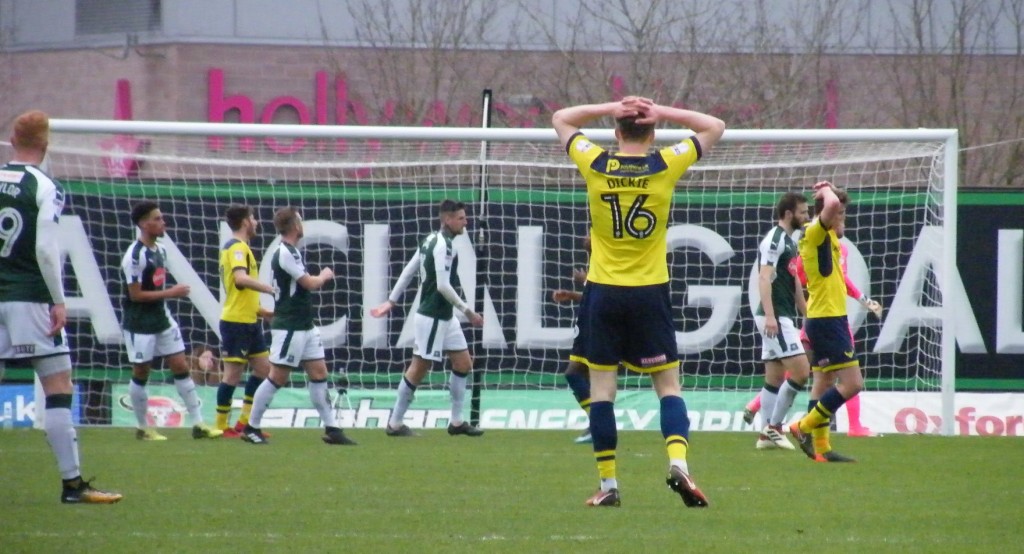 Time yet to all hold our heads? Photo, Simon Jaggs
Following the Rotherham defeat there was something of a split in the fan base – not that we were ever one unified body of thought – between those who said relegation is now a serious possibility and the other camp who declared no way are we going down.
Some of the arguments this latter group put forward are that:
We only need another 10 – 12 points to survive and with the number of games we've got left we're bound to get them;
There are worse teams in L1 than us; and
We played really well against Charlton when no one expected it.
I'd agree that a point per game on the face of it isn't a big ask but quite a few people have pointed out that we've got some very difficult fixtures coming up. Taking one game at a time I'd not thought that far ahead but a quick glance tells me that's correct. Mind you when a team is not playing well every game is a difficult one.
I checked out the current form table (last six games) and discovered that Portsmouth, Scunthorpe, Donny, Fleetwood, Rochdale, Bradford and MK Dons gained fewer points than us in that period. That was prior to Plymouth's visit. After Saturday the updated last six standings put us in 20th position with just three points. Only two teams have fewer points from those games.
Our direction of travel and the speed of that travel is what has been worrying me along with it seemingly being that performances like Charlton away are one offs with the norm being either poor or mediocre showings.
A thing I don't seem to be able to extract from the glass half (three quarter?) full people is how they think we are going to be able to change all that is currently wrong including leaky defence, lack of fit, effective strike force, losing out to physically bigger, more committed, robust teams. Etc. Or which players are going to step up and do it for us.
So who do I side with? Well, I'll declare myself to be a fence sitter. I find it hard to see how our weaknesses are going to be eradicated with what we've got or how we are going to be able to play to our strengths, whatever they are. We do though have some good players at the club and there are others we are yet to see (Cameron Brannagan and Ivo Pekalski). They MIGHT make a difference. It is true there are other poor teams around and we MIGHT have another Charlton or two in our locker.
For all that given the form of our visitors and knowing how we'd played in the last few games I had no confidence in us getting even a point from this, hence, as the holder of our left over away days drinking kitty, I got tempted by a Plymouth win at 19/10. It goes without saying that the bookies more often than not get it right but making us favourites at 13/10 was laughable I thought. (It was 5/2 the draw).
Following a football club with everything you've got makes one do mad things. My reasoning in putting this bet on was twofold. Firstly, as the betting company usually comes out on top, we would lose our wager meaning OUFC would end up one or three points better off by five o'clock. Paying for a point or three, if you like.
A mate with a share in the bet didn't agree backing against our own team but was outvoted. He mentioned it to a young Tottenham fan he works with and learned that the lad only ever bets against Spurs. He even bets on Arsenal to beat them. The logic being if his team wins he doesn't care about the loss and if Arsenal win the monetary gain alleviates the hurt. It's kind of a no lose bet. Yes, there's that too.
Although our stake nearly trebled, I don't think it was that which meant I came away feeling in much brighter mood than after many defeats. It was because we'd put on a much improved display and thinking about the game as a whole, without stepping back and doing any proper analysis, the conclusion would be that we were the better team.
I think that was the opinion of most Oxford fans. Afterwards when we hooked up with a Plymouth supporter, Wozzer, we have got to know over the years, who was staying in the Holiday Inn, he thought that too. "We got away with one there" he declared and told us that was Argyle's worst effort for quite some time. The discussion then naturally turned to the mark of a good side being one that wins when not playing well. There were many more visiting supporters stopping at the same place and there was genuine talk of them sneaking into the final play-off slot. Their next three games are against Bradford, Rochdale and Fleetwood. On current form all very winnable.
Using the possibly flawed logic above does it mean that playing well and losing indicates that a team is poor? If so based on Saturday that would put us in that category.
For once we started confidently and never looked like we were on the back foot allowing our opponents to dictate. The commitment was there, the ball was being moved a bit quicker than of late and we weren't being out muscled in midfield or at the back. Instrumental in what we were doing was Joe Rothwell. On a couple of occasions he drove forward with real intent, going past a number of green shirts along the way. Stuff like this meant we were playing a lot of the game in their half. Passes were finding a yellow shirt in much more effective manner than at the New York Stadium. It was Argyle who were making the most mistakes.
Fate decreed, as it regularly does for us, that another injury would strike and before the first half was over we'd lost our brightest performer. Off went Rothwell and interestingly it was Ricardinho who replaced him. Our tiny ageing Brazilian wasn't out of place in midfield.
One massive flaw we'd had earlier in the season, lack of pace, has now been corrected. We now have a few starters who can run pretty fast.
Wozzer had picked out Isaac Buckley-Ricketts as being quick and a danger and said for that reason their left back Gary Sawyer was eventually replaced, as he was the previous week when a Wimbledon winger kept doing him for speed. On reflection I don't think that was a weakness that we exploited as much as we could have. I recall one occasion when IBR steamed away down the right flank but thought he ran into trouble way too often and lost possession at a rate not commensurate with the demands of football at this level.
Our best first half chance did come from the right hand side but it was Todd Kane bombing on who set up a very good chance for Alex Mowatt. Having bounced just before he took it, the ball was on the rise and he just encouraged it to rise a lot more way over the top. Surely a fairly easy chance for a professional footballer to convert?
That though was our best chance. The stats say we had 24 shots with seven of those on target. Many of those so called efforts on goal were from outside the box and were little more than trickles through to the keeper if not blocked by a defender.
That was one of the reasons we lost and add to that poor defending from a corner and there's a reasonable argument that we didn't deserve anything, such is the importance of these things in deciding the outcome of football matches. There was nothing unlucky about either of them; they were just play that wasn't up to the required standard.
For the goal the ball was in the air for a very long time and I didn't think it was one of their better corners. Others had been delivered with more whip and this looked more routine to deal with. What Simon Eastwood was doing coming for a ball he had no chance of getting and ending up stuck in no-man's land will have to be something the coaching staff take a good look at. Not having come, he would have had a reasonable chance of keeping it out. As would defenders on the line / posts facing the action. Additionally Rob Dickie was out-jumped and John Mousinho was pretty close to the action too.
The stats also tell that we had ten corners. It would have made no difference if we'd had 50 our delivery was so bad, usually bending the ball fairly gently into the centre of the six yard box enabling keeper Remi Matthews to stick his arms up and gather comfortably.
Defensively I thought we were generally better than we have been, particularly the two new full-backs but we still got breached a couple of times way too easily. Ryan Taylor had the freedom of the Grenoble Road when he hit the bar. If the ball had not got slightly tangled under his feet I think we would definitely have gone two behind.
Ryan Taylor. Photo, Simon Jaggs
Our ex played well. A big strong handful, winning lots in the air and laying the ball off to colleagues. That said, Mousinho stood up to him well and gave as good as he got. All part of the game. I could see why our captain got man of the match and also why Aaron Martin has been cast aside for Dickie to come in. JM was required to have the ball at his feet time and again at the back, picking it up from Eastwood's roll outs or another colleague back there. He doesn't just hoof it either but looks for a proper passing opportunity.  I could also understand why there was some shaking of heads when the motm was announced because the recipient of the award didn't always mark men in the best possible fashion.
I didn't agree with using our two remaining substitutions as early as the 64th minute nor at the time did I agree with the removal of James Henry. As it turned out I don't think it weakened us nor did we get caught out with injury.
Henry was having a good solid game and Gino Van Kessel, other than that Pompey thing, has been a player that's had us confused on the rare occasions there's been a sighting. Straight away though he looked big, strong and a genuine threat. He looked to get things going quickly and had an awareness of where his team mates were too. That's something I'd not really noticed before.
In the past I think I've described GVK as unconventional and I think the same could be said about John Obika who I am struggling to warm to. For me he just doesn't bring enough to the team. He was though only marginally off-side when he had the ball in the net and did appear about to pull the trigger having got through the Argyle back line when the referee mysteriously blew his whistle. Apparently GVK had blocked someone trying to get back and defend. I had not spotted that but if that's what happened then fair play to the referee for noticing it and no complaints from me.
So, much better but still not quite good enough to obtain any points leaving us in 15th position having lost three more matches than we've won. We have a game in hand on Doncaster so could go above them but a couple of teams below us could go past us as they've a game each to catch up on. We are now just five points off the dreaded 21st place.
Plymouth rarely win in Oxford. We rarely win at Northampton.
So what happens next?