Article by Paul Beasley Monday, February 5th, 2018
PEP OUT
I've not written a Fan's View since the Bury debacle and I went to press a day before Radio Oxford told me the news that Oxford United were looking for a new manager for the second time in seven months.
My initial reaction was one of total surprise but on reflection there's sound reasons to justify the dismissal with one more very poor performance being the final straw despite still residing in mid-table.
I was not the least bit unhappy about it but neither was I ecstatic. Someone else has to do the job and when I consider the list of likely candidates produced by the bookies or conjured up by local gossip and rumour, my feelings range from being underwhelmed to very worried.
A proper interview process netted us Mapp and Pep so you could say a 50% success rate which at least is better than what we witnessed under Firoz.
Then there's the caretaker thing but it's been suggested that Faz is a dinosaur when it comes to modern football thinking. He's old school and really doesn't want to be number one. I don't know how much input and influence each of the coaching and management team have had under both Mapp and Pep. As ever the proof of the pudding.
What I think we need now though is a purely pragmatic coach, one that will get us enough points to remain in League One. By common consent 50 is usually enough. That's 12 more than we had before the visit to the Valley. Though to be on the safe side a couple more would be nice as 51 were required in 2014/15. I'm not particularly looking for flash highly entertaining football, just solidarity given what we've become.
In Pep's defence, as is often trotted out, he did not come in until July 1st and was way behind most clubs when it came to building a team for the season ahead. Again I'll give everyone a chance but his model did seem flawed.  I don't care if players are foreign or not, although our own local lads are always a real bonus provided they are good enough. The problem was more to do with injury proneness and players' better days being behind them. It soon became clear that a fair proportion of the monthly salary paid out by the club had not been allocated wisely. Though it must be said that the injury to Curtis Nelson, who we all know has the class to go on and be a defender at a higher level, did not help the cause. The fairly reliable talk was that he would have gone for a large sum in the transfer window anyway though. Will we ever know if Pekalski is any good? Again possibly fortune wasn't smiling on Pep but under him there were few smiles, more frowns and grimaces as we witnessed a team that couldn't defend very well, had little pace and went infuriatingly sideways.
Whilst seeing James Henry's shushing versus Bury I didn't spot Pep doing the same but it was not a sensible thing to do and any action like that was only ever likely to tip more and more of the fan base against him as the godawful displays mounted up.
So well done to Darryl Eales then for having the guts to make the decision which I'm sure he didn't take lightly at all. I agree it's not like him or the Oxford United of recent times to part with a manager after such a short space of time but needs must and I don't go along with the conspiracy theorists who say that it is someone else behind the scenes who is pulling the strings. New owners and all that. I've got no evidence telling me it's not DE and his board but some seem to refuse to give him credit for anything. I need irrefutable facts.
TRANSFER WINDOW
If all the "done deal" stuff and certain players demanding transfers I'd read about had been true, nearly half of the starting line up at Charlton would not have been there. That we were going to let them go showed that we had no ambition and that DE was going to pocket the transfer fees, or something along those lines. When it didn't happen I didn't come across any retractions saying that we aren't so backward looking and Darryl isn't such a bad guy after all.
In came 21 year old Ashley Smith-Brown from Man City on 29 Jan and 24 year old Todd Kane from Chelsea on 31 Jan on loan for the remainder of the season. Both full-backs and whilst not babies, considerably younger than those they were to replace.
So with Rob Dickie, Isaac Buckley-Rickets and Cameron Brannagan that means five in.
A few have left either permanently or temporarily.
Jack Payne was recalled by Huddersfield, therefore not our choice.
Charlie Raglan, who has only played 90 Checkatrade minutes this campaign, has been loaned to Port Vale. He's been out injured for so long that I've no idea how fit or good he'll now be, but like almost every other Oxford fan I know I don't get this as our defence has been a problem and Raglan had looked well worth a place on last season's form.
Xemi, who did not appear anywhere near L1 standard to me, has had his contract cancelled by mutual consent. He was way too slow and it was a crazy thing to give him a three year contract. How much has that cost the club? Pep's fault but someone rubber stamped it.
James Roberts being at Guiseley doesn't worry me and similarly Kane Hemmings not being recalled.
So all in all I was reasonably content with what did and didn't happen before the window was shut. That was largely based on who we'd kept inside the building provided there was no Marvin Johnson style downing of tools. We did well out of him. We got good money. Tony Pulis doesn't want him nor would I want him back. His heart wasn't in it when he left us so why would it be if he were to return? Good player with pace, but no thanks. (If he did ever return I would support him though).
CHECKATRADE AND THE OXFORDSHIRE SENIOR CUP
More than ever I felt the need to show my support for my football club, whatever direction we were going to take but my boycott of the Checkatrade is absolute so I didn't venture to Stamford Bridge to see us take on Chelsea's supposed U21s the day after we'd heard Pep had gone.
1,073 Oxford followers did. I don't get that at all but they probably don't get my stance either. 1570 others went too. Only costing a fiver to get in probably had something to do with it. Good job the Bridge holds over 40,000.
I'd feared we might be given the run around and I believe that's what happened.
The semi-finals are Lincoln v Chelsea U21s and Shrewsbury v Yeovil or Fleetwood. I'd love to see a final between the U21s and Fleetwood. The attendance for that would be? However if Lincoln get through I think they'd take a massive following.
No matter though because there was an Oxford fixture just down the road from me the following night. The Oxon Senior Cup quarter final against Ardley. The adult price to get into this fixture being marginally higher than that charged by Chelsea. I'd rather pay that though.
As it happened the game was called off and took place eight days later on a very non-league pitch in a damp atmosphere where tiny water droplets just hung there in the air throughout. I thought I was on Dartmoor. This was real grass roots football with crunching tackles and a referee who looked about 12 years old.
We put out a very youthful side. (Were we disrespecting this competition? Discuss….. only joking)
I can't say I spotted any future first teamers but I don't have a trained eye for such things. I will say that they kept at it manfully throughout and eventually ran out worthy 3-1 winners. I liked the way the back line talked to each other and encouraged too. Something I have not spotted in the first team for a while now.
So onto that first team and Charlton away.
CHARLTON ATHLETIC 2 OXFORD UNITED 3
Initially I had no faith that we would get anything out of this and if I had not been talked out of it, may have gambled the remnants of our latest away day drinking kitty on a home win at 10/11. Come the day I didn't feel quite so pessimistic but was still expecting a defeat.
Charlton had won their last three league games but these weren't against the better sides. We fitted nicely into that category then. Or perhaps even that was doing us a favour because we'd recently lost to both Walsall and Bury.
It was obvious we would have a good turnout of fans once it was announced that we'd sold over 1,000 tickets before the day. That was more than evident on the train to London and around Borough Market before we took the final short leg of our journey from London Bridge.
I can't believe I've never before sampled the delights of the Borough Market area and the pubs and beer it has to offer. The Rake, which opens at 10:00, is a tiny pub but well worth seeking out. It has an array of craft beers costing up to £7 a pint but four hand pumps provided an interesting choice and the beers we went for were only £4.10 a pint. Quality too.
The Old King's Head, which is down a narrow cobbled lane off Borough High Street, opens at 11:00. It is a traditional boozer but whenever I see Doombar and Tribute I feel a twinge of disappointment. The well-kept Harveys was a redeemer and the staff were incredibly welcoming.
Our last stop off was probably the best known of the three, the Market Porter. It had a vast array of ales to choose from but what was ordered and what was received did not always tally, with a mix up of pump clips a likely contributor. The atmosphere was good but my beer was disappointingly flat and the pints were the most expensive of the day by some distance.
In the ground the support exceeded my expectations.  There may have been a fair amount of individual moaning, griping and negativity, and that really gets me, but it was trumped by the collective backing which surely helped with that unbelievable final outcome.
On the way the usual "what's the team going to be" question was asked. Now more pertinent than ever. We got as far as Simon Eastwood then confessed we didn't have that much of a clue.
What we got was Kane and Smith-Brown as an entirely new full-back combo. "Get 'em in, give 'em a chance, see what they can do" had been heeded. The centre back pairing remained the same to the disgust of some. Not me now that Raglan isn't here, Nelson has a long term injury and I have never seen Dickie play.
The return of Ledson and Rothwell was a massive positive for me, provided they were fit and up for it. And so it proved.
Knowing that Wes Thomas had pulled up in the warm up made me wonder just how many ways we were up against it. Even more of the under-dog now and even more need for deep rooted support to get behind the team. Never mind though we had John Obika in his stead and a genuine reason for only having six on the bench. (Unlike Manchester City – Pep you twat).
From the first whistle you could see this was just so different to what we'd seen against Bury. There was a freshness there and we had better shape. We looked good, as did Charlton, which meant it was a good game of football. It was end to end but with chances at a premium and no mad scrambles at either end to keep the ball out.
I was much heartened by what I was witnessing. We were taking fewer touches on the ball which was often moved on first time. There was much less of the sideways backwards stuff and at times we had width. There was more pace too, allied to a sharpness and we actually got to see yellow shirts beat opponents.
We could have gone a goal behind quite early on when Kane was beaten easily but the cross that was then delivered was met with a poor header that was put wide.
It was us who came closest though. Having got bodies in midfield we were able to pick the ball up before knocking it forward where Obika turned and hit the bar out of nothing with keeper Ben Amos being nowhere near it.
On 35 minutes Obika also pulled up. What is it with us and injured players? It's getting more than silly now.
He didn't have a lot of options but it was over to you Faz.  There was absolutely no chance of it being like for like. James Henry remained seated and on came Malachi Napa. There was moaning around me when he was played down the middle. Just because a player is played there doesn't mean he's required to perform in the role of a traditional centre-forward. Needs must and all that bearing in mind there is such a thing as the "false number nine" role. I always prefer to wait and see what actually happens.
I perhaps should not have but at this point I couldn't resist telling a person behind me that I thought they were being too negative. Mistakes were leapt on but not once did I hear a shout of encouragement or clap when we'd done something that merited it. The response was "I'll clap when I see something worth clapping".
Some people are harder to please than others I suppose.
Although my frame of mind was getting more positive by the minute I could not see where our goals were going to come from. With it 0-0 at half-time I'd taken the view that it was still quite likely we would lose but that I would still leave with plenty of positives for the future. Little did I know.
However well any team is playing, good work can be undone by just one cock up and we know that our defence has cock ups in it.
Cock up number one that we paid for came in the 63rd minute. A long high ball was played over the top. It was bouncy but John Mousinho was ahead of Tarique Fosu-Henry and looked able to deal with the situation. He tried to head it but the execution was poor and he just knocked it downwards. Even then he still looked to have the upper hand but Fosu-Henry got a foot in. Josh Magennis picked the loose ball up but still Mousinho was there getting in a tackle.  Again the ball fell free. Smith-Brown slid in with a combination of recklessness and danger but was just beaten by Ahmed Kashi who fired low and hard past Eastwood. Was it close enough to his body for our keeper to have kept it out?
Heads didn't drop which was a great sign. We continued to play our football but the equaliser took 13 minutes to arrive. Napa on the right flank (that's false number nine for you) came inside across the park. He had options and that's not something we've been able to say recently. Josh Ruffels had made a run and Buckley-Ricketts was available too. Henry had replaced Alex Mowatt six minutes earlier and it was Henry in a central position who was found with a pin-point pass that went tantalisingly close to some defenders it was that accurate. To Henry's right was Smith-Brown in space. The coaching manuals demanded a pass, as did I. There were defenders in the vicinity but they weren't tight enough to Henry who manoeuvred the ball ready to get a shot away. And what a shot, from inside the D into the correct side of the side netting. No shushing but wiggling and a waggling of the arm amid much delight.
But oh bloody no. Two minutes further on and we'd cocked up again and gone behind again. This was Kane's fault but again I wouldn't bawl him out. He didn't intend to lose the ball as he did when easily robbed by an alert Jay da Silva. The ball into the 6 yard box was of the type that defenders find really difficult to deal with. Maguinness had made the run and could hardly miss from such close range. Ruffels had done well to go with him but it was always in vain as he never caught up. Perhaps that was just as well as an oggie is a likely outcome in such circumstances.
Amazingly nothing changed other than the score line and we kept playing in just the same way, but when, after another very good move involving first time passing, Buckley-Ricketts hit the post you could be forgiven for thinking our role for the day was that of gallant losers.
With a minute of the 90 left we're still giving it everything. Mousinho (give the man some credit for playing some football) fed Ricardinho (the only one of Pep's foreign imports to figure anywhere and even here only as a late sub) on the left. His pass to Ruffels was incisive who sensibly took the ball forward before cutting it back into the penalty area. It evaded defenders but not Kane. That he was where he was says a lot about our belief and mind set. It was another tremendous finish. Again Amos didn't get a sniff.
If the scenes behind the goal after that were something else it is impossible to do justice to what went on five minutes later.
I was breathless and elated that we'd (probably) got a point after twice being in arrears. When five additional minutes were declared I was going no, no. That was wrong of me.
With no time at all left Napa, again down the right, brought a high ball under his spell with ease. He played the ball to the feet of Buckley-Ricketts who, with a little sprint and stop, saw off Kashi. Another pull back another top draw finish from the edge of the area. This time Ledson.
This can't be happening (in a good way). It was. At my age I shouldn't be leaping about like a lunatic overcome with emotion but I was. Football. What a sport. What joy it can bring amongst all the pain.
And if anyone thinks there's no spirit in that squad and Ledson definitely wants away this very moment, think again. Look at the celebrations and also note how they were joined by Rothwell and others who were not on the pitch at the time.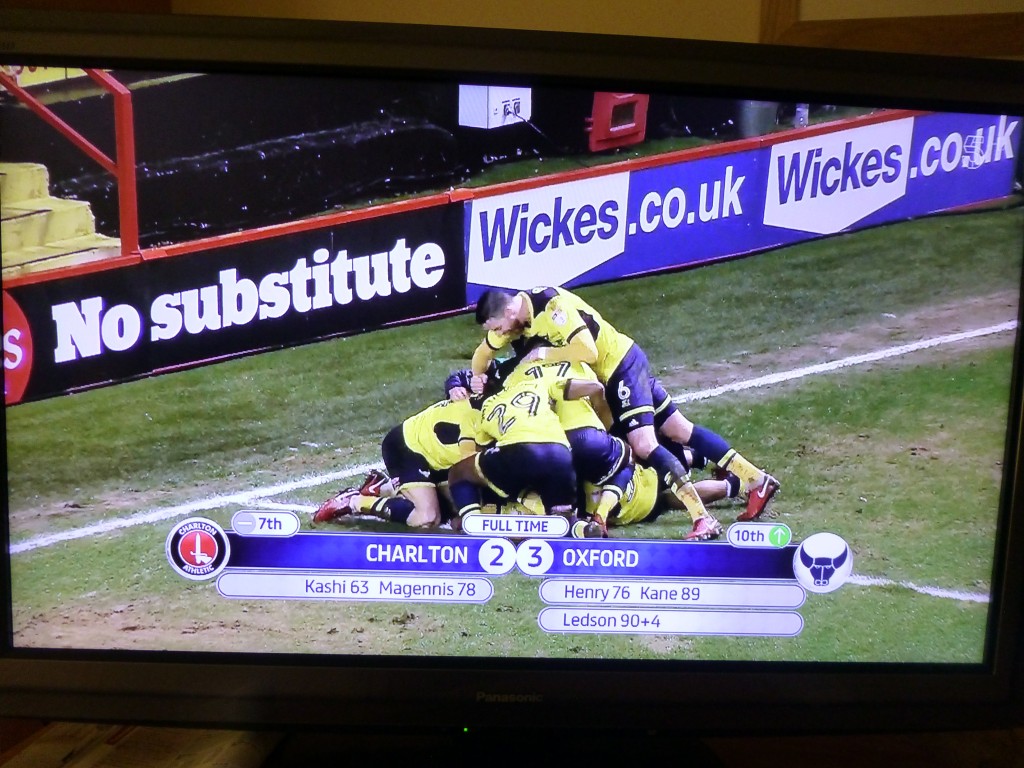 There certainly is no substitute for moments like these
The next game is at home where we'll not witness anything like we did in SE7 because stuff like that only comes along once every decade or so, doesn't it? But I'm going to hang on to what I saw for a whole week and am now looking forward to the visit of the Gasheads so much more than I thought I would be.
All of a sudden it feels really good to be an Oxford fan again even if that was only one game.