Article by Paul Beasley Monday, January 15th, 2018
Checkatrade
In stark contrast to the Carabao and FA cups where we stayed rooted to the starting blocks, we just keep on running and running in this bloody trophy. Still, there is monetary reward and at the end of it the supposed glory of playing at Wembley in a major final. Did I say major?
Walsall: Then and Now
The Saddler's visit to the Kassam was the ninth league fixture of this season. They had a really poor away record but we played bloody awfully and lost 2-1. That left both sides having won three, drawn three and lost three. We were 12th and they were a place behind having a much worse goal difference. That result meant we'd picked up one point from the last nine on offer.
We've marginally improved since then, having gained on average an additional 0.1 pts per game.
We're now 10th although 12 teams have played a game fewer than us and six teams have two to make up. Every team above us has a game in hand but no team would go past us even if they were to win those spare games.
Walsall have gone backwards. They've gained on average 0.2 fewer points per game. They're 18th with 30 points. However they've only played 25 games and if their catch up produces wins they'd be on our coat tails. Yet another example of how tight it all is.
Their fans are understandably not happy. It's protest time against manager Jon Whitney and the board. Walsall Supporters' Football Trust have perceived "that the club has abandoned its stated ambitions to become, eventually, an established Championship club, with the so-called DNA of the team abandoned".
Against Oxford "Supporters are encouraged to stand in front of the main entrance and not enter the ground. Season ticket holders, who have already paid in advance, are being asked to go into the game, but not spend a penny on food or drink. Then, upon the 80th minute, whatever the score be in the game or however good or bad we are playing, they will get up and leave the game and join the fans outside the ground".
Walsall 2 Oxford United 1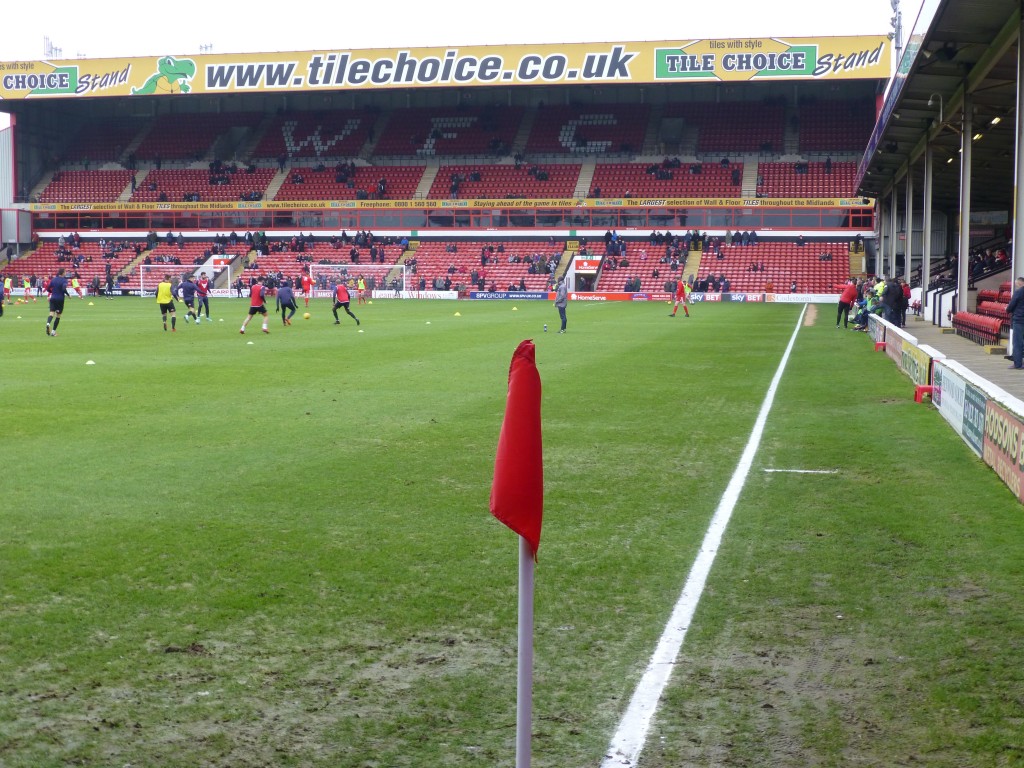 There was no noticeable protest on the day that I could detect although apparently there were a 100 or so outside doing some chanting. The gate was 4569 of which 1125 were Oxford followers leaving 3444 home fans. On December 9th they beat Scunthorpe at the Bescot Stadium in front of 3586 of their own supporters in a crowd of 3865. Spot the difference? A bloke wearing Walsall red in the Black Country Arms before the game could not see why anyone was making any fuss. He wisely commented that he didn't know what the dissenters expected, adding that they just don't get what size Walsall FC actually is. (I.e. not very big in the greater scheme of all things football and the 92 in particular)
I'd safely say that most clubs have a certain body of fans with unreal expectations and we've got them too. When Steve Claridge was regularly allowed to say very little of note as a pundit, he kept banging on about teams "punching their weight" he missed out the "above" but looking back he was probably unknowingly on to something. Give or take a few positions in the table we're probably where most of the evidence available points to us being. This of course doesn't mean that as fans we should settle for what we've got and where we are.  It is possible for a football club to build the foundations to progress, in our case say from welterweight to middleweight. But everyone's at it in this oh so very competitive world. Bournemouth have done it. Burton have done it. Others have gone backwards, as we did on our journey to the Conference. Luton and Coventry currently reside in League Two although there's a pretty good chance both will be joining us next season.
Yes, the more I see of us this season the more I'm of the opinion that we're neither going up nor down. Which may well be why I'm not as down after this latest defeat as some of our fans are. I'm obviously not happy though.
Whilst not playing particularly well, I thought we did enough to win this game. That we didn't was down to switching off for 30 seconds and one defensive cock up. Which also means we deserved to lose. (And because we opted to wear that poxy black kit. We're the YELLOWS not the all blacks. One colour is bright; the other isn't. In fact it isn't even a colour.)  Walsall didn't make similar errors to us but I didn't think they were a very good side. They never had us under relentless pressure and we never looked like we'd fold and take a hammering.
Another reason that we came away with no points instead of one or all three was poor finishing and some very good goal-keeping from Liam Roberts. John Obika was one on one with him. A slight hesitation then shooting straight at their custodian wasn't what was required. If that had been Wes Thomas and not JO I would have been pretty confident of an equaliser. That said WT had put a header right into Roberts' arms in the first half when the whole of the goal was at his mercy.
Right at the very end we put together a flowing move but Agon Mehmeti didn't hit the target. It was very close but like Obika he should have done so much better.
My vote for our best player was James Henry. He looked lively and I didn't detect any hint of him running out of energy. His passing was crisp and he showed some good technique and I thought our most likely man to create something. I would never have taken him off.
There were plenty of others not performing anywhere near his standard.
Jack Payne was removed on 68 minutes. He won't be back for us as Huddersfield have, as is their right, recalled him. This was another match where I thought he looked too little and lightweight. A talented young man yes but I'm not as down about this as I might have been at one time. (Seems Huddersfield are going to immediately loan him out to Blackburn, where he probably won't get in the side).
The fact that it was family away day with free travel obviously helped boost the away support but I felt a buzz, sadly missing in recent weeks. I'd put that down to the permanent signing of Cameron Brannagan and loan acquisition of Isaac Buckley-Rickets from Manchester City.
That neither even made the bench was a disappointment but I'm quite positive that there are better things around the corner with these two. Also I'm hearing good things about Ivo Pekalski and he's supposed to be on track to appear before the season runs out.
The only thing that really counts though is how any players actually performs in that first team shirt. All these fancy montages you'll find on you tube doesn't show you how a player performs over ninety minutes, what his work-rate is like and whether they do the precise job asked of them with and without the ball.
Brannagan does however look a bit tasty. Those clips show a lad who'll get back and get a tackle in. In June 2016 the Daily Mirror reported, "Real Madrid and Barcelona are on the trail of Liverpool youngster Cameron Brannagan and could try to lure the midfielder to Spain this summer. Mirror Football understands that the 20-year-old playmaker first caught the eye of Emilio Butragueño when the two sides met in the UEFA Youth League back in November 2014, with the Madrid executive ordering scouts to follow the playmaker's progress. The Bernabeu club have been impressed and are thought to be preparing a bid worth a structured £5.5millon plus clauses."  That didn't happen of course but given the talent in Liverpool's midfield even without Philippe Coutinho there will be players at Anfield some way down the pecking order that would be very tasty at our level.
I'd say he's a possible replacement in the squad / team for either Ryan Ledson or Josh Ruffels. Or both? For all the rumour and newspaper talk they're both at this point in time still with us. As is Simon Eastwood. So much for people claiming to be in the know with all this "done deal" stuff. Pep has said no there have not been these offers and also that Ledson is genuinely injured. I have no evidence to suggest otherwise.
So far we've brought three in and lost one but in some quarters this is overlooked with claims that the chairman is going to sell all our players and take the money leaving us with no team. I'm trying to work that out but everyone is entitled to an opinion. We all believe what we want to.
The only new boy to get anywhere near featuring was Robert Dickie. We'll never know if his inclusion would have made any difference.
There's a collective responsibility for the first goal we conceded but some of my mates put a fair proportion of the blame on Eastwood for not screaming at and organising those in front of him. They also point out that he doesn't command his penalty area and come for crosses as often as he should. I'd not really noticed this as an issue but on reflection I may have seen him as being such an upgrade on Sam Slocombe that I've been blinkered. I'd had Eastwood down as our best keeper since Phil Whitehead. I was then reminded of Jamie Ashdown. He may have only played five games for us but he only let in one goal. Now, he was a man with authoritative presence.
Walsall's second came from a very long high ball from the left back position. John Mousinho had allowed tricky little Erhun Oztumer to get behind him but then seemed to have done enough to get his body between the ball and the Walsall man. From then on his strength should have won out. It didn't but even though Oztumer won possession it took considerable skill to get the ball up and over Eastwood. It was a situation where you would hope that both centre-half and keeper would do better. It was disappointing that our captain didn't get a block in and if Eastwood had had a bit more spring in his feet or had been more helpfully positioned, we would have kept it out. I can't really stand up for him on that one.
Alex Mowatt may be some way off the standard set last season by Chris Maguire but he is by far the best dead ball specialist we have at the moment and it was no surprise that he placed the free-kick awarded on 70 minutes from outside the box beyond Roberts.
Other positives that are there to be picked up on if fans are so minded are the appointment of Dan Harris as head of the Academy and the likelihood that United may soon have a permanent training ground at Horspath.
No-one at the OxVox meeting last week could have failed to pick up on the enthusiasm Harris brings and also vast experience in one so young.
That Darryl Eales was advertised to be at that meeting but pulled out was seized on by some as a negative, as was the fact that he had flown out of the country to look at a player (or words to that effect). Not another old injury prone foreigner. On the contrary, not a bit of it. Hadn't he gone a day early to Holland to get Buckley-Ricketts for fear of some other club nipping in?
There was an article in the Sun in October saying that Manchester City were looking to pull the plug on England Under-20 star Buckley-Ricketts' season long loan to Dutch side FC Twente because he had not played as much as they would have liked. They were planning on getting him to a Championship club in January.
Well here he is, in L1 with us. I wonder what the difference is in standard between where we are and the Eredivisie.
Another thing to note in the argument against us having no ambition is that we put in a decent bid for Kieffer Moore but were out-bid by Championship outfit, Barnsley.
For all this though it would be nice to start winning football matches on a more consistent basis now and playing attractive football whilst doing so.
There's always a twist, there's always a story.
Bury have got through two managers already this season. Lee Clarke was booted out in November and Chris Lucketti only lasted two months and 10 games. Ryan's Lowe and Kidd have been given charge of the first team until the end of the season. (Yea, right).
I'd rather Lucketti still be there. I don't want to see a rejuvenated set of Shakers, and Maguire in particular, at the Kassam next Saturday.
In case anyone thinks I'm too optimistic given the circumstances, I'll add for the record that we're now two points worse off than at the same stage last season and if Walsall had six points instead of those two games in hand on us they'd be above us. There are also a couple of other teams that could overtake us with their extra games to come. Meaning that our 10th place is a bit flattering. We should be better than that though, shouldn't we?
One of the things the day brought was a few decent, if expensive, pints in Brum before and after the game. This place filled up with Oxford fans not long gone 11 a.m.