Article by Paul Beasley Sunday, January 7th, 2018
Progress or not since our trip to the seaside
We played Blackpool at Bloomfield Road back in mid-September. It was then our worst performance of the season and resulted in our second league defeat. We played in that awful black kit (*). Our previously strong defence was poor and that was with Curtis Nelson in the team. We played with an isolated striker, Wes Thomas and did nothing to change our formation when it didn't work. (**)
The Tangerines remained unbeaten at home but the main memory of them we took away was keeper Ryan Alsopp feigning injury. He's been on the bench for the last few games.
So after eight fixtures we had 12 pts (1.5 per game) and were 10th. Blackpool were 4th with 17 pts, only goal difference preventing them being second.
Prior to meeting them again we were again 10th, on 35 pts after 26 games. That's an average of 1.35 pts per game, taking account of all 26, but we've only averaged 1.28 pts per game in those played since that first encounter.
By my calculations they'd accumulated just 0.83 pts per game in the interim and were on much worse form than us. In fact they'd only won once at home since beating us and that was against bottom placed Bury. But, as ever, such is the tightness of this league that before kick-off Blackpool were 13th, just three points behind us.
Naturally we concentrate on our football team; how well they're playing, the number of points accumulated and various runs and records (that Wigan defeat argh!). In doing so it's quite easy to miss or sub-consciously ignore that other teams go through ropey runs too and have dramatic changes in form unless it's mentioned on Channel 5s goal rush (Charlton) or when looking in detail at our next opponents – as here. So perhaps the gloom we feel is hanging over the team we support is in reality much more thinly spread and covering quite a wide area of the L1 population.
So what am I expecting? A win? Yes, but needing to score more than one because I think we'll concede.  Will it be easy? No. In December they only lost by a single goal to Rotherham, Shrewsbury and Scunny. I also think Ricardinho is missed from an attacking perspective when he's not playing.
(*) The Worst Football Kits of all Time
I always get a book or two on football for Christmas. This year I got one with the above title put together by Dave Moor. There are some absolute monstrosities in there but there's surely been some kind of mistake on page 96. Oxford United 1987-89: "Oxford switched from gold and black to yellow and blue in 1975, the blue turning to navy in 1985. All very good so far. However, their Umbro-designed shirts adopted in 1987 managed to combine three shades of yellow as well as white in a unique blend". I really liked that top.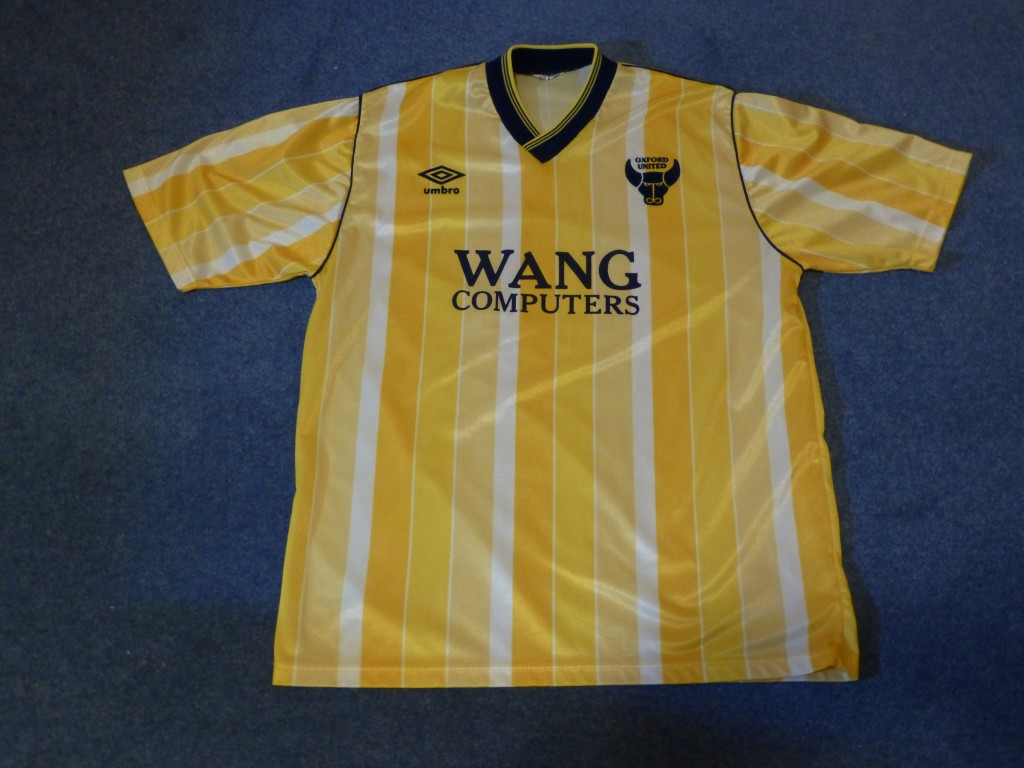 The only thing I can find wrong with this is the very narrow neck
(**) Four, four, two?
No doubt after the victory against MK Dons there will be many shouting two up front, told you so. Four four two, that's the answer. In fact going back over many years whenever we lost and didn't play four four two there was a constant shout that we needed four four two, as if no team playing such a line up had ever lost a football match.
After the Gillingham game I wrote "Our formation was supposedly 4/4/2 but with GVK playing how he did I often thought it was more 4/3/3."  The more I'm seeing a line up with Thomas, Obika and GvK present the more I think straightforward it isn't. All three of them pop up on the flanks and down the centre. This must be confusing for the opposition but given time we'll probably be worked out again and this approach will become less effective. This is what happened with Wes up front on his own and Jack Payne just behind. It worked pretty well until we were sussed.
Without changing it every five minutes flexibility is the key. Perhaps the re-introduction of a genuine 4/4/2 (whatever that is) one day will fool the opposition. A problem with that though is if the two wide men in the middle four stay really wide the central midfield battle can be quite easily lost.
As ever I'm glad I'm not a football manager and don't have to solve these conundrums. Conundrums that are made even more complex by changes in personnel within the playing squad.
Progress when compared to 2016/17?
Having frequently compared our points total this season with that of the previous year I've constantly been surprised. Under Pep we've been level with or ahead of Mapp last campaign. For some reason there seem to be some anti-Peppers out there who are either not aware of or choose to ignore this fact. Soon though they may have some genuine ammunition to call on. Last season games 27 to 31 saw us pick up 12 points from 15. I can't see us doing that this time. After Blackpool we've got Walsall, Bury, Wigan and Charlton. In theory this isn't the hardest set of fixtures though, given the form of these sides, save for one.
All of the above was written prior to Saturday's game so in time honoured one game at a time tradition:
Oxford United 1 Blackpool 0
It's become the norm now to walk from Sandford to the Kassam and there to be no buzz whatsoever in the air. No cars queuing to enter the car park. Once inside the ground still no atmosphere. No colour. No ultras. Have they gone forever? What happened to cause their departure?
The game fitted perfectly into this backdrop. The first half was just a non-event and I can't recall feeling less entertained at the final whistle when we'd actually picked up three points.
I'd much rather that be the scenario of course than losing whilst having turned on the style creating football that's pleasing on the eye. Fans of Barca, Real and Manchester City will obviously have a different set of expectations but I'm a supporter of a mid-table team in the third tier. I'll take regular results like this even if boredom does kick in. (NB: I reserve the right to revise this opinion).
Even though this was a pretty horrible performance from our attack and midfield, both collectively and in most cases individually, the defence which had become extremely porous at the end of 2017, was the area that deserved the plaudits in this win.
We had one standout player in this match: Simon Eastwood. He had to make numerous excellent saves a couple of which must up there with the very best in the country that afternoon. This was another classic example of the sponsors not have the remotest idea of what was going on before their eyes when awarding the man of the match award. Quite embarrassing really.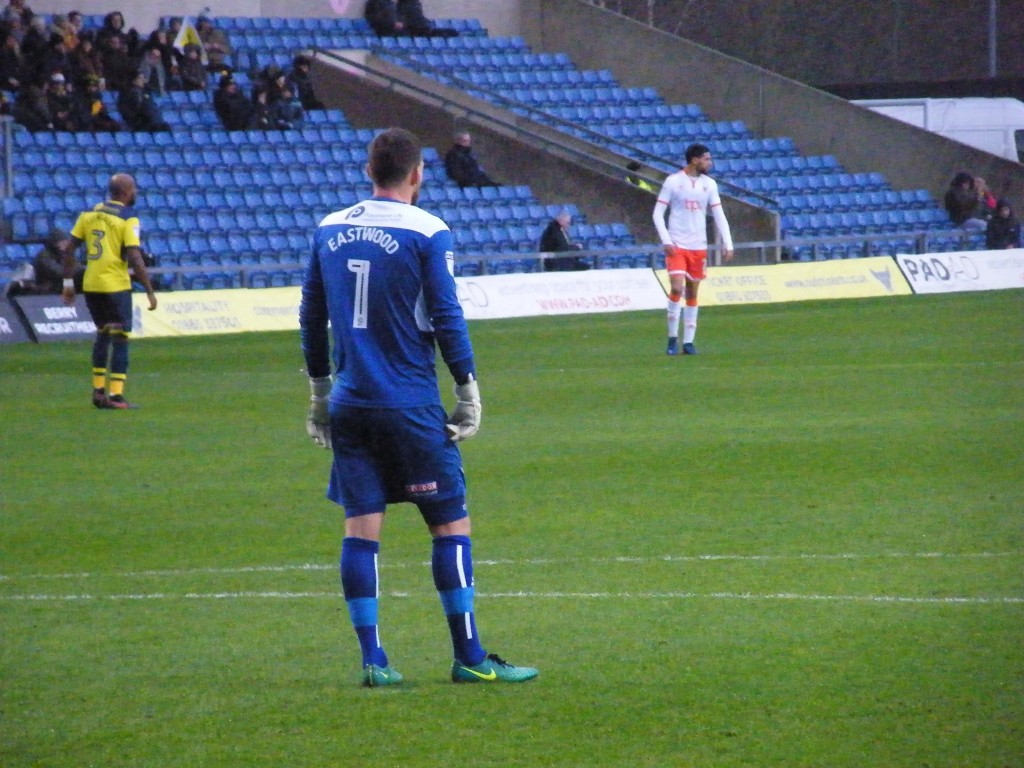 Photo, Simon Jaggs
In the full-back berths we have a youngster and a player coming towards the end of his career. Canice Carroll performed admirably. At 32 Dwight Tiendalli is 14 years older but that's nowhere being considered over the hill for footballers these days. The problem with him must be that being out injured for two seasons prior to this one, he must surely have lost something and is only seen as a stop gap. He's not quick and can be easily shown up in this regard and that's not good when faced with a pacey winger. There were moans, groans and criticism directed at him early on, possibly justifiable but not helpful. He soon improved though, winning quite a bit in the air and making some timely interceptions. He deserved praise and applause. Did he get it? Of course not. People make up their mind and that's it.
We've got so many centre halves at the club now it's quite ridiculous. The pairing of soon to be 32 years old John Mousinho and Aaron Martin looked solid enough and there's a bit of football there too. Our captain having to go off injured on 66 minutes was worrying, the way 34 year old Mike Williamson slotted in alongside Martin was not. The likelihood of an away goal did not increase.
We've got the valuable, but currently damaged, asset that is Curtis Nelson still with us. If he'd not suffered that season ending injury he'd probably have been off to a Premier League side in this transfer window for a tidy sum.
There's Charlie Raglan too, a player quite highly rated by many Oxford fans. We're yet to see him this season, another victim of those pesky injuries. It's a bit of a mystery why Chesterfield, now second bottom of L2, let him go.
There are others too. Sam Long, another injury victim can play that position and there's a bloke called Fiacre Kelleher on loan at Solihull Moors. The latter signed by Mapp and off loaded by Pep will probably never kick a ball in anger wearing the yellow of Oxford. If he was considered one for the future we almost certainly wouldn't have signed Rob Dickie.
Lewis Grabban is to leave Bournemouth. Wouldn't it be great if he were to sign for a League One outfit? The striker's Grabban the defenders Dickie. Bloody childish, I must grow up. Won't happen though. Nor did the batsman's Holding the bowler's Willey. Just a myth. A person did write into Test Match Special suggesting that Brian Johnston had unknowingly said such a thing. The letter was signed Tess Tickle.
Back to the football. Transfer talk can often have an adverse impact on a player's performance. It can mess with their heads when there's the possibility of stepping up a division or two without having to win promotion. The financial rewards in the Championship are huge when compared to those in our division and the Premier League is a different planet altogether. That didn't appear to have had a negative impact on Ryan Ledson. He was head and shoulders above his fellow midfielders and attackers.
The others disappointed. Josh Ruffels form was way below that of which he is capable; Jack Payne wasn't having any noticeable impact and our game largely consisted of misplaced passes and losing the ball. It might have just happened because we were lethargic but our tactic seemed to be to let Blackpool come on to us and to hit them on the break when they cocked up. This should have given us a fairly comfortable victory because the first bit worked a treat. We got away and were heading for their goal with an advantage numbers wise. That's when it all went wrong though.
Our attackers – and I'll include anyone in that category who was attacking – behaved like kids in the primary school playground. I'm not passing to him because he didn't pass to me. (Someone started it, and even then that's no excuse). He's not scoring a goal if I can't. I want the glory. Utterly pathetic.
The biggest, but not only, culprit was Gino van Kessel. On nine minutes GvK did really well to close down the highly rated Curtis Tilt. He ran clear and was joined by Wes Thomas. Our leading scorer positioned himself for a tap in. GvK bizarrely neither fed Thomas nor even got a shot away himself. Instead he opted to try and round keeper Christoffer Mafoumbi playing only his second league game for Blackpool. He cocked that up.
I do not want to see that attitude in those playing for the football team I support. And if it was actually a lack of awareness that's nearly as bad. Whichever, that has to be coached out immediately.
GvK did much that was dire and he was another who was subject to disquiet amongst the crowd, and I'm talking SSU here. I heard "I'd drive him to the airport myself" and a very loud, "get him off". Again, I can see why, but again no help whatsoever and it wasn't as though we were 7-0 down or anything.
For all that even the players who caused the unrest had a few seconds here and there of something that showed they do have talent. There was little genuinely built attacking or proper spark going forward in the first half but GvK (him again) did burst down the right and pull a ball back for Thomas. It was a bit behind our leading scorer who blazed over. (So we do have some awareness and can pass to each other in a semblance of harmony).
WT himself didn't do as well as he can but showed class with one turn on the wing to leave his marker yards away. He's only scored one in seven now though.
The goals are now being provided by Jon Obika. Even though he doesn't look like a natural scorer that's three in three for him now and he took the only goal of this game very well indeed. Alex Mowatt had only been on the pitch for a matter of seconds when he was given free-kick duties. I don't know why I said it but I did, "he'll whip one in and we'll score from it". He did just that and Obika used his strength and got a decisive touch giving Mafoumbi no chance.
From then on in during the sixteen minutes that were still to be played I thought we saw the game out pretty well.
Blackpool probably can't believe that they've returned home with nothing. Our number one is the answer but other than that I can only remember one chance that they should have done better with. At the start of the second half Sessi D'Almeida put a header wide. It was an obvious goal. So obvious that the travelling supporters celebrated it. The way it works is that home fans then take the piss, which we did. Midfielder D'Almeida looked a decent player but has yet to score a league goal. We saw why.
So that was back to back home wins for the first time in 2017/18 and we're still one point better off than after 27 games last season. Which begs the question where can this take us?
Much earlier on this season I'd concluded that the quality of L1 was better than in 2016/17. Now having seen more teams and those we are now coming up against a second time I've got to change that opinion. Whilst there are some impressive sides at the very top I think that the final play-off slot could be bagged by a team that is not that good. I'm not saying that team will be us but neither would I 100% rule it out. Madness.