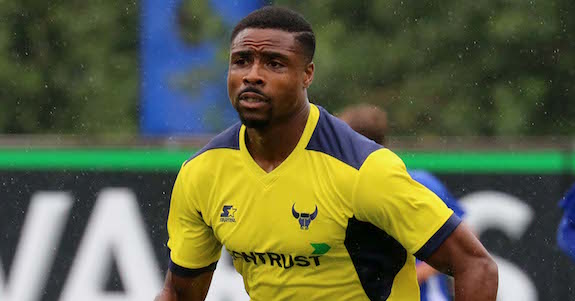 Article by Paul Beasley
Carabao Cup: Pre-match thoughts
I know milk when I see it but what's a Carabao?  If pressed I'd guess a furry little animal.
In recent years in round one of this competition we've been the underdogs and in carrying that label have done exceptionally well in winning away at Championship sides Bristol City, Brentford and Birmingham.
Times change. Our continuous on the field improvement means that we are now cast in a different role. We're no longer those underdogs, that role goes to a club lower down the food chain and the draw decreed it be Cheltenham Town.
A different kind of challenge altogether this time around then and at home too.
Oxford United 3 Cheltenham Town 4 (aet)
Big crowd at the Kassam Stadium
This was an utterly dreadful performance over 120 minutes. At half time I thought, considering how crap we'd been, this wasn't actually so bad though as we had somehow managed to go in two goals to the good. On discussion the best my son and I could come up with was that we were half a goal better than the visitors but if truth be told that was probably pushing it a bit. When it was all over there was no debate that the better and more deserving side had won.
At 3-1 up there is absolutely no way we should have lost this given that the players, or at least the majority of them, we have are without doubt technically superior to those of the Robins. But it is not just about technically ability. It is about putting it together on a horrible night with the rain lashing down in a three-sided stadium with barely 3,000 people present and atmosphere severely lacking.
At Oldham we'd been compact and solid with good shape and accurate passing. Here we were anything but. We looked much more likely to concede throughout here than we had done at Boundary Park. There was much more sideways movement and balls being played a yard or so behind the intended target which meant momentum was lacking.
It shouldn't be forgotten that there was some occasional very good individual play but it was never consistent throughout the game nor was it joined up into an overall proper team effort.
Robbie Hall hadn't looked at it at the outset but then sprang into life a few times going past players with tricky ease at speed. It was he who won the penalty, debatable though it was, and again a couple of times in the second half looked like he might be about to inflict further damage. Not having played at Oldham a bit of rustiness can be forgiven.
Xemi hit an absolute cracker for our third and again proved he can hammer a football at goal with little back lift whilst kicking toward the East Stand. That's a great skill to have but he struggled to get in the game and by the time he was taken off, had faded. This is all very different from Barca B and he will take time to come to terms with the new environment in which he is now plying his trade.
Ryan Ledson was the man tasked with receiving the ball in front of the back four and had a steady game.  However he never had the space himself or had colleagues in space to be comparable to Lunny in that role. I was amazed that he made it as long as he did before getting a yellow card even with such a lenient referee. Most yellows and reds this season are likely to be clocked up by this man.
Josh Ruffels had good industrious spells.
Up front on his own Jon Obika performed quite well in the circumstances and looked streets ahead of Wes Tomas when the contribution of each is compared. Obika won a fair bit in the air, even if the outcome could only be filed in the nuisance value category. Thomas did nothing of the sort. Obika took his goal well too after a howler by Jamie Grimes in the Cheltenham defence.
This implied criticism of Thomas is probably unfair because when the pattern of a game is set in the way this one was, with us playing so badly as a team, it's hard for a substitute to change things around and as a result their game can suffer badly. James Henry, who only had just over 20 minutes on the pitch, looked no better than ordinary and even the highly talented Jack Payne, who had more than double that time, was unable to provide a truly inspirational spark. There were a couple of glimpses: classy control and some bent passes to players out wide but even he couldn't regain the lead for us in the first period of extra time. It was a really good saving tackle that prevented him from doing so but the slight hesitation, which would not have happened with total sharpness, allowed this to happen.
I looked for leaders and we didn't have them. Men of genuine experience who'd been there, seen that, done that.  The defence had only one change but it looked like three or four. I believe that if Mike Williamson had played we probably would have won this game. Without him the back line looked quite collapsible and his 6 foot 4 frame would have been better able to do battle with the size Cheltenham brought to our penalty box for set-pieces and more besides.
Aaron Martin just didn't look up to standard and did not seem happy when in possession. That said one magnificent block did deny an almost certain Cheltenham goal.
Christian Ribeiro too looked well below what's required both defensively and with the ball at his feet going forward. Their second goal came from a left wing centre when Ribs was guilty of backing off although others were culpable too not least Marvin Johnson who allowed the scorer to get wrong side.
For the winner it was Ribeiro who was beaten before a fine finish by Mohamed Eisa for his second of the night. He allowed Eisa inside and in turning his back gave the advantage to the Cheltenham man.
As much as I will remember these incidents, what will stick in my mind more than anything from this game will be Ribeiro's throw-ins. I don't think I've ever seen anything like it before. Has any player ever consistently taken so long over getting the ball back into play? Unbelievably this occurred in just the same fashion when we were winning and when we were desperately chasing the game in the latter stages. All this was symptomatic of our performance. There were either no or very few options on for him each time. Plus, to cap it all, he threw in (or not) a foul throw in front of the empty North Stand.
Josh very nearly sent it to penalties. Photo, Steve Daniels
If Ruffels had managed to get the ball in the net right at the death, which for an instant looked very much on, such was the nature of the night we would probably have lost on penalties. On the subject of penalties, what of Johnson? His was a poor effort and he was lucky to put the rebound home but didn't look particularly happy about it. Indeed he had not looked particularly happy about anything all evening. It was one of those games where very early on the proceedings were screaming at us that "he's not a full-back". He didn't offer much of an attacking threat here either. Something didn't look right.
Marv can't be accused where their 90th minute equaliser was concerned because he'd been removed just after the second. I felt sorry for Canice Carroll but we looked no steadier down that flank either attacking or defensively with the change.
Looking on the bright side:
This wasn't league points thrown away although revenue from a decent cup run will of course not be accrued.
Williamson's return will make a difference.
We've not yet seen Ricardinho, Dwight Tiendalli or Ivo Pekalski. If they'd been match fit and out there would they have performed on such an evening?
There's competition for every starting position now. Hopefully it will spur each player on to better individual performances but on this showing that's not yet happening.
Whilst I'm in pissed off mode a couple of minor gripes.
Our season tickets are in the "premium seats". Not cheap but I was quite willing to pay up in support of my football club. They're in the back row, which I think affords the best view, and they're easy to get in and out of by getting a leg-over. (Snigger snigger). Plus if I leap in the air I'm not blocking anyone's view. For Cheltenham's visit it was decided that they were no longer premium and they along with all other seats that were to be sold would be the same price. I understand that as some season ticket seats were among those not to be used it would have been a bit awkward to reserve those that were for the holders. It would however have been nice to have been given a bit of pre-release warning as to when they were to go on sale. As it was I found out two hours after they had been released and our seats were some of the very few to have been snapped up. We ended up in the row in front having then not bothered to purchase until much later. It wasn't the same and I'm beginning to wonder if I wasn't back row what all this premium thing is about. For many I guess moving a few yards to the left or right would give better value for money. Childish or what?
Second gripe. Returning from my half-time toilet break I stopped for a few seconds to talk to someone. I was stood just inside the entrance into the stand, not blocking anyone or anything off. No-one was attempting to come past me. If they had attempted to do so I would have stepped aside. I was causing no obstruction whatsoever. It wasn't done in a rude fashion but a steward, one I'd not seen before, asked me to move. He did so in a civil manner and was obviously only doing as he was told. Apparently others had been told too. Common sense rarely seems to play a part. Last season I may well have known the steward concerned, a steward who had quite a connection with many fellow supporters. I would then probably have stood there and chatted to him. What I find a bit ironic about this, and I've seen it at many grounds on my travels, is that the stewards who tell people not to block gangways etc. are in fact blocking the very same gangways themselves as they do so.
Sometimes it's the little things.
Okay, I've looked it up now. It is a Thai energy drink launched in 2002 by Carabao Tawandang Co Ltd. It is now Thailand's second most popular energy drink. It means red buffalo. (So I wasn't totally out with the living creature connection). They couldn't possibly be copying something similar could they? No, of course not. That would be a load of bull.
Seems I've not been paying attention. They sponsor Reading and have done so since 2015. They're also the main sponsor of Chelsea's training kit. So now I know. I'm brand aware but at times I really do wonder and won't be rushing out to buy any energy drinks any time soon.
Anyway, I don't care. It's Cheltenham who are in the hat for the second round of the League Cup. Good luck to them.