Article by Paul Beasley Sunday, December 31st, 2017
Bradford City 3 Oxford United 2
We drew 2-2 with Bradford at the Kassam on a Tuesday night back in September. It was a cracking game of football with what appeared to be quality players on both sides. Robbie Hall was on fire.
That result left us 8th on 12 points having played seven games. Bradford were 2 points better off in 4th place.
Anyone who has regularly seen us play will know we have gone backwards since that day. Points subsequently picked up also make grim reading. Oxford's average 1.18 per game and the Bantam's 1.88 meaning before kick-off they were 5th with 42 points whilst we were clinging on to mid-table mediocrity in 10th with 13 points fewer.
After we got humiliatingly hammered by the wonderful free scoring Wigan (who by the way have failed to find the back of the net in their two games since, which makes us look even more pathetic) some fans commented that they had seen that result coming. Really? I can understand people thinking we were going to get a bit of a battering the way we've been playing, but did anyone seriously say to their mates beforehand, "I think Wigan will beat us 7-0".  Of course they didn't.
Perhaps it should be a rule that no-one is allowed to go into told you so mode unless they have irrefutable evidence that what happened was indeed what they had predicted. (Only joking, but hindsight without actually putting one's reputation at making predictions on the line is so very easy and a little cowardly, perhaps?)
That got me thinking about what I would predict in this one if asked and I must admit I didn't know what I'd come up with. Surprisingly no team in L1 had lost more home games than Bradford, but we are what we are. I certainly couldn't see a Peterborough or Plymouth away type performance nor could I recall the last time we'd really played well in games other than those two.
So when I was asked by home fans in the pub how I thought we'd do, the best I could come up with was, "well, I don't think you'll get as many as Wigan". I then added, "A draw or win for you". They volunteered that their defence wasn't very good. That made me feel a tad more confident.
A visit to Bradford cannot pass without mention of the bars and pubs around that provide such a choice of pre-match entertainment. The Corn Dolly on Bolton Road used to be a proper football boozer and no doubt still is. Thing is, such are the alternative delights on offer, I never made it that far last season nor this, even though I set out with the best of intentions.
An away fan doesn't actually need to venture further than North Parade and that's only about half a mile from Valley Parade. Whilst old style pubs are disappearing by the beer barrel load the new kids on the block are micro pubs and café style bars.
I sang its praises last season and I'll sing them again, the Record Café, 45 -47 North Parade. Quality real ales, interesting craft keg beers, charcuterie and an upper mezzanine area where vinyl can be bought. Got chatting to a barman who knew his football and his beer. An unassuming passionate Bradford fan who'd been to the Manor and our new home following his team. He liked the Manor. Good man. When he last visited the Kassam he drank in the Mole Inn at Toot Baldon and walked across fields to the ground. Have I missed a trick here? Looking at Google Maps it doesn't appear too far.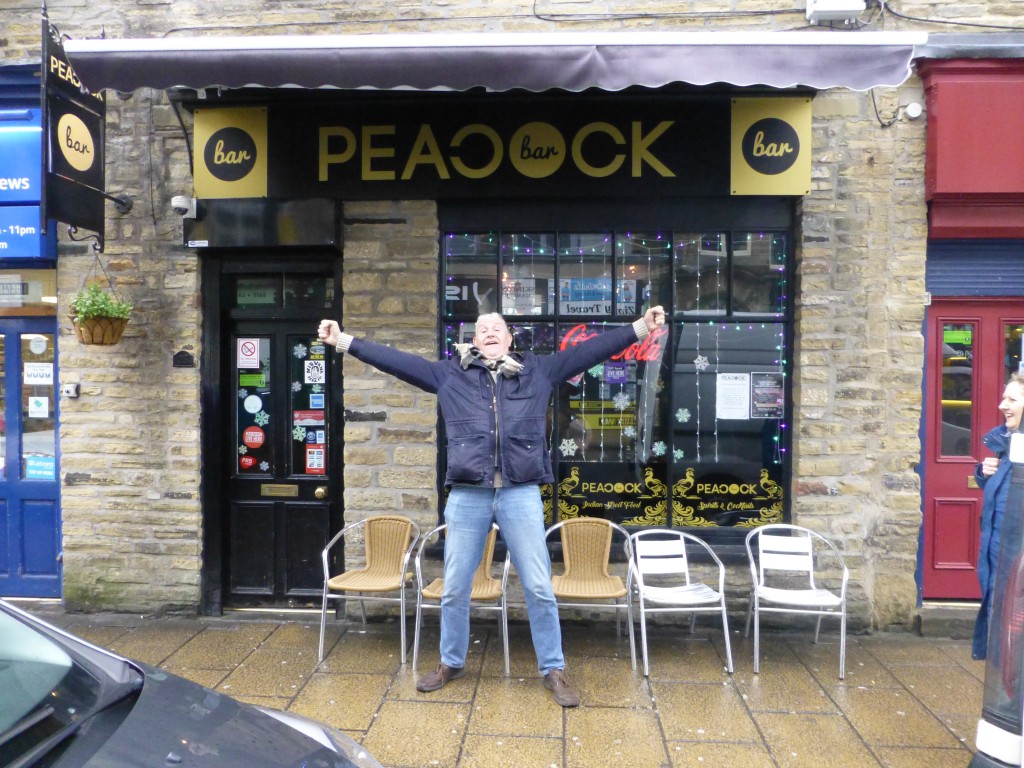 Another café bar is located at 32 North Parade, The Sparrow Bier Café and like the Record is Good Beer Guide listed. I'd been there before a few seasons back but on the last visit it was too rammed to get in. It was pretty full this time and so it is almost impossible not to strike up a conversation with friendly Bratfordians. Plenty of handshakes with locals before we headed all of a few yards to 25 North Parade and the Peacock. Not in the GBG (yet) but I'd rate the beer a bit ahead of that in the Sparrow and well worth a listing. This place, an Indian themed bar, was only opened in May 2016 and along with real ale offers Indian street food. A little helping of delicious free curry was an absolute bonus.
Given that the Record was probably the best of the lot we headed back there for one more before the match. The guys I had been chatting to in the Sparrow had put me right and the supposed barman I'd been chatting to earlier was at the bar having a drink. "So, you're actually the owner then", I put to him. Stupid thing to do because he obviously knew what he was. Even more of a top man as he'd recommended other pubs and bars to us and actually said the best pub in Bradford was the Fighting Cock. Been there, done that, great boozer but too far to walk to the football ground.
All this reminded me, not that I needed reminding, why I love away days at the right places with the right company, friends and family, Mrs FV accompanied me on this one, meeting genuine salt of the earth fans from other clubs with other tales to tell.
Often though it all goes downhill from there with the actual match and the experience that goes with it.
That was what happened here but not before it got even better when I got thrown back to the good old days for outside the away turnstiles stood a fanzine seller. Not just any fanzine but the City Gent. The longest running 'zine there is. Now in its 35th year. Not online like this. But your actual bits of paper that you can hold and smell. I had to buy one. Just two quid. Quite glossy compared to the original but lots of content to get through.
Then the day went downhill.
Anyone who looks at a score line and has no other information to go on will think 3-2 was close. It wasn't.
Off the top of my head I would say 4-1 or 5-1 would have been more accurate. That was until I factored in that a goal keeper is part of the team and Simon Eastwood pulled off more worldly saves than you can count on the fingers of one hand.
At half time I was thinking that Gino van Kessel deserved his wages but the rest of them should give theirs to Eastwood. It was pointed out to me that it was our keeper who cocked up for Bradford's first on all of three minutes. All players make mistakes; it is how they react to them that is the key factor. Don't continue to do crap stuff. Become a world beater, which is what Eastwood did.  But watch that goal again. Eastwood was about to gather the ball comfortably, no problem. Except Ricardinho stuck a toe in and poked it out of his grasp. I like the little Brazilian but, wtf. We have a team of footballers and a team full of mistakes.
That was about all we were offering. Misplaced passes and no proper threat, a lack of tackling, a lack of closing down and a feeling that we weren't competing as equals. Our cause wasn't helped by Joe Rothwell going off injured after only ten minutes. For me, even though he's not had much playing time recently, he's looked our best player.
Add to that some of the starting eleven are way off their best form. Two who I've been very much admiring not that long ago fall into that category. Wes Thomas was poor for the second game in a row and Josh Ruffels for his second in three. Given our set up and the way the whole team are playing, dips in form like this equal defeats and doom and gloom.
The heroics of our keeper meant that we were still in it and almost any ragtag and bobtail outfit can conjure up a goal in certain circumstances.
For one we (Ricardinho) delivered a testing corner and Canice Carrol got a proper glancing header on the ball. 1-1. Well done that young man. Our bloody seniors have not been doing that.
Hope? Belief that we could win? Not really. We're a weak lily livered outfit.
Four minutes later we were behind again. They just went through us down the centre. Ruffels knows he's not playing well. He knows he didn't get a challenge in. Shay McCartan finished well, bending the ball past Eastwood. Josh held his head. He'll do his best to redeem himself in the coming fixtures (if selected).
We then looked wide open. Talk of a Wigan type situation, as had been discussed in the first half, resurfaced. Five minutes later and still with half an hour to go we were two behind.
Tyrell Robinson, a vibrant young overlapping attacking full back who had caused us problems all afternoon, easily got past his man, whoever that was on this occasion, and whipped an inviting cross over. It's much easier to score when you're not marked. Thimothee Dieng headed in well. He wasn't marked.
We've got defenders who at times don't look like they can defend. We've got a defence that does not look organised, a defence that does not look like it knows what it is doing. Individuals that don't know what their job is defensively, or who is supposed to be marking who. Pep, do you have a clue? Back line do you have a clue?
When we've kept a clean sheet (and we have even as recently as Rochdale – not a good side, by the way) have we just got lucky?
Amazingly with 15 minutes to go we were only one down. James Henry battled to force his way to the bye line before pulling the ball back to John Obika whose control and finish was clinical. So we do have it, it's just that it doesn't come to the fore because there's no belief and determination and will to win from minute one to ninety plus.
With so long left did we have it in us to at least salvage a point? Of course not. Never looked like it.
Perhaps a single goal defeat to a team such as Bradford won't be looked on as such a bad thing but I'm having none of that. They were, as I had been told, weak at the back. If we'd been anything like a sound effective side that knew how to exploit such weaknesses and were willing and able to take the game to them from the first whistle, we would not have come away empty handed.
Pep out? Some ask such questions after the team has conceded a throw in during the first minute of a new manager's first game in charge. I'm a little more restrained.
No. Because who on earth do you bring in at this stage of the season who will make matters better? He came in late in the close season when other teams were well into their re-building phase. He's not had a full close season to wheel and deal. However, he has got the January transfer window, although what happens in that spell depends on what funds are available and /or he can make available. When windows are opened, particularly at this time of the year, it can get bloody freezing.
Does this mean I'm a Pep fan? No, the mess in the debit column is growing. What I've seen so far and the way things stand at the moment I cannot picture him taking us onwards and upwards.
So that's all pretty bleak and I have to finish on something else that detracted from the Bradford experience; the stewards.
I detected last season that there was a sea change in the way that visiting fans were being treated at Valley Parade. Perhaps they've got a new company in providing the people in yellow coats?
From what I could see perfect behaviour from the Oxford supporters again.  All 404 of us. That travelling numbers have dropped off speaks volumes. Understandably so.
I'll try and keep this quite polite because I'm considering contacting Bradford about the incident. (But probably will end up not being arsed). Anyway, at half time a few of us were having a chat in the lower tier near the toilets when a female steward came over and quite rudely said, "You can't stand there." Someone asked why and pointed out that there were no yellow lines to indicate such. The steward then said because you are blocking the exit to the toilets, which we weren't. Someone (a very mild person – not me) then said ***k off. Go and get a Supervisor. A few more yellow coats appeared and I think without effing and blinding I pointed out the behaviour of the first steward was ludicrous. Apparently, according to a mate, they were then looking to get me thrown out. I managed to be on best behaviour in the second half but on reflection it was clear to me that they were intent on winding people up to get them to react physically or verbally so they could then chuck them out.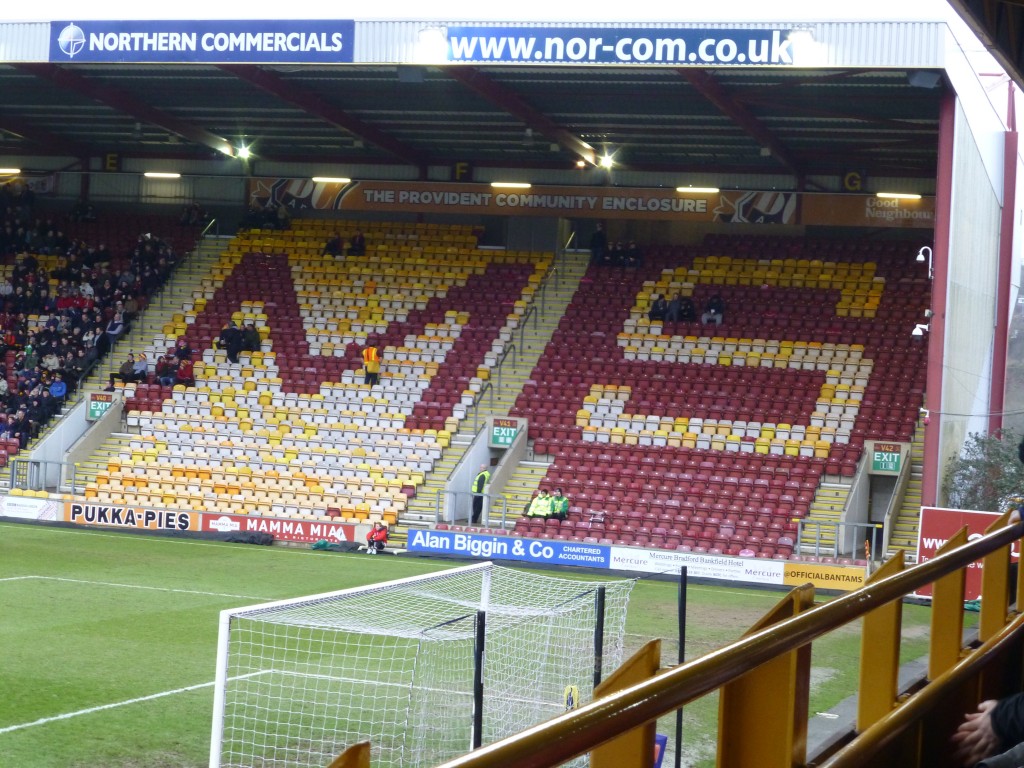 In my opinion it used to be a much better view when they put us in these seats. Another reason not to be so enamoured with Bradford City FC
There's a lot I've always liked about Bradford, some great people, there's a lot I still like, but now a fair bit creeping in that I loathe.
If we'd have got a point would I have just laughed it off? Probably not. My motto is treat others as you would treat yourself. I'd never behave like that to other people.
Anyway, no time to sit back and contemplate. MK Dons in 48 hrs of our latest failure. They're poor. Or are they? Holding on to win when down to nine men. Can we match that fighting spirit? The answer should be equivocally yes if that was in built. But it isn't.
So, Happy New Year to one and all and that includes anyone I've upset over the last few months. (Unless they've deserved it).
COYY – use the next five months as a platform to get us into a position whereby this time twelve months hence we're where we wanted to be at this moment in time.