Article by Paul Beasley Wednesday, December 27th, 2017
Gillingham 1 Oxford United 1
The visit to Priestfield marked the start of the second half of the 2017/18 campaign and coming up against a side for a second time provides an opportunity to assess progress or otherwise.
In early September we beat the Gills at the Kassam stadium. After an even first half we swept them aside with a three goal blitz in a short period after the break and ran out deserved wide margin winners. That put us 6th and Gillingham second bottom with just two points after six games.
At the start of play we'd dropped to 10th and Gillingham had crawled up to 18th. Fair to say we'd not progressed and have only clocked up five league wins since. Equally I wouldn't say our opponents were particularly resurgent even if there has been some improvement. They're on their third manager of the season already. Ady Pennock was sacked / left by mutual consent (take your pick) with Peter Taylor holding the post temporarily. After four wins in seven as caretaker Steve Lovell was given the job permanently, well permanently until the end of the season. (He also got a draw against Wigan).
This part of Kent is not the most picturesque in the country plus away fans are stuck out in the open totally unprotected from the elements on the now permanent temporary scaffolding arrangement. £22 for the privilege on the day.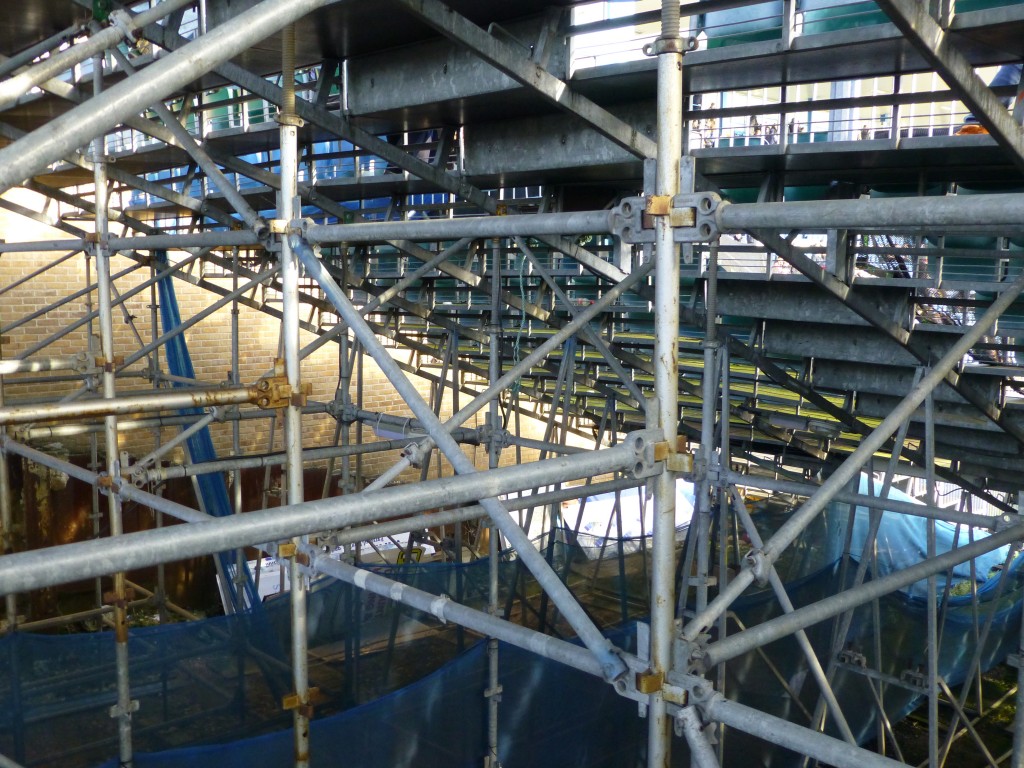 Add to that the fact that the kick off had been brought forward from 3 o'clock to 1 o'clock and there was a lack of public transport, throw in the mega tonking delivered by Wigan just three days earlier and I wasn't expecting many yellows to be in attendance. The 440 that were, although only about a third of the number we took the previous season, was quite reasonable in the circumstances.
Whether we would have had more there if the match had been two hours later I don't know but I also don't know why OUFC agreed to the change. Apparently the request was made to get more home fans through the gates. The gate was indeed up by about 1k on their recent attendances but still was a pretty poor 5,555. Now why would we say yes to something that in theory helps the opposition with no benefit to us whatsoever? Perhaps we knew that the home fans were a bunch of moaners. Quite early on I detected disquiet from them when their team cocked up with an over hit pass or lost a challenge. Good I thought. Helping play into our hands.
There is one real positive about the fixture though. The Past and Present, Medway's first micro pub, discovered by us last season and with an 11 o'clock Boxing Day opening a must visit this time. Beer discounted to £3 a pint because it was the festive season was a nice bonus too. In this friendly place those wearing blue colours informed that they had only won twice at home all season but their goal-keeper is six foot nine. My confidence didn't take a backwards step with this information.
I'm not one for posting what I think a starting line-up should be. In fact I think it is quite tiresome at times. Furthermore the only team that is actually tested in real life is the one the manager sends out. Those any fans selects remain in heads and on paper. Forever unbeaten. And forever without having won a point.
Having had some debate in the car on the M25 about what team we thought Pep would put out the conversation naturally drifted into formations and the XIs each of us would select. So I'm now going to stupidly say what mine would have been.
Simon Eastwood, obviously. I would have left the back four the same but possibly changing Dwight Tiendalli for Canice Carroll. (If you don't have to do it for real you can get away with dithering). I'd go for a three in front of the back line. Ryan Ledson, Joe Rothwell and Josh Ruffels. That would bring in sadly recently missing bite and tackling. I don't think we had made a single tackle in midfield, or perhaps anywhere on the pitch, against Wigan. Then a one – Jack Payne. That leaves room for two up front: Wes Thomas and Jon Obika. Sorted, and if you say there's no width that's up to the full-back to provide with one of the three covering as necessary. 4/3/1/2 – is that a proper formation?
Subs:  Scott Shearer, Carroll or Tiendalli, James Henry, Gino Van Kessel, Aaron Martin, Alex Mowatt and Malachi Napa.
As it turned out Pep wielded an even larger sword than I would have done. Carroll in. Martin in for Mike Williamson. 50% of the back line changed. Out Henry, Xemi, Payne and Mowatt. In Ledson, Rothwell, Obika and GVK.
Having seen that I was heartened somewhat. Perhaps Pep was seeing and admitting what is required for L1. Here was bite, more physicality and whilst no Marvin Johnson amongst that lot there was a bit more pace than amongst those left out. Our formation was supposedly 4/4/2 but with GVK playing how he did I often though it was more 4/3/3.
The game started in pleasing fashion and although by no means erasing the memory, brought home that we were not playing Wigan, or the likes of. I'll admit to not really rating Gillingham.
In the first half they had an attack down either flank that resulted in a player getting to the bye line following good accurate passes. The one down our right was easily fashioned into a bit of a scare because GVK had not tracked his man properly and had got the wrong side. Jake Hessenthaler was able to get in a cross, possibly made even more awkward for Simon Eastwood to deal with by a slight GVK touch. Our keeper did enough, flipping it away with his fingertips. Perhaps our man from Curacao was indeed playing in a four.
I don't recollect much else the Gills did.
We'd been the better side, playing the better football without necessarily looking certs to score let alone come out on top.
We were getting stuck in and winning the battles, Rothwell and Ledson in particular. Another huge plus was Rothwell running positively forward with the ball from midfield only to go sideways when his path was blocked and even then he was immediately seeking a path through to continue his progression. This was something we've really been missing.
In one early incident it looked like Rothwell might lose a high ball played across field to him by Ruffels but not only did he control it, he beat a man as he did so and got through on goal. The tall Tomas Holy had to beat the shot away.
Proper tackles were flying in and referee Nick Kinseley was, depending on your point of view, correctly giving the game a chance to flow or being way too lenient. I've thought the latter of the man before but not so here. I thought he was doing well.
In one tight bit of play where Ricardinho lost the ball, Ledson came up with a good old fashioned cruncher which had Gills supporters booing loudly when no free kick was given. On the day I wasn't sure but, having watched it again, if there was a jump in it was just a tiny one that had actually been executed before he actually went for the ball. Superb.
He continued on into the box indicating that such things are not just a Rothwell trait but part of the mind-set of the collective on the day. With the outside of his foot the ball was fed into the danger zone where it was picked up and flicked up by Thomas. We'll never know what he intended to do next because GvK rushed onto the scene suggesting he was in a three after all. He sent a shot well over the bar. Wes looked to the sky and heads went in hands. I'd like to think GvK apologised.
On the subject of the aggressive hard stuff Carroll has to be mentioned too. Defending the end in front of the travellers he was shoved to the ground by 31 year old Gabriel Zakuani. A few moments later it was Zakuani lying prone in our penalty area. I wasn't looking at the incident but many around me were.  If Mr Kinseley had been looking the outcome would have been a red and a penalty. I hate that sort of thing. But in a way I love it too. Very risky but for someone still only 18 that said don't mess with me. At times he plays like a man with at least 10 years more experience but there's evidently still a little naivety to his game. He's some asset though.
Seven minutes into part two we went ahead. Using his strength Obika forced his way into the penalty area before side-footing into Ricardinho's path. It would be wrong to say the shot was any good. It was going well wide until it hit Zakuani's arm. Probably not a penalty but the outcome was even better. The ball was not only deflected towards goal but sent on a low trajectory making it too difficult for someone Holy's size to get down to. A bit lucky.
We had further chances but with no poacher in poaching position to pop a rebound home following a Rothwell shot it remained at 1-0.
It became noticeable however as the game entered the final quarter that we were no longer bossing matters. This was probably due to a mix of the Gills getting stronger and us weaker. Concentration levels appeared to drop too as evidenced when Luke O'Neil was left unmarked to receive a shortish corner before firing just wide into the side netting.
Some times when our goal is being peppered as a game draws to its conclusion I have a confident felling that we'll hold out. Not quite so here. It wasn't nailed on that an equaliser was coming but it was no real surprise when it did.
Although I'd kept my mouth shut at 0-0, I'd had a feeling that we would go one up but end up at 1-1. I'd not quite got enough faith in the defence to believe any lead would be held onto.
Before we did concede that late equaliser we had a golden opportunity to put the game to bed. A long Simon Eastwood clearance was challenged for by Obika and Zakuani with neither winning it. Each putting in a challenge was sufficient to stop the other coming out on top.  Max Ehmer then won the header with Thomas not putting in a challenge. He probably was too far away to do so and the comparison that was forming in my mind between him and Obika was almost certainly unfair based on that.
That clearance was returned with interest in the form of a first time volley pass to Thomas. Now he had the opportunity to show what he is skilled at. He only had the advancing Holy to beat. A gentle effort that never got above six foot in height and was close to keeper wasn't that difficult to stop. Given Holy's positioning his height was irrelevant. A decent lob would have beaten him easily. Other options were to have gone on and/or shot low and hard.
I've sung his praises previously but this was not one of Thomas's best games.
GvK was another I wasn't particularly impressed with but we may well have lost something when he went off. Width? A bit of strength too?
He was replaced by Jack Payne. For all his technical ability he's little and lightweight and this was not the first example we've seen of him being easily shoved off the ball at times. I really like watching him play but am now asking myself how big a disaster it would be if he were recalled by Huddersfield, his parent club in January? Can't see that happening though. Is he up to the vigorous physical demands of L1 week in week out? Also, if we are to go two up top, and it really is debatable if that is the best way, where does JP then fit in?
Kinseley, began awarding free-kicks for things he would not have given a second glance to earlier but it was not one of these into our box that undid us, but a corner on 87 minutes.
From our end it was not possible to tell whether that or a goal kick was the right decision. Over it came delivered into the congested area on the edge of the six yard box. Elliott List, who had only come on six minutes earlier, won the header. He was up against Payne who is a really small guy. A small guy who didn't even jump. Lightning reactions from Eastwood kept the ball out initially. Conor Wilkinson jumped and missed the ball. For a split second John Mousinho had gone flat footed and instead of being set up to properly contest the ball was only able to help ease Wilkinson past it with a possible foul. As the ball fell it rolled off Ledson's shoulder and fell kindly for Wilkinson who slammed home from no distance at all.  Switch off and you will eventually pay for it.
A tweet from a Gills fan giving their view of the game is a couple of hundred times more brief than mine – 1-1 in the end. Will take that considering we were awful until the last 15 minutes or so.
It goes without saying that to relinquish a lead right near the end is a disappointment but a point is a point and as Pep says that's what we started with. His team selection has restored a little faith in me but nowhere near enough to believe we're good enough to genuinely challenge for a top six place. There's still a lot in the debit column.
Yet once more I have to point out that we're still a point ahead of what we were after the equivalent number of games in the 2016/17 season.
I travel to Bradford not as worried as if we'd been heading that way straight after the Wigan collapse. The Bantams have lost their last two and whilst they are ten points and five places better off than us have still only picked up the same number of home points as we have at the Kassam and think how bad we think we are at home.
It's not yet a lost cause (with regard to what I've still to decide) and to make the day better than it might otherwise have been it was satisfying to see a certain other team get a home hammering from the team topping the table in their division. The noise quickly turned to silence. Football with all its ups and downs.
A steward searching for reasons why any Oxford fans had travelled to Priestfield following their team's previous performance.