Article by Paul Beasley Sunday, December 17th, 2017
Rochdale 0 Oxford United 0
After this drab encounter I felt both great disappointment and also a strange satisfaction.
Given the temperature, the conditions, the journey up with a delay on the M6 and then M62, having diverted and opted for the M1, we needed something to warm the cockles of the heart. We didn't get it.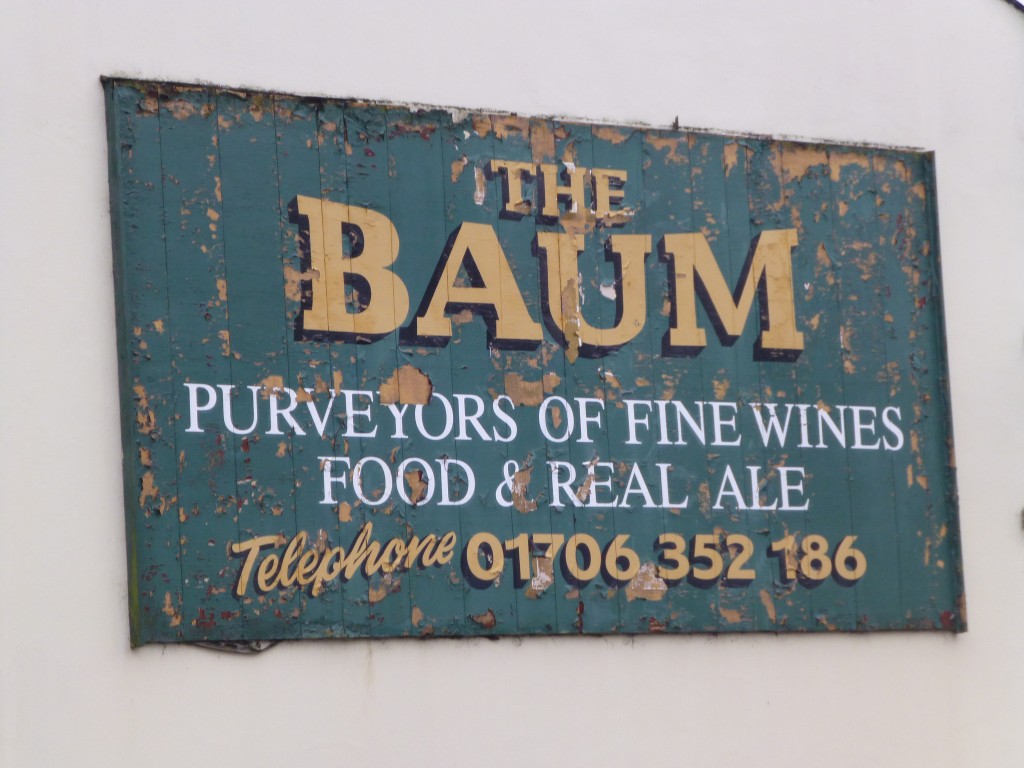 Given the ale hunting myself and the people I travel with indulge in, certain pubs in certain towns are pencilled in for visits as soon as we know what places we'll be rocking up to in the season ahead. The Baum is one such pub. I've extolled it before and can't do anything other than the same again after Saturday. A good choice of perfect beer in pleasant surroundings with old world charm.
As is the norm we got chatting to a couple of Dale fans in there and naturally asked how they were doing. "We'll score" they said. Then added: but we've got a dodgy defence. So that was it. Kiss of death. 0-0.
I couldn't remember but it turns out they were the same two blokes we'd held a conversation with on our last visit early in 2017 when we actually walked to the ground from the pub with them.
One of the two took some pride in looking older than his declared 53 years and explained the advantages of being ushered towards the seniors' turnstile at a number of grounds. Nice one.
Whilst more than happy to stay in the Baum we did have the Flying Horse listed for a potential drop in and when they told us it was even better than the Baum we moved on. Perhaps they wanted rid of us. (Joking, just in case there's the remotest chance that one of them stumbles across this). I didn't think the Horse was better than the Baum by any stretch of the imagination. There was nothing wrong with the beer though and that was made all the more acceptable with a CAMRA discount.
Lack of will power meant a taxi to the ground for the second away game running.
I can't recall the last game in which we looked less like scoring than we did in this one. The stats indicate that we had six shots, two of which were on target. Possibly, but I can't remember Josh Lillis, the Dale stopper, having to make a single proper save.
And as for having worked on making our set pieces giving at least the slightest hint that once in the next decade we might score form one. Not a bit of it. Utter s***e. We're to be laughed at in this respect. If we win a corner we might as well not bother to send anyone up and instead just tap the ball out for a goal kick. At least then there would be no chance of us being caught on the break.
The home side had seventeen shots with five being on target. I do recollect that Simon Eastwood had to make proper saves and when he was beaten, Mike Williamson headed off the line.
Rochdale did much more to win the match than we did but overall I thought the contest lacked quality and was more akin to run of the mill L2 fare than the actual level it was played at.
My strange satisfaction, which you're probably rightly questioning, is based on our defensive display. That's two clean sheets on the trot now in the league and three in the last five. If we have lived rather dangerously at times it is only Blackburn that have really undone us. Williamson is winning his fair share of high balls and our back line is not being intimidated. Canice Carrol fitted in for the Brazilian on paternity leave almost seamlessly. For one so young that's very pleasing and it is not the first time that's been said.
Other tiny positives are the reappearance of Gino Van Kessel after two and a half months out. Can't judge on a quarter of an hour but I may well have been wrong in my thinking that we'd seen all he had to offer with that goal against Pompey. He can control the football and perhaps he has a quantity of that pace we've been screaming for. Quick or not, he's strong even if liable to breakdown after a back heel.
I don't think any player was awful but there were no bright attacking stars. Creativity didn't exist. Whilst I don't think either Alex Mowatt or Xemi deserve criticism, and each did show a little touch or bit of control here and there of note, neither had that x factor that turns a game.  I'm not particularly unhappy to see either in the team but can't help feeling that with a fit and on form Joe Rothwell and Ryan Ledson in the side we'd be the better for it.
Another positive has to be the news that we should see Ivo Pekalski available for selection quite some time before the season is over.
All that said, we don't look anywhere near good enough to somehow get promotion and if we were to, the way things stand, we'd not have a snow flake in Hell's chance of survival in the Championship. But these things can change. I can't see how but there's the tantalising unknown of what's round the corner that makes football so enticing.
So we are where we are. (When anyone says that I know exactly what they mean and I say it too. Like here. But what a bloody ridiculous statement.)
Still a point better off than at the same stage last campaign. Could be argued though that we've gone backwards because we won at Rochdale last time, 4-0.
We're 9th  but the gap to the last play-off spot is four points which will be extended to seven if Charlton win their game in hand. Bristol Rovers in 16th place are only four points worse off than we are.
Complacency would be disastrous but this game was another that reinforced my belief that we'll be a L1 side again in 2017/18. I now need to work out how to enjoy the remainder of the current season.
Illogically I think we'll do quite well against Wigan and if that turns out to be true that will certainly be something to enjoy.
This was a first. Keith wearing long trousers at an Oxford game.
Rochdale Association Football Club: Ownership and finances
The Club has 331 shareholders only one of whom owns more than 10% of the total shareholding. That's Andrew Kilpatrick, an investment banker, whose stake is 22.5%. I'd wager they're run in quite a democratic fashion.
In March 2016 the Club secured full ownership of the ground on which they play. In 1991 the local council became one of three shareholders in a company, Denehurst Park (Rochdale) Ltd, that was set up to safeguard the stadium. I don't know why it needed safeguarding. At a guess, property developers? Those shares were transferred to the Club, with the council recovering its original £100,000 outlay. No interest there by the looks of things.
Loans of £529,000 the stadium company had with the council were to be repaid over a period of nine years.
Some councils help out their local football teams more than others. Pride of the community and all that.
At round about the same time the Club acquired the Ratcliffe Bars and Suites which are adjacent to the ground. They'd previously been the tenants of JW Lees.
The latest accounts for Rochdale AFC are of the abbreviated variety hence don't give away too much. They do however report by exception with regard to the "Ratcliffe Arms pub". The auditors are unable to determine whether adequate accounting records have been kept.
The balance sheet tells that the club has net assets of £1.5m but other than that there's little worth noting although it is thought that they don't have the largest wage bill in the division.
The latest balance sheet for the stadium company records net assets of £558k.
Given the size of their gates and with no apparent Sugar Daddy it would appear fair to say they're not punching below their weight.