Article by Paul Beasley Sunday, December 10th, 2017
Free Saturday and the Checkatrade
During the season, going a fortnight without watching an Oxford United game is a long time for me but it's kind of relaxing, provided of course I've not got a lengthy period to dwell on a dreadful defeat. That point at Roots Hall was fine by me.
That we had a free Saturday was down to that utterly abysmal display at Port Vale and I've still not by any means forgotten. Nor probably forgiven. The football club and fans in particular need an injection of something to lift spirits because there's a flat feel around at the moment. Oh how I crave a meaningful away fixture at one of the biggest clubs in the country.
Did someone mention the Checkatrade? Yes I could have gone to Priestfield on Tuesday to get my OUFC fix. Sixty two did and that's their right. I look on it as a farcical competition. Leicester U21s picked six senior players against Scunthorpe. The rules allow five over aged players to be selected. So why bloody call it U21? The value of the side they put out in transfer fees was approx. £45m. Tell me how this is beneficial to the development of young English talent?
It wasn't until the match was over that I felt motivated to check the score. Did I want us to win? Well, yes on the basis there's money at stake and losing is a bad habit.
For the strictly mediocre group stage one win, one draw and one defeat we were awarded £15k and for beating the Gills another £20k. A round three win gains £40k, quarter final £50k. The winner gets £100k and the runner up £50k. At our level this is not to be sniffed at.
We scored in added time to get through. We got away with one, big time, when Gillingham hit the frame of the goal. A clue as to what was coming against Donny?
Oxford United 1 Doncaster Rovers 0
Doncaster Rovers are one of those clubs that are just there. I couldn't tell you a lot about them without resorting to research. They don't get much national publicity and we had not played them for 13 years and prior to that there had been a ten year gap.
Coming into this they were seven league places below us but just four points worse off. They'd only lost one game in all competitions since 21 October but were just three points off the last relegation slot.
I knew we had the players capable of winning this fixture and winning it well but I also knew we were just as likely to lose because a) we have a defence that at times can be rather porous b) we rarely start games with all guns blazing from the off and more often than not concede first c) we only have one way of playing and we're not that difficult to stop unless we're right at the top of our game and d) we're at home.
This turned out to be a game that was not going to live long in the memory. Then in added time and some that all changed big time. I won't forget this in a hurry.
I thought our performance was poor and if we play like this in the remaining fixtures at the Kassam won't pick up many more home points this season. Part way through the second half I asked "how many points do we need to be safe from relegation?" I meant it.
Did we deserve to win? On the quality of our performance absolutely not. Based on Doncaster's approach to the game and the behaviour of John Marquis in particular 100% yes.
At the break as I made my way from the back of the SSU down the steps across the concourse into the toilets and back again there was just one topic of conversation amongst every little gathering.
That's right, referee Seb Stockbridge. I've noted how awful he is before. I don't know how many times we've had him but recall Peterborough at home last season and that 3-3 draw against Rotherham earlier this year.
I wouldn't have thought it possible but he managed to excel himself here. The game was a couple of seconds old when Wes Thomas made a run down the left. He was being pulled all the time. To his credit Thomas held the ball well and kept the move, which ended with him having a shot from just outside the box, going. I don't think Stockbridge was playing advantage it's just that he doesn't bother about such things. Thomas was shoved as he was getting that shot away. No foul given.
That was just a taster of what was to come when an even more blatant push as Thomas was about to pull the trigger in the box went unpunished.  There's no explanation. Nor is there why SS is allocated games in the Football League.
Persistent pushing and shoving right under his nose went unpunished. Rovers knew they could get away with it. So imagine their horror when we were given a penalty in the second half for an offence that no one else other than Stockbridge thought was in the box.
We too got away with things. Having over run the ball Thomas went in on an opponent in such a way that easily merited a yellow. Crazy stuff but surely the worst sin was allowing Marquis to remain on the pitch. A kick out at Ricardinho off the ball was one of his many wrong doings. There wasn't even a booking.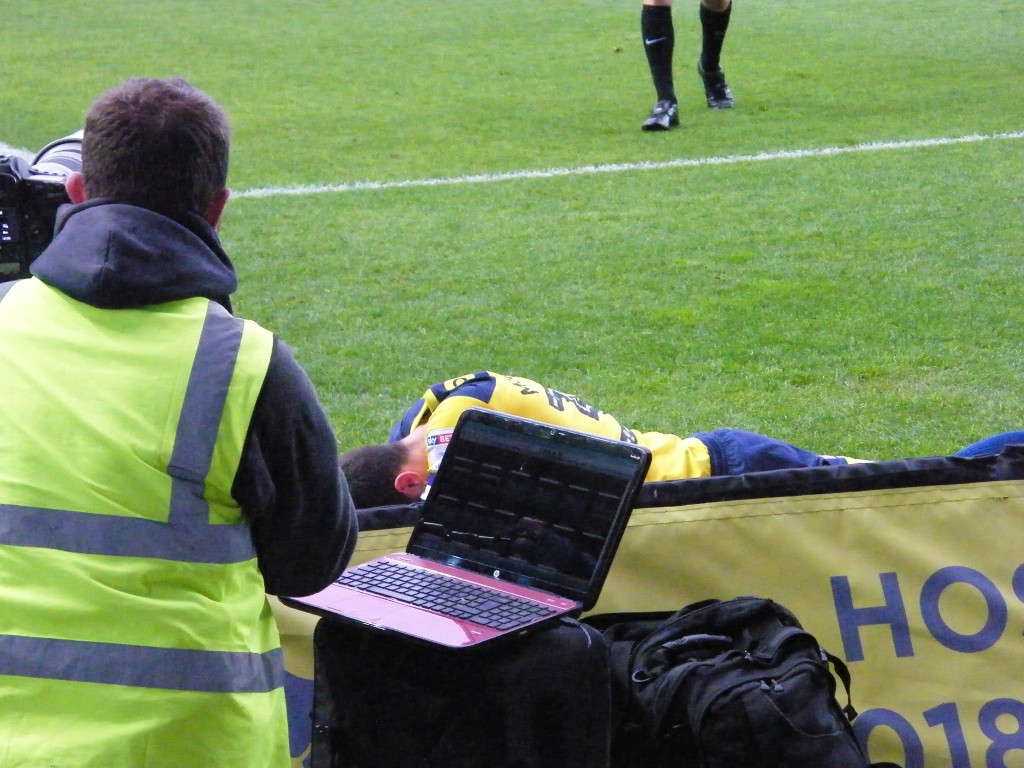 That's Mousinho on the ground down there. Marquis had something to do with it. Photo, Simon Jaggs
I also thought he was easily conned by players going down, Marquis again being involved and the free-kick he won on the edge of our box in the first half that resulted in a booking for John Mousinho, was debatable to say the least.
But for all that, as they pointed out on Radio Oxford after the event, we've never lost a game Stockbridge has refereed. Plus there was that rather special ending. No one could resist the "Fergie Time" jibes and as many have pointed out the added time is always caveated with "minimum". With his players going down and staying down in the expectation that that would be it, how refreshing to see the clock left running and running some more.
Someone near me commented that he'll keep playing until they score. They being Doncaster. Mrs FV wanted the final whistle. I asked why. The reply was because I want a point. My response was that I want all three. I didn't think we'd looked anywhere near good enough to get them but settling for a point against such opponents for me would have been writing the season off even more so than I probably have already done.
I didn't expect it to happen though. When it did there was naturally some wild celebrating but then I just felt like laughing. The whole thing was so ridiculous. Fergie Junior's antics made it even more so.
The Footballing Gods really were with us.
The game had started neither quickly nor slowly and we did play some reasonable football early on but too often throughout we were intent on playing triangular football in tight areas where we're never going to hurt anyone. We're probably missing that Lundstram vision with players not getting their heads up and having a look around as much as they should. The talented Jack Payne was a case in point. When he was gifted the penalty he opted to run towards and into a gaggle of defenders instead of making a pass to his left to Joe Rothwell who was in acres of space.
It didn't take that long for Doncaster's style of play to have an impact on the game which got me thinking that it was all quite like a lot of what we'd seen in L2. Then I remembered they were in that division last season.
In the first half we'd gone close when, after being set up by Alex Mowatt, a finger-tip save was forced from Ian Lawlor by James Henry. Other than that they probably looked more likely than us without really looking likely at all. They were better than us in the air but anything they won in our box was either off target or weakly directed at Simon Eastwood.
We were even a much less threat than that when it came to us putting high balls from set pieces into the Doncaster penalty area. That we don't have anyone attacking the ball is irrelevant because the delivery is so poor. Utterly mundane. I'd venture that any fit bloke in the crowd who plays Sunday League couldn't have done much worse.
We've got the joint third best scoring record in L1 yet for some reason I often wonder where the goals are going to come from. From corners and free-kicks unlikely. That leaves two main sources. Balls slipped through to a finely timed Thomas run and goal by passing the opposition to death.
We had a couple of chances in the second half and decided to look a gift horse in the mouth and reject it but I thought Doncaster were the more likely to break the deadlock. For all I've said about them they did at times play some decent football.  Marquis the villain was a handful as was substitute Alfie May. One who really caught the eye was Tommy Rowe. Kicking towards the fence end a 30 yarder from him required a good Eastwood save to keep the game goalless.
Earlier he had with clever footwork rounded a few yellow shirts and managed to get a left foot shot away as he tumbled. Somehow he regained enough balance to use his right as the ball came back off Mike Williamson. It was a goal all the way. It hit the right hand post but would still go in wouldn't it? Not immediately, but as it ran along the goal line it was going to clip the left hand upright and then register wasn't it? It wasn't possible.  But it didn't. Double Phew!
As the second half wore on there were times when Donny dawdled over the taking of a throw but yet others where they really hurried. When the latter happened I thought they believed more than we did that they could go on and win.  In contrast we didn't appear to have much urgency about us. Still the sideways stuff being much more evident than forward progression.
We did have a breakaway, of sorts, where we managed to get one player quite deep in the Rovers half but we had no one in support and four defenders raced back. I wrongly thought this meant they were fitter than us. Then I just could not see us getting all three points.
But football holds surprises which is why it is advisable to stay to the very end. To those who left prior to the final whistle blow: twats. Sorry, couldn't resist. Just joking, like.
On reflection there had been a couple of tiny hints that we could do something.  Josh Ruffels had one forward driving run which gave a little surge of genuine positivity and it was he who put that smile on my face, which over 24 hours later I can't wipe off. Perhaps Lawlor should have saved it as it was hit from way out, but it was struck well with head down. So much harder to keep out when kept low than at a nice height for a keeper.
For that Josh, I'll give you man of the match.
That's Ruffels in the yellow shirt on the left some way out but well worth taking a pop at goal
Obviously there were no standouts on such an afternoon but the entire defence were probably candidates. Another clean sheet, albeit a fortuitous one, is an achievement. Dwight Tiendalli is getting better the more he plays. He's got a bit of knowhow and is excellent at anticipating and intercepting.  Mousinho bringing the ball out from the back is an asset and Williamson's strength in the air is needed. They stood up to the physical side too but that's to be expected. They would not have lasted this long in the game if that was not so. Ricardinho got easily beaten a couple of times but never stops going forward, giving an outlet which we should probably use more than we do. However if he loses the ball, which to be fair he didn't often, we're in trouble. In fact I thought the entire back line played a little too much risky football. Foot through the ball man. Possibly one of the reasons they don't is that we have no one who can win a fair percentage of such balls although I might be doing John Obika a disservice here. I've not seen enough of him to know for sure but what I've seen so far has left me a little disappointed.
After I'd written the above I took a peek at one of the Doncaster Fans' sites. They are crying out for pace. (You're not alone). They regularly concede right at the end. (You're not alone). And whilst they didn't think they deserved to win, they didn't think they deserved to lose. (Well there you go.) Cruel game. But sometimes so very kind and giving.
I'll close with a mix of opinion, perception and fact.
I'd say it is perceived we're not that good at home.
Bradford are third, ten points better off than we are. I know it felt quite intimidating when we visited last season and I'd say the perception is that they are strong at home.
Fact: We've both played 11 home games. We've both gained 16 points on our home turf.
Fact: 21 games played and we've got 30 points. That's three more than at the same stage last season. Was there any moaning about Mapp at Christmas 2016?
(No financial info on DRFC this time. I've not got round to finishing it and I can't be arsed. Possibly when we play them at their place.)