Article by Paul Beasley Thursday, November 23rd, 2017
Blackburn Rovers finances and ownership
Any football fan worth their salt knows the Blackburn fans have an issue with the Venky's. This is Rovers first season in the third tier since 1979/80 and they began it with debts of over £100m. That's staggering.
Venky's is the abbreviated name for the V H Group, an Indian conglomerate concerned with poultry, processed foods, animal vaccines, pharmaceuticals for humans and animals and healthcare products. It is owned by the family of the company's founder who died in 1996. Group chairperson is Anuradha Desai, his daughter.
They took over Blackburn in late 2010 acquiring 99.9% through a new holding company, Venky's London Ltd. The deal cost £43m and this included taking on the club's then debt of £20m. Oh, how it has grown.
Sam Allardyce was manager. They sacked him. Steve Kean was given the job. Kean's agent Jerome Anderson had provided the Venky's with advice during the takeover. Funny how things turn out. It didn't take them long to get the club relegated from the Premiership.
Last season they had the ninth highest wage bill in the Championship.
One of the KPIs for a football club has long been considered the percentage of wages to turnover. There's nothing hard and fast, but the common rule of thumb is that in order for a professional club to reach break-even, player wages should not exceed 50% of turnover and that wages of over two thirds of turnover should set the alarm bells ringing loudly.
The latest accounts to 30 June 2016 show in 2015/16 Blackburn's ratio was 115%. Working backwards it was 120.5%, 113.5%, 136% and 92% in the previous years. That's absolutely unbelievable.
Turnover was £22m, wages & salaries £25.3m and other operating expenses £10.7m.
Loss before trading of intangible assets was £15.5m. With the trading of those assets it was reduced to just £1.5m.
Creditors due within a year were £112m, net current liabilities £106m. Total current assets less current liabilities were – £71.6m with net liabilities standing at £73m.
Wow. How do they carry on?
Oxford United 2 Blackburn Rovers 4
As expected the Pep outers were back out after yet another home game where we did not deliver. That's one win in the league in six. He's rubbish he's got to go. Should never have appointed him. Never wanted Eales at the club. We've only got one decent player. We only beat Plymouth because they were useless and only had 10 men. With all the out crying some people get confused between fact and opinion, or should that be fiction. But yes, there is a blur between the two and I'm bound to get caught out on this later.
It's unlikely that a team with only one decent player would have won as many games as they'd lost. It's unlikely that a team with only one decent player would have achieved home 3-0 wins against any side let alone 4-1 away at Peterborough.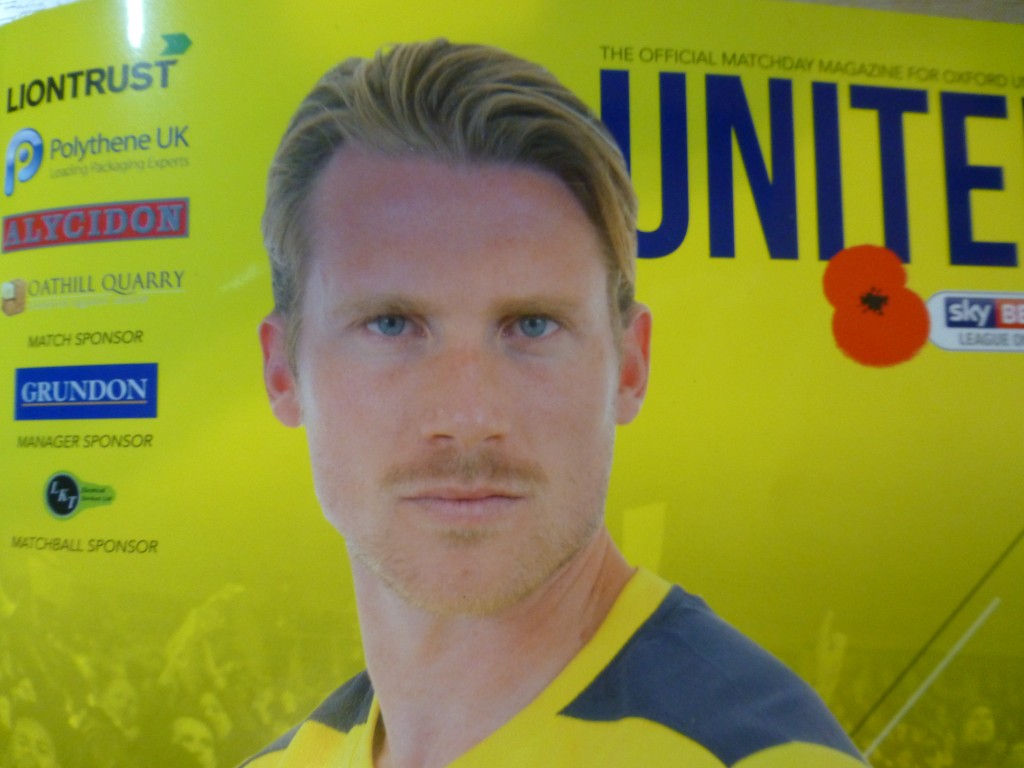 Good luck for the future
It's all these injured foreign players. And Robbie Hall, born in Aylesbury, injured. Charlie Raglan, born in Wythenshawe, injured. Sam Long, a Bicester boy, coming back from injury. Mustn't forget Curtis Nelson from Newcastle-under-Lyme and how sad that Christian Ribeiro has had to retire at just 27 years old. He's Welsh with a couple of international caps to his name. He was brought to the club under Mapp, not Pep, and he's another who we've not got many games from whilst he's been with us. Having broken his ankle in pre-season he didn't make his debut until April this year and now his knee is causing him too much pain to continue. I feel for the bloke and wish him well.
We're doomed.
Perhaps our recent recruitment policy does leave us open to sizeable questions with money (wages) down the drain. Just unlucky or have we cocked up big time? I'll wait for genuine facts I'll probably never get.
Ivo Pekalski, Swedish international, out for the entire season?
Gino Van Kessel, a Dutchman who scored a wonder goal on 12 August, scored again in the league on 26 August, did a back heel against Wimbledon on 7 October and went off injured as a result. The fans are told that his leg always goes a bit funny when he does that and there's nothing to worry about. We've not seen him since.
Agon Mehmeti, an Albanian international who has also turned out for Sweden at U19 and U21 levels, gave us about half an hour in the shocker at Bury, a few minutes and a goal at the Posh and eight minutes in the Checkatrade on 3 October. Nothing since.
Then there's the thing that if a manager is sacked, someone else has to take the job. How many top men just waiting for the call? Plus there's the question of paying up a contract. Madness at this stage.
Not for the first time this campaign I'm going to be repeating myself here and without doubt what I saw reinforced my view on our current team / squad, not that it needed reinforcing.
We can't beat teams that play with a certain weapon in their armoury. That weapon is closing us down quickly and done by the team as a collective. We have not learned from many previous experiences. Surely the best way to counter this is to play at pace. Move the ball quicker. We don't. We tend to move it slowly and sideways when faced with a solid looking defence in front of us. Some teams are able to do the collective pressing and still have a wall of defenders at the back. Well that's how it appears to me.
Stating the bleedin' obvious, we do not have quick players. That's down to recruitment.
We don't press as a group and on the night offered little in the way of a barrier to protect our back line and the way they are defending as a unit at the moment they need double strength protection. Good job I said we'd not got this area sorted after the Plymouth game or else I'm looking pretty stupid now.
Another massive bugbear is that we just do not take the initiative from the off. We let our opponents do so. L1 sides must look forward to coming here more than to most places because they're never put under pressure from minute one.
When you throw in that we had some players performing in the range between poor and extremely poor, that we ended up three down in such a short space of time was not a total shock.
Aaron Martin was a liability and once John Mousinho has to come wide, he and the defence are exposed. Josh Ruffels had a very sub-standard first half compared to his usual steady self. I'm an admirer of James Henry's work-rate but thought he had his worst game for us with something very amiss. I honestly thought he was injured and was surprised to see him return after the interval. On one occasion he didn't seem to bother to run and stretch to cut out a pass down the line and then just stood. The normal Henry would have tracked back with purpose. When we came forward he could be accused of just ambling at best.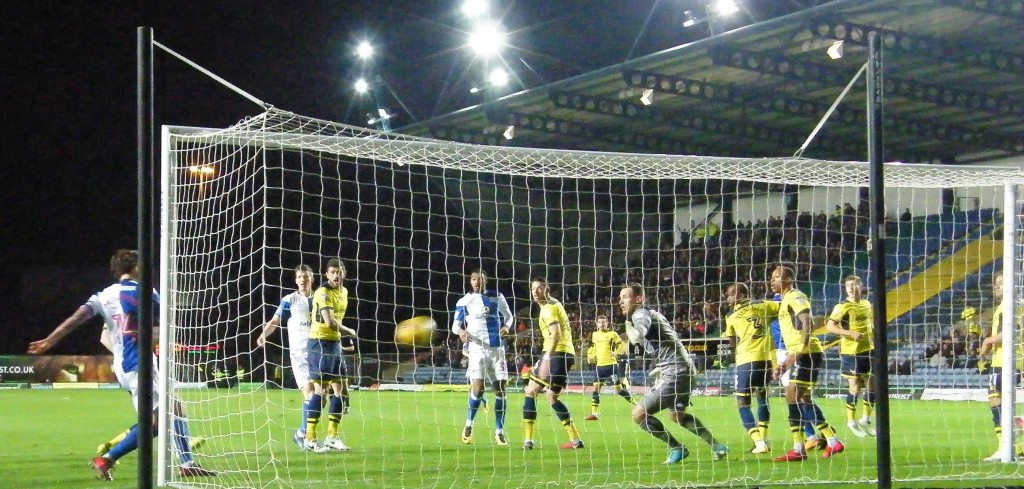 1-0 down and it was to get worse. Pic, Simon Jaggs
Rovers' early pressure won them a corner in the 6th minute. Ricardinho went across as if to prevent a short one but when it was obvious it was to be long, he retreated and had just made it to the edge of the six yard box when the ball came over. An unmarked Blackburn player got a flick on, Ruffels being the nearest to him. The scorer, Charlie Mulgrew, had an easy job to convert at the far post. It should be noted he was unmarked. Something of a pattern here. Henry was asleep and along with some others might as well have been sat in the stands watching. Shambolic.
Instead of rolling ourselves up to set matters right we opted for the comedic. Martin, under no pressure of note, came up with an incredibly strange header and then to compound matters laid the ball into Bradley Dack's path.  Mousinho wasn't able to stop him and after the ball had come off Simon Eastwood the simple tap in was Marcus Antonsson's. Claims for offside had no merit whatsoever unless I've completely misunderstood that particular law.
And if that wasn't bad enough we then demonstrated how lost we are at throw-ins. Dwight Tiendalli threw the ball down the line straight to Corry Evans. His header found Dack who beat Ryan Ledson before going down in the box to win a penalty. Tiendalli looked a bit clumsy the way he went in but my interpretation was that Dack had slipped the ball past him and could easily have done the same with himself but opted to ensure his left leg caught our man and he went over. But as a yellow I would say that; Plymouth fans would no doubt think well having got your penalty on Saturday what do you expect? The spot kick was drilled home by Mulgrew for his second. Noticeably we were all meek and sportsman like in allowing him to place the ball unhindered and without any sledging. Others do it. Why don't we? Can't do any harm can it?
To be fair though there was much improvement around the half hour mark and we began the second half as we bloody well should have the first.
The goal we pulled back on 45 mins plus 2 was the best of the game. Time and again Ricardinho dummied to go on the outside but when the dummy was not bought rolled the ball to Jack Payne who went one way then the other before selling a better quality dummy of his own with two opponents thinking he was going to shoot. This bought him just enough space to shoot, which he did across the keeper, giving no possibility of it being kept out.
In all the mess we'd seen, Payne stood out as being way better than his colleagues. The one criticism I'd have of him though is, as the game wore on, he tried to do too much himself and began to lose the ball once or twice and seemed to elect not to play the obvious pass. Hard to blame him though.
Having reduced the deficit by one there was a glimmer of hope kicking towards the East Stand for the remainder of the match, but what's the point in pretending we have hope when defensively we were likely to screw up at any time. Blackburn hadn't come close to scoring a fourth but we gave them another on 71 minutes.
We had men back but we were narrow. Ricardinho managed to get out to the touch line but was beaten incredibly easily. That shouldn't have mattered because we had plenty of men available to deal with the cross. However, there's different ways of dealing with it. Martin did something I can't explain and the ball somehow ended up going off Joe Nuttall towards goal with apologetic pace. Eastwood dived over it or under it or something. Watch the two minute clip from Oxford United Official on You Tube and you can hear an exasperated fan scream, "Fucking Embarrassing".   Indeed it was.
Our second, 14 minutes later, was just a consolation if you can call it that. It didn't console me. Fair play though to Ricardinho who never shies away from going forward. He got the ball to John Obika's feet and with hands all over him our forward protected the ball well before turning and shooting in off the post.
Given the way Southend play, our record at Roots Hall, and our seeming inability to alter our approach because we can't or won't, it could be a long afternoon next Saturday. But as my mate said we didn't travel to Peterborough or Plymouth expecting the outcome we saw.
Also we're better at winning games away than in Oxfordshire and our away support is vastly superior in terms of numbers and noise generated. The gate against Blackburn was disappointing with the second lowest number of home fans in attendance for a league fixture this season, although it was just about what we've come to expect for a midweek match. The Ultras did their best but with little help from the surrounds. Southend isn't a place that appeals like some but the away section for all its faults does hold an atmosphere and if we have close to the magnificent 837 that made it to Home Park we should be able to generate a real din. It's up to the players and equally the coaching staff to do their bit too.