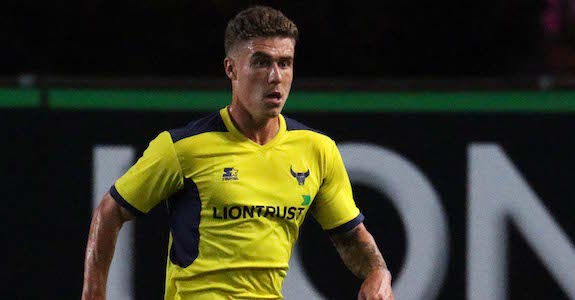 Photo courtesy of Steve Daniels
Article by Paul Beasley
Pre-Oldham
At the start of last season I declared "I'm feeling good, if a little apprehensive" about what was ahead.
Now, knowing what L1 is about and knowing the club know what it is about, I do not have similar apprehension going into the 2017/18 season even though the change from then to now has been significant.  Complacent in my thinking though I am not and as I write this I am not particularly convinced we will finish any higher than last season. It's all about that (lack of a) 20 goal striker. That seems to be the magical number to which people refer but have we got anyone capable of getting close? They're perhaps mythical beasts and it was no surprise that the one striker who was head and shoulders above the rest (well, with the possible exception of James Vaughan) last time around played for the Champions.
It is however quite easy to forget that many teams are rather successful without someone who troubles the top of the goal-scoring charts. The other team that went up automatically from L1 last time was Bolton who did not have anyone that made it into double figures.
So, can we do it in such a fashion? I'd like to think so but really have not a clue what all these new boys will bring. At the moment I can't see our front men, Wes Thomas, John Obika and Kane Hemmings getting more than 20 goals between them.  Centre-halves will get a few from corners and with the full-backs we've now got I'm expecting them to chip in with a couple but don't think the back line will get more than 10. That leaves a large gap to be filled by the mid-field / wide men types (and I include Marvin Johnson in this category) if we are to achieve a total to push us into play-off territory.
That was all total guess work of course and based on nothing much whatsoever, but I do know that the fewer goals a side lets in the fewer goals that need to be scored to secure the points and our defence appears to be shaping up well with experience aplenty now having been acquired.
How does the footballing world and all it entails view our chances?
The bookies have us round about joint 5th favourites to be champions. The odds on offer are no way generous enough to tempt me. (They also think there's only one team less likely to achieve this than Oldham).
FourFourTwo magazine have us to finish 5th. (Oldham are 19th)
Our position based on fan predictions in When Saturday Comes is 9th. (Oldham are 22nd). Every year we are represented in this by someone by the name of Piers Pennington. Who is Piers? I've never noticed him posting in any other OUFC related forum under that name. I've never had anyone nudge me, point and say, hey that's Piers who writes in WSC.
An internet search throws up a Piers Pennington on the Manchester City Supporters' Homepage and an article written in February 1996 explaining why he is a "Blue" (and not a Red). He tells that his father "inconsiderately got a job" in Oxford (ah, that explains it) just when City "put together the finest post-war team England has seen". Presumably the team of Bell, Summerbee and Lee etc.
I'm guessing he's more United (Oxford) than City (Manchester) now but the two team thing and changes of allegiance – don't kid yourself that for everyone a football team is for life – fascinates me. I'm not knocking it although would naturally give anyone who changed team every couple of seasons vicious stick.
I'll continue with this digression by mentioning that amongst the many football books in the yet to read pile on my bookshelf is "A Football Fling: Could Oxford United really steal the heart of a Manchester City fanatic"? It is by Steve Mingle, a diehard City fan and financial consultant who is joint owner of Isinglass. (Got the connection now?).  And guess who reviewed this publication for WSC, yes Piers Pennington. For the record Piers wasn't that complimentary but that won't stop me reading it, one day.
Back to thoughts of the visit to Boundary Park and my first live football match of any description for three whole months. I wouldn't have thought it possible but absence has made the heart grow fonder.
I'd honestly forgotten that we played them last season until I looked at the records. It is not a ground we do well at. We've been beaten in our last eight visits. They're nowhere near as good a side as they used to be though. I recall going there in 1990, the season they got promoted to the top flight, and getting well beaten 3-0. The football fixture god had smiled on my wife and I that day as we'd been invited to the evening do of a friend's wedding which just happened to be in Oldham. With a bit of time to kill after the match before the bash started we visited a few pubs and I recall each one was packed with home fans wearing replica shirts on a real high because they knew they were good and likely to go places. How times have changed. There weren't even 3,000 of them in attendance for last season's mid-week fixture.
I'm expecting more this time because everyone believes before a ball is kicked don't they? I've ignored the horrible eight in a row and talked my mates into putting a left-over beer kitty, which was increased by dint of not losing at Scunthorpe last season, all on an Oxford win.
Oldham Athletic 0 Oxford United 2
I'm always of a mind to leave early and build in plenty of contingency time just in case there are delays on the roads between Oxfordshire and the destination of the day. (Or perhaps it is to do with more pre-match pub time, especially when I am not the designated driver of the day).
Just as well this was the approach taken on Saturday – M6 closed. Could have been an, oh bugger, but it wasn't – driver and shotgun rider had it sussed. No satnav needed; off at junction 16 or 17 (wasn't paying attention) and, even though the Rewind Festival threw up a challenge, we (the drinkers not the driver) were in the Ashton Arms at 11:30. It was just as good as last season and I have to say boasts one of the best barmen I have ever encountered. He was simultaneously pulling the pints for one round whilst taking the orders for the next. Never kept waiting. Also he asked us if we wanted our beer northern or southern style. I'm not going to get all technical here but it showed he really knew his beer and also where we were from.
Wise words in the Ashton Arms. Impossible to argue with.
I didn't have much of a clue what our starting line-up would be and know that it will be a while (probably a few games) before I get to recognise who is who in the yellow shirts that move before me on the pristine green background that each new season brings. It was noticeable that the movement was altogether faster than we've been used to. The tempo of the whole game was fast and both sides were instrumental in this. In no way did we attempt to slow things down. We'd no Johnny Lundstram (SUB for Sheff Utd) or Chris Maguire (penalty MISSER for Bury) in our ranks. Used to love 'em both, honestly.
There was nothing between the two sides and if one was going to come out on top it would be the one with the players that had the extra quality that would start to show after base camp had been established. That team was us. On 39 minutes, in his own half, Joe Rothwell played a side footed pass to the best player on the pitch, Jack Payne. With the outside of his left foot he played the perfect pass to Wes Thomas who deserves a 10 out of 10 for beating the offside trap with perfection and finishing clinically. Based on that little episode I've previously been doing him a disservice.
From then on there was no case to be had that we weren't the better side but Oldham remained game and it was never going to be contest over until we got a second, however solid our back line looked.  And they did look remarkably impenetrable. The experience of Mike Williamson cannot be overestimated. We've had some good defences in recent years but this may have been yet another step up. I say "may" because the opposition in future games will almost certainly bring greater challenges.
When the second goal came with 20 minutes to go that was it. With what the Latics had to offer we were never going to concede two.
Canice Carroll from the full back position on the half way line took a look and bent a long ball towards Jon Obika. Our ex-Swindon man demonstrated classic old style centre-forward play in chesting the ball to Payne. Our tiny MOTM got between two defenders as others came to him and set up the ever improving Josh Ruffels who is learning the art of coming into the box late and unnoticed. His second touch was a toe-poke past the keeper.
This wasn't a game of many chances but 2-0 was a fair indication of the football played so no one could have any complaints that this was how things stood when proceedings were brought to a halt.
All in all a perfect start to the season with the Yellow travellers again turning up in impressive numbers and I have to say I did not hear one word of negativity.
One of the many
So, positivity it is then and that's without yet having seen some of our new men who come with impressive CVs.