Photo courtesy of Steve Daniels
Article by Paul Beasley
EFL DIVISION ONE GAME 43: BRADFORD CITY
Each and every one of our last four games has massive significance for our opponents, although matters may well become clearer as they're ticked off one by one. The Bantams, who needed to win to consolidate a play-off spot, will also have had eyes on any slip up by second placed Bolton. (And a day later it did unexpectedly happen).
With Mrs FV's uncle living in the area, we took the opportunity of spending a few days up north which meant we were in Bradford on Good Friday not long gone 10 o'clock.  After parking up near the ground we headed for The Science and Media Museum. There's a tremendous amount to see there but the reason for our visit was the "Britain in Focus: A Photographic History" exhibition. It is basically a social documentary from the very beginning of photography through to the modern day with pictures taken by both British amateur and professional photographers. Although I'm little more than a point and click snapper, I find all this stuff absolutely fascinating. Every group of photographs told a story but there were three that stayed with me rather more than the others. These were taken on 29 May 1985. One showed a man sat on the floor, shoe missing, with indescribable anguish on his face, being, probably reluctantly, helped to his feet. In the next there were a number of bodies lying on concrete in a tangle of debris containing amongst other things scarves and banners. Got it yet? The last one showed the crush against the wall that caused it all. One guy's eyes are almost popping out of his head.
As football disasters go Heysel is somewhat forgotten when compared with some others. 39 died and about 600 were injured.  Heysel of course cost us a place in the 1986/87 Uefa Cup. Teams that competed that year in that competition included: Barcelona, Athletico Madrid, Inter Milan, Fiorentina, Torino, Borussia Monchengladbach, Werder Bremen, Galatasaray, Feyenoord, and Rangers.
Just 18 days before Heysel the Valley Parade fire resulted in 56 deaths and over 250 injured.
It all makes you stop and think. Part of that thinking process is how lucky most of us are.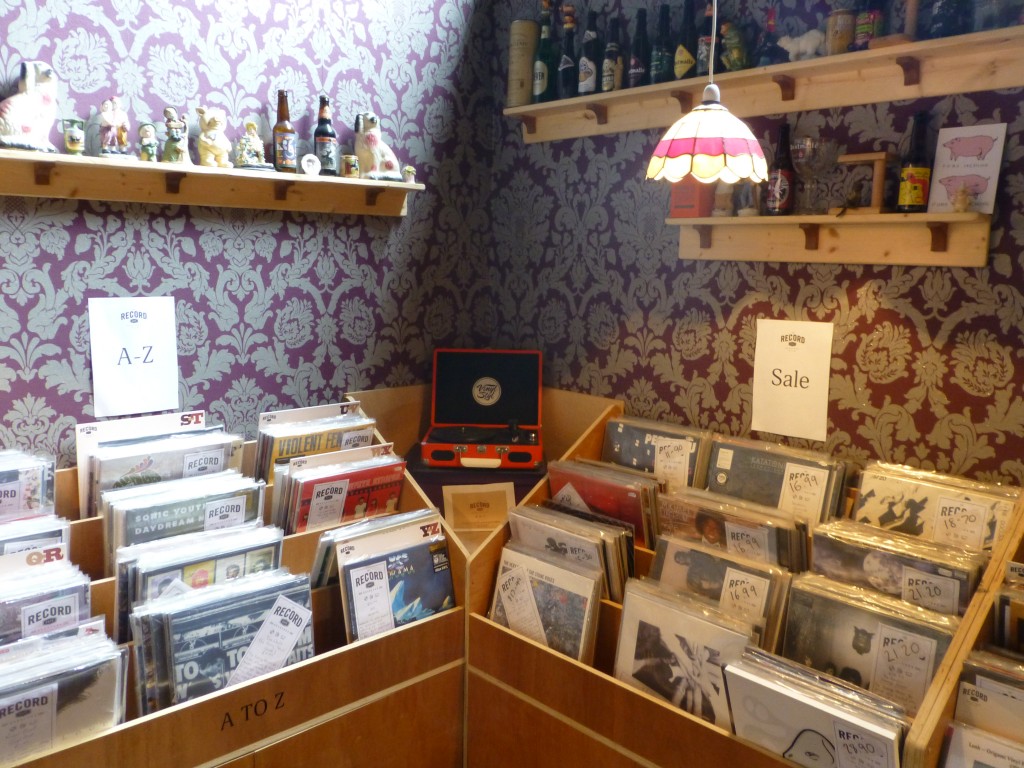 You don't get this in many pubs / cafes
After the museum it was on to a couple of watering holes before the football. There was never anywhere around like The Record Café a few years back. We may be losing traditional boozers by the score but they're being replaced to some extent by establishments like this and micro pubs, so not all doom and gloom. This place is Good Beer Guide listed, and rightly so, and as well as providing real ale it uniquely sells ham and vinyl. There were a few home fans in here and it was all very civilised.
Although we'd intended to make it to The Corn Dolly, a genuine football pub, for one reason or another we never made it past Jacobs Beer House. Like everywhere else in Bradford we found the locals to be a really friendly bunch and got chatting to a small group of Bradford fans. One of them kindly showed us a few pictures on his phone of his visit to the New Den last season for the play-off semi-final second leg. It was a 1-1 draw but Millwall had won the first leg 3-1. The photos were of a police cordon, including horses, preventing hordes of home fans getting to the travellers. And that was after the Lions had got to the final. The coaches were also bricked. We don't need reminding who we're playing in our last away game or what is at stake for them.
The game itself it reminded me a bit of our encounter with Walsall in that good football was played by both sides with the ball being more on the deck than in the sky. There were differences though. The game was played at a quicker pace and Bradford are better than Walsall, which probably explains the outcome.
I thought they were better than us in the first half of the first half and we were better than them in the second half of that half. In the second half they were the better although we did force keeper Colin Doyle to make a couple of excellent saves.
Although I can't be critical of any of our players, one bloke in the lower tier of the TL Dallas stand most obviously could. Kane Hemmings had not been on long when he was loudly implored to GET IN THE GAME. I'm not KH's biggest fan but that was uncalled for. If that was out of order it was nothing to his behaviour at the end of the game. He ran across and gave Lunny some verbals as the players left the pitch. Our captain rightly looked perplexed.
I couldn't resist having a word. It was obvious to me that we were second best. We'd done as well as we could and given our all. We're going to lose football matches. We're going to come up against teams that are superior to us, either in general or just on the day. This is our first season back at this level for 16 years and we've done pretty well. Hopefully we'll have learned from the experience and know where we've fallen short.
One of those areas for me has to be the lack of physical presence up front. I don't think we ever really troubled their back line by getting anyone in and amongst them.
On the positive side of things Josh Ruffels had a really good game, particularly in the first half.  He's busy, gets about the pitch a lot and the more game time he has had recently the more skilful on the ball he looks.
The only goal came just past the hour mark. Mark Marshall had caused us problems with his wing play down the right and on this occasion had the option of using an overlapping colleague with only Joe Skarz close by to try and snuff things out. Marshall chose the option of putting in a decent cross. It was headed back from the far post and an unmarked Nicky Law finished it off from very close range. It's not the sort of goal we score.
It was disappointing that we lost the aerial duel but overall I was pleased with our back line. Christian Ribeiro making his debut indicated that we currently have plenty of options to fill the right back berth without being weak there. With Charlie Raglan partnering Curtis Nelson in the centre our positional play in that area looked much improved to me. I also didn't feel the need to panic so much as we played the ball across the back.
There were nearly 19,000 home fans present and the noise they generated at times must surely have given their players a boost. There's a reason for this. An adult season ticket costs £149. They're charging the same again next season and apparently have already sold 17,000. With the size of their impressive stadium they can afford to do so.
For many years I've been almost totally pro-Bradford City. That might be down to sympathy for what happened in 1985 in kind of the same way as there was a massive national surge of support for Manchester United after Munich in 1958. After Friday though I'm no longer so pro. Away fans have now been moved from the Midland Road Stand, where the view was unimpeded, to the TL Dallas Stand behind one of the goals, with a few pillars in the line of sight. That's fair enough as they've got so many home fans to occupy the stands down the sides as well as the massive Kop but to charge £25 on the day is too much.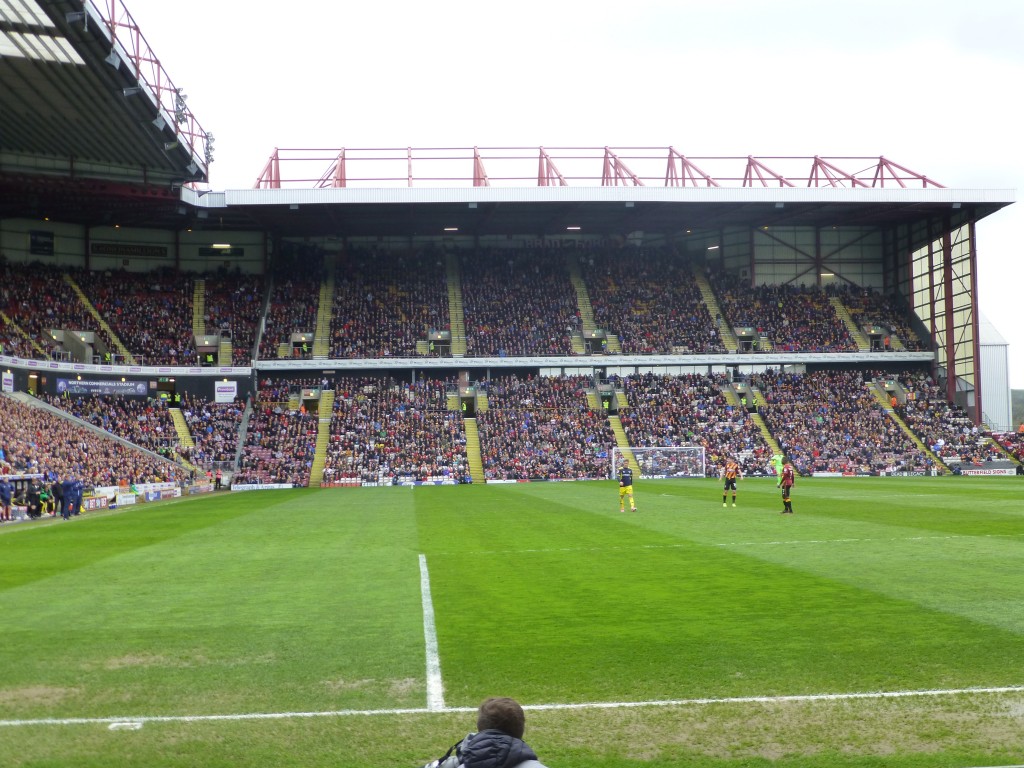 I rarely have any gripe about stewards anywhere and never have had at Bradford before but did so this time. I never take photographs whilst play is taking place. I attend as a spectator wanting to watch the game not as a photographer. With the ball out of play before a corner I quickly snapped the Kop. A female steward was over in no time telling me I couldn't take pictures whilst the game was in progress. I pointed out that it wasn't but had no inclination to make an issue of it. She said that they were her instructions "from upstairs".
At half-time I had a chat with Selfy and he told me that they'd stopped him filming his Radio Oxford blog. For the record he never shows any of the game.
We were sat in the lower tier which was quite sparsely populated with not a hint of trouble. In the second half when we were attacking and won a corner another female steward shouted to one of her male colleagues to stand up. He did, partially blocking our view. None of the others on stools seemed to stand. When I protested, the woman who had issued the instructions said "I'm only doing as I'm told".
Bunch of jobsworths. And it didn't stop there. As my wife and I had already got tickets we didn't enter the ground with the two others with us who had not. Okay, one had had a few beers and might be occasionally a bit loud even when he's not consumed any alcohol but a steward (male) told him he wasn't coming in as there was alcohol on his breath. After protesting and the fetching of a more senior figure and some pretence of there being a rule about having to walk on a straight line he was allowed in.
My feeling of warmth towards BCFC has dropped from 10 to about 4.
Stopping in Otley I was dropped off for a quick pint or two in the Junction before heading back to base. As I was walking to the pub I heard someone call out my name. Two doors from the Junction is another drinking establishment, Korks. Entering Korks with a bunch of equipment under his arm was Deadly the Roadie. What a chance encounter and what a coincidence. Playing there that night was John Otway. It would have been rude not to attend. And there Deadly was on stage in his Oxford United shirt for his contribution to Bunsen Burner.
EFL DIVISION ONE GAME 44: PORT VALE
Vale's away record is shocking. They arrived having won just once, drawn six times and with the other 13 being defeats and within all this they'd scored just 12 goals. Their current form was also something to keep quiet about; three defeats and goal-less.
That said they had a lot more to play for than we did as they're bottom four but with a game in hand over all their rivals down there except Bury.
Even though this campaign has tired me mentally and this was end of season fare I was still looking forward to some Easter Monday entertainment. (Yes, it was Monday not as announced over the tannoy as our last home Saturday game. I did hear that right didn't I?)
Given the gravity of their situation I was expecting more than the 351 who turned up to support the Valiants. Fair play to those that were there; they did make a reasonable effort to get behind their side but I didn't detect any real belief.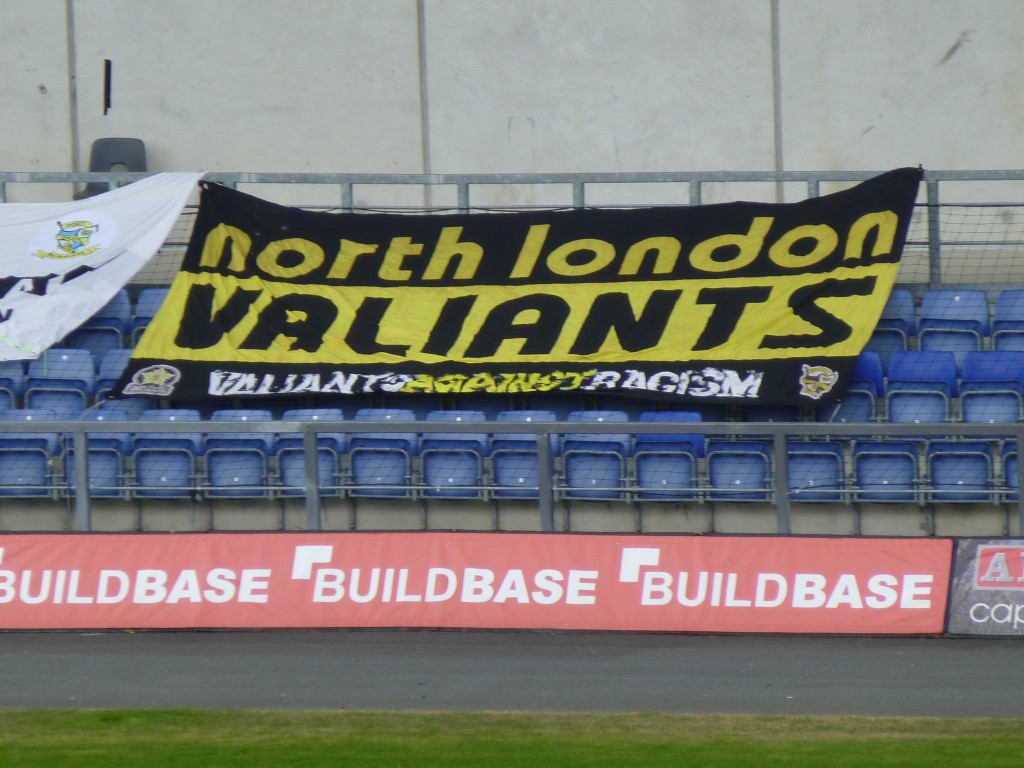 We were only half awake as the match began and it was clear that, although quite limited on the skill front, Vale were going to give it a go with big blokes up front putting it about.
It was also soon clear that their defence wasn't very good. They weren't cool under anything resembling pressure and even when they inevitably won any high balls we pumped forward their clearances wouldn't have filled their supporters with confidence.
What bits of pleasing on the eye football there were was played by us and once we began to close them down more quickly we looked the better side.
Although Simon Eastwood had to pull off more saves, and some of them very good ones at that, than I would have liked, I again had quite positive feelings about our defence.
Deniz Dogan Mehmet in the visitor's goal also, for the most part, played very well but in the 14th minute could only parry Marvin Johnson's shot from the edge of the box and Josh Ruffels was onto it in a flash to convert.
Ruffels was again excellent until he tired towards the end of the game. He was involved in one really top move that could have seen him double his tally as we attacked the soulless fence end.
Chances weren't converted by either side although Vale had a couple disallowed so it remained at one – nil as the clock ticked down. That was until substitute Chris Maguire in his own half took the ball around an opponent with consummate ease before heading towards goal. He was quicker than I thought he could be. Hemmings provided an option but may have been off-side if used. Instead Maggs took it all the way before finishing clinically making a mockery of my assertion that he can't score from open play without a deflection.
He'd shown real talent but a man of the match performance in just 26 minutes? I don't think so. I don't know who the sponsors were but they must have been totally wrecked by the time they cast their votes. Often the motm announcement is greeted with mild amusement but this one got a louder reaction that basically said WTF is that all about? Eastwood for me, with other contenders Ruffles and also Lunny.
The value of what our captain does is I believe overlooked, or perhaps not spotted, by some. He will always show for the ball whatever is happening because he has that much belief in his own ability and the way he can find the space to receive it is something that most players cannot do.
On the subject of bizarre decisions, referee Trevor Kettle needs a mention. I don't think Johnson's best position is through the middle but he was being held all the time and was as likely to have a free-kick given against him. It wasn't even subtle holding and if anything that holding got even worse when perpetrated on Hemmings in the last 25 minutes. It was crystal clear that his shirt was being pulled into all sorts of shapes but Kettle was having none of it. He was absolutely inept. No wonder KH looked utterly confused.
I was desperate for Hemmings to score and I'm sure he was too but again it wasn't to be. In one instance he'd worked himself a chance really well but then put it wide and there was another opportunity that he really should have converted. Will he ever really do it for us? There's still two games to go so we'll see.