Article by Paul Beasley Sunday, March 12th, 2017
EFL DIVISION ONE GAME 34: SHEFFIELD UNITED
The first half could hardly be described as free flowing but nevertheless was a very entertaining game of football between two good teams. Good though is always trumped by very good and exceptional when it comes to categorising teams and the final determination of league tables.
Matches of course consist of 90 plus minutes and when this one had run its course one side was found wanting whilst the other I would place in the very good category, for League One. The table is not telling lies.
Those first 45 minutes were evenly contested with both teams working hard and closing the opposition down. We were doing this so well that the Blades were making a lot of mistakes with hurried and misplaced passes. However, at no time did they lose belief and just carried on playing in the same fashion confident that they would eventually reap dividends.
There had been few chances before the break and whilst we certainly didn't deserve to be behind it was hard to argue that we were a whole goal better than the visitors. But it was that sort of game. Incredibly tight.
Photo, Steve Daniels
The goal came on 22 minutes. A flashing Chey Dunkley header from a Chris Maguire corner after a defender had missed the ball. The execution was perfect but we did have an element of luck in that Jake Wright was off the pitch receiving treatment at the time and from which he did not return. Dunks could have registered even earlier when he did well to get on the end of a low ball into the box from Marvin Johnson. He was quicker than the defender but his finish was that of a centre-half and not, well, a finisher.
I'll be honest and say I was not overly confident that we would take all three points and was not greatly surprised when Sheffield had equalised 10 minutes into the second half. It was a sloppy goal to concede as we didn't deal with a corner, allowing Billy Sharp's telescopic leg to bring the ball under control. His shot from close range entered the net via Ryan Ledson. It's natural to turn sideways when the ball is hammered at you from point blank range but if our youngster had faced up and remained square on it may have been a different outcome.
We were still in it though and it wasn't until later that we looked rather second best. Thing was when we had men in their penalty area trying to force the ball over the line, they blocked.
We could have let another in before we eventually did go behind. That we didn't was down to Curtis Nelson who produced one of the best saving tackles you'll ever see. Clean as a whistle. The chance had come after we'd lost the ball in midfield.
It was on 72 minutes that we did go behind. I thought we'd been a bit weak in midfield and the league leaders were starting to play the ball around with more ease. Nothing fancy, just effective. They were getting more options and men in space. Their energy levels did not appear to drop whereas we seemed a tired outfit. When Keiron Freeman passed the ball into the net we had five in the box with another on the edge to their three. A bit lucky perhaps but we had not marked well. Freeman by name and nature. Where was Johnno?
It was hard to tell if at one down we had the drive and desire to turn things around, although I had my doubts, and four minutes later we were two adrift.
We had opportunities to get the ball away but didn't. This time Nelson's challenge wasn't whistle clean. The penalty was emphatically despatched by that Sharp striker of theirs.
Now it looked to me like we did not have it in us to salvage anything. They just weren't letting us play and the players we'd told ourselves were bloody good just weren't good enough on the day. Perhaps they are not quite as good as some of us thought or it could be that the Blades are that good.
Other than a bit of persistent fouling, which all teams do from time to time, they did everything in the right manner. They were keen to keep the game flowing and I saw no noticeable time-wasting.
Indeed they were very eager to keep things moving and on one occasion had taken a free-kick and had started playing again whilst referee Paul Tierney was giving one of ours a lecture for a minor offence as if they were a naughty little school boy. Initially I had been impressed with Tierney's performance. He was showing who was in charge by not letting little things go, telling players what was what and being very much the boss. We could have done with someone like him the previous Saturday. However, his constant talking to the players began to infuriate and did the opposite of ensuring the game moved smoothly on. It looked like a case of it's more about me than the players. His over dramatised use of the spray was a case in point, but he didn't have the nous to realise that, when his back was turned, the blob he had produced to indicate where the kick should be taken from was quickly removed by the player waiting to get proceedings started again. He made big mistakes too. In one first half attack we had a player stood somewhere near the penalty spot when keeper Simon Moore came positively rushing off his line, leapt high and caught the ball but in doing so went right over the top of our man who had done absolutely nothing wrong. Sheffield were awarded a free-kick. If there had been any infringement it was a penalty more like.
What did our second goal in added time tell us? The score ended up a slightly flattering one? Possibly, although I'm not sure. That if we'd gone for it with more drive and made the substitutions earlier things could have been different? Probably. The way Joe Rothwell and Toni Martinez cut through the Blades defence and the expert finish of the latter was as good as anything the champions elect produced. If only we'd got that goal 15 minutes earlier.
It was pleasing to see all our doubtful starters back but whether they were all 100% is another matter. Again I thought Kane Hemmings was a little short although he does his shift work sufficiently well. We need more though.
Johnson did a couple of stunning things but still doesn't look like a solid left back and I doubt he ever will. That's not the player he is. Mr "7 out of 10 every week" Joe Skarz of course was far from that against Rovers. One thing that I won't forget in a while is the way Marv flicked a cross over the head of an onrushing attacker whipped round him picked the ball up and headed down-field all at lightning speed.
Others showed glimpses but there was a general lack of co-ordinated link up play. We tended to try and play the ball about in tight areas where the outcome was highly likely to be a loss of possession. By contrast our opponents were quick to move the ball in economic fashion to areas of our now embarrassing playing surface where they could get on with moving forward.
I've previously mentioned our relatively poor home record and others have naturally picked up on it too. I'm going to nick a few of their comments.
"Since we beat Coventry 4-1 back in mid-November, we have managed a grand total of 3 goals in 7 home league games."
"Only Coventry, Scumdon and Oldham have scored fewer goals than us at home this season".
This set me off on an analysis of home form at Minchery Farm compared to that at the Manor. Because we absolutely loved our Headington abode I think some many have unintentionally re-written history. I have not had time yet to fully check and crunch the numbers but one or two things leapt out from the digits before me.
In our last season at the Manor we won just five league games. Our worst at Minchery Farm has been seven, in 2005/06. We were relegated on both occasions.
Last season as we went up to L1 we won exactly the same number of league games as we had done at the Manor in 1993/94 when we went down from tier 2 to tier 3. Ten each time. That's strange.
Now to state the obvious. Half of all league games are away. The number of points on offer are the same. The next game does not take place in Oxfordshire. Something to be grateful for?
EFL DIVISION ONE GAME 35: PETERBOROUGH UNITED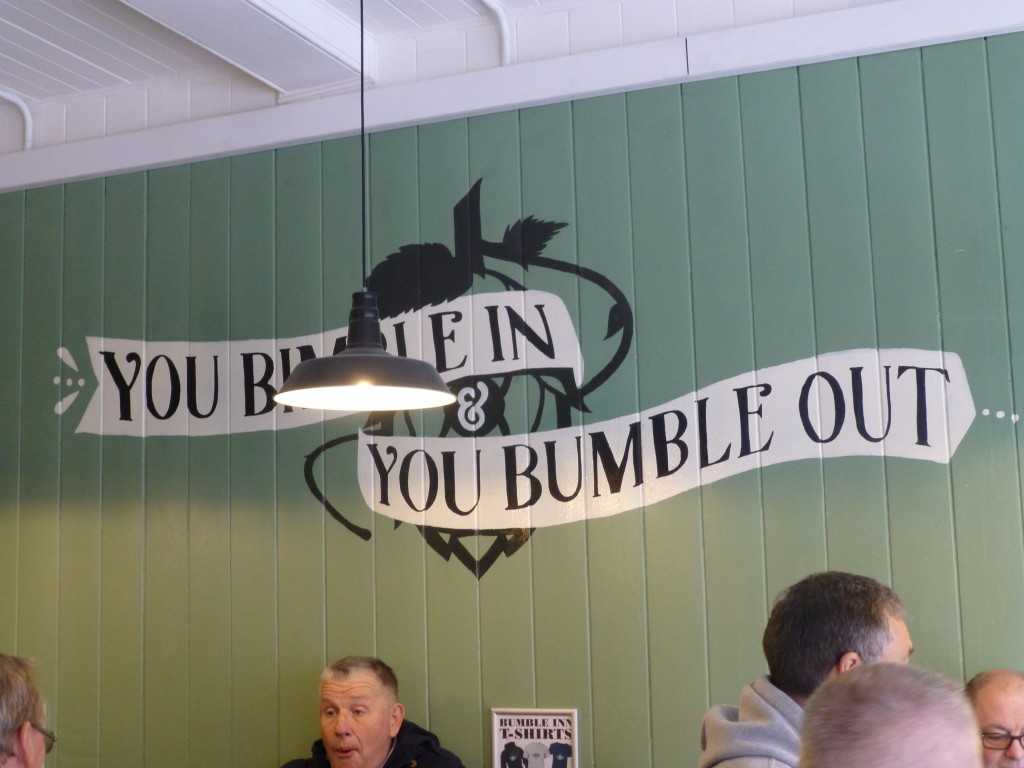 Quite happy to do that as long as we bumble home with three points. The Bumble Inn, Peterborough pre-match.
This game was going to be quite informative. Had we run out of gas with a long hard season catching up with us? Or would it be back to a lucrative day's work if conditions suited. What would the playing surface be like? What style do Posh employ and would the referee if need be control the game in such a way to ensure an entertaining match that would be decided largely on the skill factor?
I was pleasantly surprised all round. The pitch was in very good condition. Smooth and covered in grass. Peterborough played football and I thought the officiator, Mark Heywood, had a good game.
The home side started the day a point above us in the League but having played two games more. Two mid-table sides then who could ill afford to lose if play-off ambitions were not to become too distant a target.
Early on it was end to end stuff with another entertaining encounter being served up. They had chances, we had chances. It has become almost a given that Simon Eastwood will pull off some quality saves and he did so here. The defence in front of him looked more solid than in the previous two home games with some telling challenges and tackles being administered.
There were as many attacks by yellow shirts as blue ones and when half-time came I thought we were the ones on top and not just because we were one up.
We got that goal midway through the half, Phil Edwards heading home a looping Robbie Hall corner. Delivery from set pieces and the movement of our men waiting to attack the ball is now so much better than it was not long ago. We have at least three who are capable of jumping and getting a header on target. This must unsettle many defences and even though it is not the first time he's done it, there must be a psychological factor at play when it comes to marking someone well under six foot when the ball is in the air.
The second half to me seemed more of the same. Roughly midway through this period we got our second, a well worked goal.  Hemmings did well down the left where he laid a pass into Maguire's path. A couple of touches later Maguire was well in the box and by running towards him, Michael Bostwick left Conor McAleny unmarked. Not the wisest thing to do. The side foot finish gave keeper Luke McGee no chance.
With five minutes left we were only facing ten men. Young Leo Da Silva Lopes receiving his second yellow for bringing down Maguire as the Scotsman had gone smoothly past him. Nothing malicious just one of those things.
To then concede in injury time, although having no effect on the outcome, was a touch disappointing. Again it looked more of a pass than a shot. Is this our Achilles heel? If Nelson had said to Eastwood, you deal with it he would have. If Eastwood had said to Nelson you deal with it he would have. No talking, no dealing with it.
Did that add a slightly flattering look to the score line as far as Peterborough were concerned? I would have said so but home fans are likely to disagree and viewing the stats and brief highlights they have a case. We had 53% of the possession but they had 18 shots to our 13. We had one more on target than them though. This indicates it was rather close and we did get away with it when a Posh header from a second-half corner hit bar and post. Much as the chunky substitute Junior Morias tried to grow he was unable to do so and could not connect to finish the job. I reckon if Adebayo Akinfenwa was a Russian doll a couple of layers in you would find Morias.
Currently we're better at corners when we're attacking than defending.
Clean sheet or not this was a very competent all round team performance with all players having good games. To pick a man of the match would be very difficult so I'll not bother.
After a win it's time to look at that league table again and the gap to the play-off spots. It's a big ask with more home than away fixtures left. At least the next one is on the road but as Oldham are in real danger of the drop that is unlikely to be easy. They've only lost one of their last seven. Next Saturday we have to endure Minchery Farm but visitors Scunny have plummeted from the top, only picking up three points (from three draws) from the last nine games. That's dreadful form but nothing can be taken for granted, football being a game that throws up surprises. What's the biggest surprise we'll see between now and the end of the season, I wonder.
Time to return to the Manor v Minchery stats.
We've had 15 full seasons at our latest home so I thought comparison with the last 15 at the Manor would suffice here.
At the Manor: League games played: 340. Wins 144 (42.35%). Draws 91 (26.76%). Defeats 105 (30.88%)
At Minchery Farm League games played: 344. Wins 162 (47.09%). Draws 93 (27.03%). Defeats 89 (25.87%)
Those 15 years at the Manor saw one promotion and four relegations.
Since our move we've had one relegation and two promotions.
Each of those Manor campaigns was at a higher level than any at Minchery Farm, until this season, so some will argue that comparisons are not totally valid but for purposes of dispelling the rose tinted view I believe they are.
Finally I'll throw in the goal stats.
Manor goals for 511 at 1.5 per game. Minchery goals for 494 at 1.44 per game. Not much difference there.
Manor goals against 417 at 1.23 per game. Minchery goals against 329 at 0.96 per game. Quite a difference.
Make of that what you will. But I still love the Manor.
Without doubt the most important stats are those still to come which will dictate where we end up this season.