THAT FIRST AWAY LEAGUE WIN OF THE SEASON
This win doesn't alter the fact that the off the field situation at OUFC has not changed one bit but boy does it divert our minds from that depressing situation at least in the very short term. Tiger is still our owner; I'm still worried that bills may not be paid; I've no idea what any of our directors are up to, if anything, regarding making my football club truly competitive in L1 on a consistent basis; Firoz Kassam is still our landlord.
A win gives a nice gentle glow that lasts for a while and I'd probably go as far as to say that waking up on Sunday morning I felt better than if we'd suffered a defeat but were in the top six. Ridiculous I know.
Whilst it doesn't make me feel any better, it can't be ignored that there are other L1 clubs that are, or have been, in worse behind the scenes turmoil than we are.
Coventry City FC
As far as I can gather Coventry City Football Club is owned by two companies "Coventry City FC" or possibly "Sky Blue Sports" and "Otium Entertainment" but the ultimate owners are SISU. I wouldn't swap that lot with ours in a million years and that's saying something.
Like us, CCFC, who play at the Ricoh Arena, are tenants. Their landlords are Wasps RFC. The current deal runs out at the end of this season and if the football club cannot tell the Football League by March 5th for sure where they'll be playing next season they could be thrown out all together on April 25th.
The Ricoh had been owned by the Alan Edward Higgs Charity and in 2014 Sisu bid to buy a 50% stake from the operating firm ACL. That offer came through the administrator of CCFC Ltd. No wonder that bid was turned down. CCFC Ltd were in the final stages of liquidation with no tangible assets, although they did have historic first right options to purchase the charity's shares in ACL going back to 2003 when the charity bought the football club's half of the stadium for £6.5m. Wasps already owned 50 per cent of ACL having purchased Coventry City Council's 50 per cent stake in the company for the same figure. They ended up owning the lot. SISU wanted a judicial review into the sale, I think believing that the Arena had been under-valued. They've applied to the Supreme Court to appeal this decision. The Supreme Court might not rule on this until April and meanwhile because of this action no new rent deal can be signed.
All this may bore some people but bear in mind a few years down the line our straitjacket of an agreement to play at the Kassam Stadium comes to an end. We need to be smart and well prepared.
Blackpool FC
Then there's Saturday's opponents; I've covered the horrendous reign of the Oystons before.
Pre-match in the No.10 Ale House on Whitegate Drive I got talking to a through and through Blackpool fan. I'd put him in his early 30s and he was buzzing. The Oystons had gone and there was a bright orange future for his football club and for those who had felt a need to boycott over many seasons. Because of that he said he couldn't care less what the result was going to be that afternoon. He told me that the stay away fans would be staying away one last time because money taken at the turnstiles for the Oxford game would be the Oystons'.
Unquestionably there are some elements of luck in football, one of those being the timing of when your team gets to play other teams. After this conversation I thought I'm glad we're at Bloomfield Road now and not a couple of weeks down the line. The thought that it might just be our day increased.
I checked the local press to get their take on what was going on. Blackpool went into administration on 13 February but there was a delay in appointing receiver Paul Cooper so the game against us came too soon for the long awaited return of the boycotters. March 9th versus Southend is now the pencilled in fixture. Blackpool's Jay Spearing has said, "We want to be playing in front of the tens of thousands that will come to support us. We can do nothing but look forward to it. When it does come it will be an exciting day for everyone all round and the lads will cherish it. Hopefully it will also bring more out of the lads on the field as well."
Again a cautionary tale regarding not paying up although this is very different to any situation at Oxford United. Owen Oyston has been forced to pay former director Valeri Belokon £25m.
The EFL meet on March 6th when they must decide whether or not to dock 12 points from Blackpool's total. That's the standard penalty for going into administration so, however unfair that may seem to the genuine returning fans, I can't see how they can justify doing anything other than taking them away.
BLACKPOOL 0 OXFORD UNITED 1
It's said that "necessity is the mother of invention" and I'll go with that here to some extent but I'm also going to give Karl Robinson a fair bit of praise for his team selection and set up too. He gets, often rightly, highly criticised when we lose, so it is only fair to acknowledge when he's done a good job.
Cameron Brannagan was out suspended as he will be in the next game too. Of those who had been recent regulars, we were missing Gavin Whyte, Marcus Browne and Jamie Mackie through injury.
From the start we looked much more cohesive and compact than we had done at Accrington and the defence, which hadn't defended on Tuesday night, did so here to proper effect.
It was a game of few chances with each keeper only having to make a couple of saves and even then they probably weren't as stretched as they usually are. The stats say we had nine shots to the host's ten but with five, had two more on target than they did. I don't think any of them were quite "he definitely should have scored that" type of efforts.
It was one of those games where it would take something out of the ordinary to gain the victory. Something that stood out from the largely pragmatic, but extremely satisfying, football that was being played. A Blackpool fan commented on social media that they had "No creativity against an organised but very limited team." I really do take that as a compliment.
That bit of magic was produced by Jordan Graham with his stunning 40th minute right-footed free kick that entered the goal a fraction under the bar.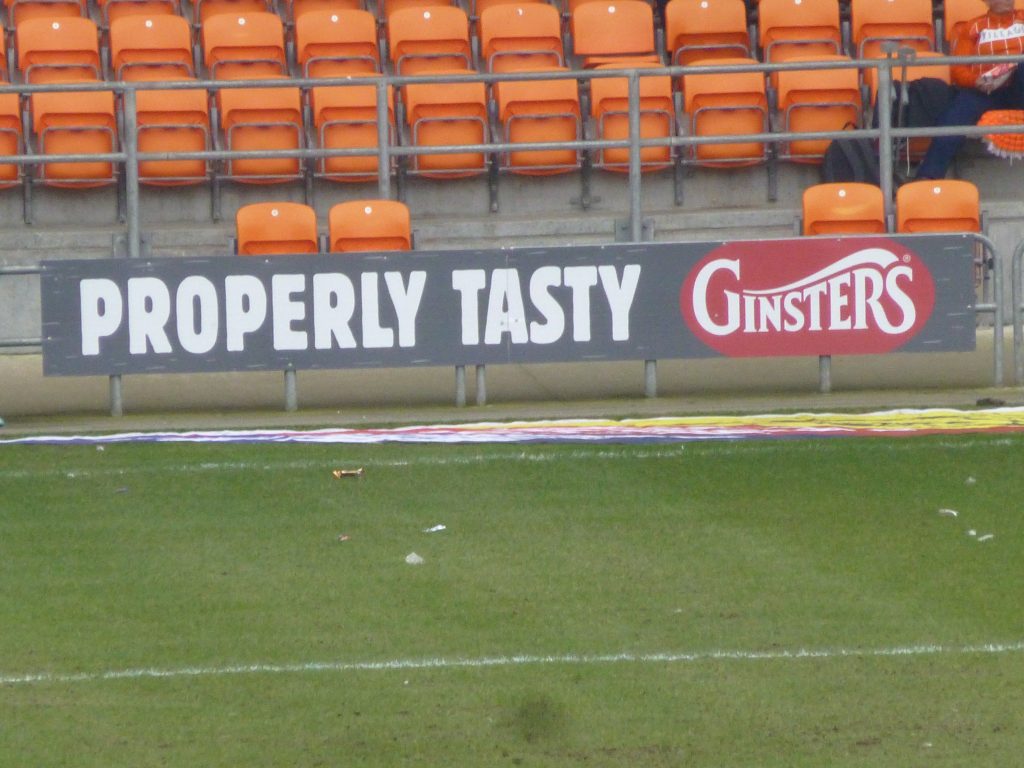 Caption behind the goal perfectly summing up Graham's strike
The returning Rob Dickie was a strong contender for man of the match. Totally committed he won most of the battles. Good no nonsense centre-half play. That's just what's needed at this stage of the season. I can't recall him playing any telling pass but nor can I remember him giving the ball away. He also went close with a first half header.
Do we say KR did well by dropping him thus providing a kick up the arse or blame our manager for not playing him at the Crown Ground where it all fell apart?
I can only give Mr Robinson a clap for picking Sam Long at right back. Leaving Jamie Hanson out had not been forced on him. Other than one header back to Simon Eastwood that initially looked like he'd played us into big trouble, he was sound and strong. On the other flank Josh Ruffels was much better than four days earlier and other than one mistake when he let a ball drop over his head before having to commit a foul and taking a booking, he did just about everything right.
With Mous operating in front of the back four I felt nothing like the panic I do when teams are coming at us and he's not around.
One thing that I have noticed though is that when JM plays in that position and KR has also picked two from three of Gavin Whyte, Jordan Graham and Marcus Browne, we're regularly very light right in the middle of the pitch.
This should perhaps remind us that the best XI players don't necessarily make the best team. Of course there's a debate to be had regarding who the best players are. Sometimes perhaps we equate flair with best. It's getting the balance right that is the key and I can see some very hard decisions ahead for Robinson with some very good players having to be left on the bench. That's if injuries clear up soon and we're not hit with another bout of pulled this that and the other.
James Henry was once again a steady, if not spectacular, influence and Mark Sykes justified his inclusion for the second game running. As the rest of the team were vastly improved he didn't stand out as he'd done in his first league start but did test keeper Mark Howard who had to fumble away a shot that bounced just in front of him.
As he'd done in his previous half an hour, Luke Garbutt showed that we do indeed have a footballer on loan. Sometimes a defender converted, if that's what we've done, to the midfield brings a bit extra steel to that area. Well done to our much maligned manager for this selection.
Another who deserves huge plaudits is Jerome Sinclair. I've been critical in earlier games but he put in a shift and some beside the seaside. He got stuck in, was a nuisance and unlike Mackie didn't give away free-kick after free-kick. There was also a nice little lay off with his head that set up a half decent chance for Garbutt in the second half.
I hardly noticed Ahmed Kashi after he had replaced Graham with 20 minutes to go. That was a good thing and told that we'd retained our shape and were going for the win in sensible fashion. Even less flair. For me a 1-0 win is more satisfying than a 3-2 one. Clean sheets build confidence. Like it.
We saw a couple of minutes of Jamie Hanson and for the first time Jonte Smith too. By then though the game was won and I never got the oft felt panic in these situations.
So we're out of the bottom four again although only by two points and 20th placed Bristol Rovers have a game in hand. They lost to Sunderland and others in the scrap down the bottom also picked up nothing. Rochdale got a right stuffing at Plymouth and Wimbledon and Bradford were also beaten. The latter losing at Walsall who therefore remain two points better off than us. Other winners were Shrewsbury and Gillingham.
We've still got to play most of the teams close to us in the table but if we show the spirt and organisation we did on this trip to Lancashire, as opposed to the previous one, we're in with a good shout of not being one of the four who suffer the dreaded drop.
Looking at the players' reaction when we scored and on the final whistle tells that they do very much care. It makes some of the comments I've read that none of them "give a shit for Oxford United" as utter nonsense.
Finally I've got to give a huge pat on the back to each and every one of our 818 fans present in the crowd of 4,003. That was a tremendous turnout given our away form and the time of the year this fixture took place. Not once did I hear any moaning or ill thought out criticism. The vocal backing was excellent so perhaps there's a little bit of ultra in many of us even if the flags, banners, smoke and ripped up telephone directories were missing.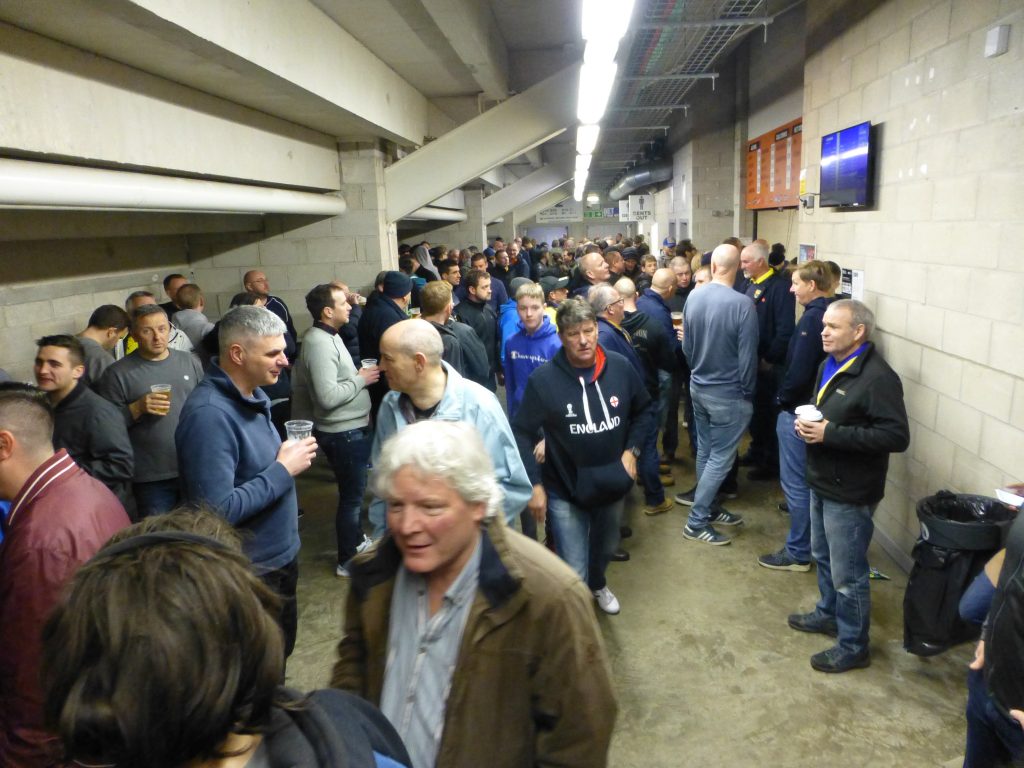 Some of the many fans that travelled having a half-time beer
If only we could create something similar back in OX4 when Scunny come a visiting next Saturday. Trouble is home and away support is very different. Away we're generally crammed together and unified. So how come this was our first win on our travels? And how come we've managed to win seven in the toxic Kassam?
Does football ever really make much sense?