PETERBOROUGH UNITED AT HOME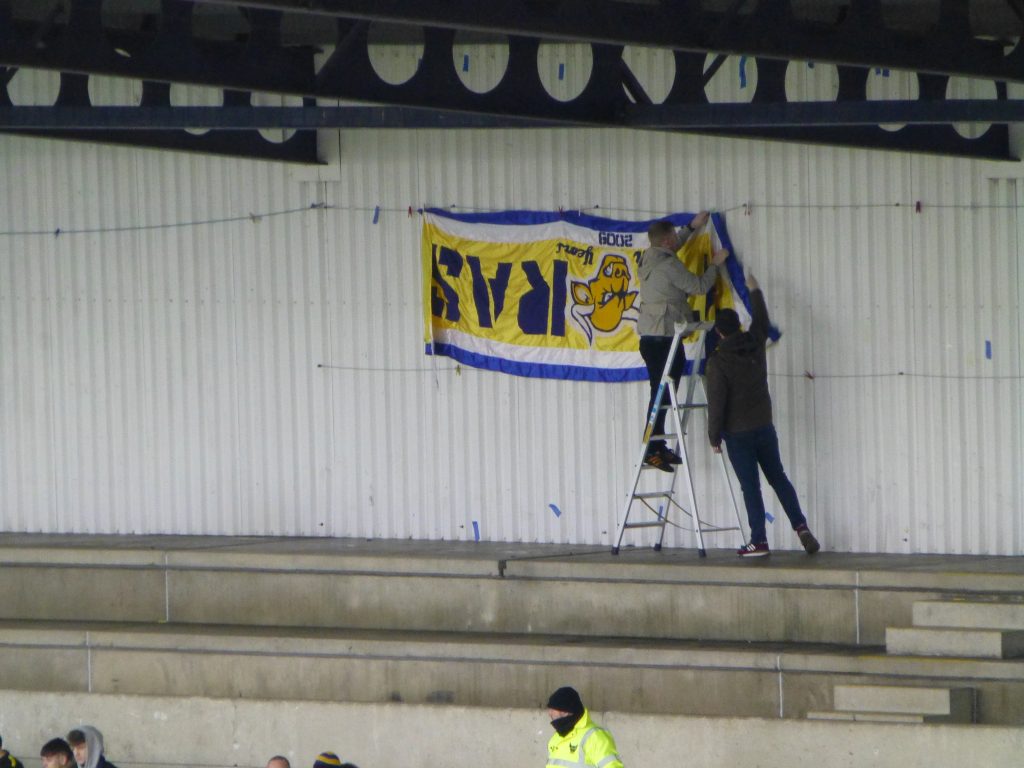 One banner being hastily put up at 10 to 3
OUFC – The future, will it be bright or a dull grey?
This week the Oxford Ultras announced that they would be disbanding at the end of this season. Reasons have been given and page after page of comments made on social media.
I'm an old git who sits in the SSU and in order to get what I consider to be the best view of the action at away games, I don't sit directly behind the goal if I can help it so obviously I'm not an ultra nor do I really have direct contact with them. I know one lad who used to be one but very rarely attends now. As for the rest I'm not sure I even know who they are to be honest.
I don't condone the use of smoke bombs, particularly after multiple warnings, but have to say that they can look quite spectacular. There is obviously a risk involved though and it is not a pleasant experience for anyone close by who is prone to breathing difficulties.
Nor do I agree with blocking the view of others by standing or waving flags during the action. (Bring back terracing). However, given the size of the ground and the numbers we attract, surely more could have been done to accommodate them. Apparently some season ticket holders refused to move to allow the ultras to have a more central position in the East stand. So much for the common good but I'll admit I'd be livid if I was forced to move seat from the back row quite close to the half way line.
The positives the ultras brought vastly outweighed the negatives. They provided colour, life, vibrancy and a buzz that's hard to put a finger on. Without them, or a similar replacement, the Kassam Stadium is a soul destroying place. There is no distraction from the greyness of the unfinished structure we hate to call our home.
Yes, a very sad loss. Who can forget that display against Swindon?
The reasons they're calling it a day though are manifold. They started in their mid-teens but with uni, work and other things their lives changed. The time and effort is almost certainly not recognised by the majority of our fan base. Whilst they can't be a law unto themselves, over the years it has not been made easy for them. I don't think it has been the same since Flag Gate. Spirit was broken that day and from what I can gather, in the subsequent meeting there was bullying of the one lad who turned up that was bang out of order.
It is ludicrous when on one hand the club wants larger gates and made the effort to get 10k against Sunderland but on the other they're not doing enough from where I'm sitting to embrace and grow this group. That's another issue apparently. New younger faces have not come forward to join them.
For every ultra that no longer attends or goes along much less frequently, that's lost revenue and not just single gate money each time. If a fan stops going they're not going to be dragging mates along are they? And when they get older they won't be taking their kids along.
I think there's been a massive cock up here but it's clearly more complicated than just a disconnect between club (owners / directors / employees) and fans. There's a third party involved, the Stadium Company.
I'd not had a particularly good feeling about Peterborough's visit. That they'd only picked up two points from the last five games and were being talked about as a team we should be able to beat worried me. He might not be quite the tight fit of Nigel Clough and Burton but there's something about Darren Ferguson and the Posh. He's just started his third spell as manager there and was likely to get matters right at some stage.
Then to make things even worse listening to Radio Oxford I heard the sorry saga of not only the ultras being refused permission into the ground at 10:30 to start putting their banners up, but the Peterborough kit man having to remain outside too. Apparently Stadco are just enforcing the licencing agreement. So not only are OUFC paying over the odds for use of the ground, they're subject to crazily prohibitive clauses.
Arbitration is over now so what's this all about? Director Zaki Nuseibah told that OxVox meeting at Court Place Farm that I keep referring back to that Oxford United now had a good working relationship with the Stadium Company. That's clearly 100% bollox. I'm utterly sick of being fed bullshit.
I can't see that there would be any skin off the noses of Firoz Kassam and his Stadium Company if they let people into the stadium at a reasonable hour. It's petty, spiteful and vindictive.
But one has to look back as we always do, to who's watch this was allowed to happen on. Ian Lenagan's and Nick Merry's.  One had some money; the other absolutely did not. We all believe it was the latter who signed on the dotted line and has placed us in the straitjacket that is seemingly being tightened by the week. Where is he now? Common sense would say he's moved far away from Oxfordshire or if he's still local is lying very low somewhere. However, common sense was not shown in the first place.
Discussion on Radio Oxford between Nick and Jerome included "this can't go on", "we're a laughing stock", "surely it should be possible to sort it out in five minutes", and "can't we get in some kind of arbitration service?" Other than the laughing stock bit, think it through. Not only does FK hold all the aces, he's got the entire pack in his possession and is now able to lead us a merry dance. (Pun intended).
Hasn't Mr Kassam said on a few occasions that he's willing to help the football club? On the evidence of where we're now at that would seem to be another load of gold-plated bollox.
With the legally enforceable lock out in play and general depression that emanated from this on top of everything else I felt more than ever that it wasn't going to be a good day. Don't tell me this poison doesn't in some way transmit itself to the players, not that it should be an excuse for not performing.
I've still no idea what Tiger's real intentions are or the role and responsibilities of the directors, let alone any financial input. I thought Tiger mentioned significant money coming in during February. There's a week and a half to go so we'll see. Does anyone believe that?
Where was Tiger on Saturday? Probably in his country of residence, Thailand.
Where was Horst Geicke? Probably in his country of residence, Hong Kong.
Where was Zak Nuseibah? He lives in England.
Where was Eric Thohir? He lives in his country of birth, Indonesia.
Truthfully they may have been in the Directors box but I didn't spot them, not that I was looking for them or come to that would easily recognise them.
I somehow doubt they were experiencing even a fraction of the anguish I went through watching this defeat. But I'm a supporter of many decades standing. I'm struggling to work out what they are when it comes to OUFC.
I naturally have been down many times after defeats over the years but other than relegation out of the Football League I've not felt this low as an Oxford United supporter since then. I'd almost settle for grey. Black would be the more appropriate outlook at present.
I'm waiting for a life line to be thrown but I am not convinced it will ever come.  What's more likely to be slung our way is more bullshit.
Oxford United 0 Peterborough United 1
Although I can see why a biased manager like Karl Robinson would argue that we were the better team, I thought we deserved to lose this game and that the single goal margin was a fair reflection.
In no way am I trying to sugar coat what was undoubtedly a poor performance but even though we have once again dropped into the bottom four I have not totally abandoned hope of L1 survival. I'm largely basing that on the fact that this is the first time we've been beaten in the league since New Year's Day and that this set-back was by the slenderest of margins. It's not like opponents are all over us and we're being turned over by five or six (or seven as when Wigan visited last season).
In the first five minutes the Posh had forced three corners and their right back Jason Naismith had cracked a shot against the upright where there was space a plenty down the flank for white shirts to roam.
So much for the home team establishing the upper-hand from the first whistle.  This didn't necessarily worry me given the pace our wide men possess.
That wasn't how things panned out though, although we did improve.
In recent games early yellow cards have not been shown when we've had men cynically stopped and chopped down so here I had to loudly applaud Ross Joyce as he booked a defender who felled Gavin Whyte as he was about to enter the penalty area. I thought that would play into our hands but thereafter he was much more reluctant to write down names even if three from each side had been written in his little book by full time.
The player who came closest to scoring for us was Cameron Brannagan who clipped a low shot just wide when set up by Whyte and with another effort forced keeper Conor O'Malley to fly to his left to prevent a twenty plus yarder finding the back of the net. Both before the break.
That he's not even our most advanced central midfielder let alone a striker tell much about the way we were set up and the way certain players did their jobs, whatever they were, on the day.
I thought Brannagan had a pretty good game but had him down as our third best player on the day behind our two wide men, Whyte and Jordan Graham. Those two are excellent players and on form.
The problem is it's like we've built a machine with some top quality parts but have skimped on others so the whole doesn't function as it should.
Graham's quality is evident and Whyte doesn't cease to amaze, he really doesn't. He got to a couple of balls yesterday where the defender looked favourite by about 80:20.
If only others had matched them we may well have run out comfortable victors.
James Henry was massively off his game again and on his last two displays will be lucky to start the next game. One second half shot was nothing more than a failure to meaningfully connect.
I do though wonder how match fit his likely replacement, Samir Carruthers, is.
Another whom I was hugely disappointed in was Jerome Sinclair. He's 22 which isn't a baby in footballing terms and was purchased by Watford for £4m in the summer of 2016. My son did point out that it was a speculative buy and I suppose that sum, whilst untold riches to us, is mere pocket money to a club in the Premier League or the beneficiary of parachute payments. So far I wouldn't put his value anywhere near £400k let alone ten times that. Sorry for being harsh but that's how I feel.
He did show a bit of ability on the ball and capability of beating a man but there was a lot of bumbling about involved. He's not a small bloke but I didn't see him putting himself about and making life hard for the defenders. I'm with Mr Sale on Radio Oxford in not understanding why KR didn't start with Jamie Mackie and then replace him with Sinclair late on when he would have been fresh against a possibly tiring and partially roughed up defence.
We never pressed and closed down with urgency or collectively. It was mostly quite pathetic to be honest. This element of Sinclair's game was terrible. When he ran towards a defender with the ball the angle that he approached at was designed to prevent a sideways pass not the one getting the ball forward and allowing the opposition to build an attack. Hopeless.
He wasn't the only one who needs to do better. Mous as usual did a lot of decent stuff reading the game well and intercepting the ball but he also gave it away too often with wayward passing. Jamie Hanson's passing was also sub-standard but the worst delivery probably came from the boots of Simon Eastwood.
And don't get me started on the goal we conceded. Marcus Maddison certainly threw himself to the floor when not touched, or not touched in any way that impeded his progress, when he received his first yellow card. There were claims that he did so again to win the free-kick that cost us a point.  I'll ignore that and just say that our defending was criminal.
The dead ball was delivered from close to the half-way line so can someone tell me why the **** we had a wall with two men in it? All that did was take two players out of the game. Was that stupidity on the players' part or were they just following instructions from Karl and the coaches?
Maddison said thank you very much and just clipped the ball over the wall with total ease to the unmarked Ivan Toney. Our whole team had gone to sleep. Peterborough never dozed off in such fashion, hence they won.
Who should have been marking Toney? Do we do zonal or man for man? It wasn't clear. Should it have been one of the centre-halves or Josh Ruffels?
Our fans were looking for villains with plenty of boos directed at Toney and Maddison. I'd take both of those tomorrow if given the chance. Toney is a handful who puts himself about and is more of a goal-scorer than anyone we've got. His total in all competitions in 2018/19 is nineteen so far. Maddison is a creative niggling midfielder who seemed to be at the heart of everything Peterborough did.
I'm about to wind this up but have another gripe left to deliver. The state of the bloody pitch. It's a sticky mess in front of the dug outs and can' be helping our two best players ply their trade down the wings, surely. Yet Niall Williams told us in his pre-match radio interview it was playing well, or words to that effect. Come on man, we can see. We're not idiots. More bullshit.
Stop it now and treat us with respect. All of you.
Communication is key. We understand you can't tell us everything that is going on behind the scenes but be as open and honest as possible. Otherwise this massive disconnect will only grow. Oxford Disunited, more like.
Looking at the age profile of the ultras when they first formed got me thinking back to my early days of going up to the Manor as a school boy. All wide eyed and taken in by it. One of the first people to give me a lift to home games was a Mr Kirby. I was in the same form at school as his son, Michael. Before the Sunderland game Michael, who has a season ticket in the row in front of us, informed me of the sad news that his Dad had just passed away at the grand old age of 97.
R.I.P Mr Kirby (We always called people Mr in those days. We respected our elders – well most of them).  It's people like him that form a link through the generations by bringing family and friends along. Oxford United please don't create the circumstances where there will be a "lost generation".
Hopefully a good number of these youngsters will become Oxford United fans for life
Accrington on Tuesday then. Me and a couple of hundred others I'd guess. How many directors?