Article by Paul Beasley Sunday, February 10th, 2019
OXFORD UNITED 1 SUNDERLAND 1
A draw obviously yields just a single point but that is so much sweeter when achieved by coming from behind. A lead conceded naturally leaves you feeling deflated to a greater or lesser degree. What made this particular point gained even more satisfying was that it was not only against one of the very best teams in this division but that it was won so very late on.
Our last three home games have been against the teams now occupying second, third and fourth positions in the table. That we've come through unbeaten and with five points from the nine available tells where we're at, that dreadful run of form in the three games against Southend, Bristol Rovers and Plymouth having been very much put behind us. That said we're not getting wins and the league table is still a scary read even though this result has taken us out of the bottom four. We're just a point off second bottom and only three points covers the teams sitting 23rd to 17th.  We could now go on to start picking up a few three points per match but I don't necessarily subscribe to the view that we'll be alright now we've got through this difficult run of home games. Good form comes and goes for all teams including us. I do though feel more confident than I did a few weeks back.
Months back I thought the standard of L1 this time around isn't as good as it was in 2017/18 and these last three games at the Kassam has cemented that opinion. At the moment Luton look a class apart and whatever one thinks about them, what they have achieved on the pitch has to be admired. Pompey were poor and will not get promoted unless they get out of the rut they're now in. They've not won since New Year's Day. For me Barnsley played better football than the Black Cats but Sunderland had more substance and were better defensively. Although our focus is at the other end it is nevertheless very interesting, as one would expect, at the top of the table.
Sunderland arrived having only lost two league games all season and were unbeaten in their last seven having gained 13 points from those matches. That sounds impressive but probably is marginally not good enough to win automatic promotion. They have of course got spending power, being able to pay £4m for Will Grigg in the transfer window. Time to remember that our visitors have received £35m in parachute payments for this campaign and in 2019-20 will get a further £14m. Level playing field, my arse. It's criminally obscene, but they're not going to turn it down in the interest of fairness and nor would we in the same situation. It's the stinking wealthy dictatorial Premier League that's to blame.
This was a good display by our boys. The stats make informative reading. We had 58% possession and 12 shots, four of which were on target. Sunderland's equivalent was five and two. There was nevertheless room for quite a bit of improvement in our performance both as a collective and in a few cases individually. I'm not saying that intending to be negative or hyper critical because I recognise that no player can be 100% on the top of their game for every minute they are representing their club. Also there are (nearly) always eleven opponents on the field trying to stop us playing whilst playing themselves. To be able to say this when we played as we did gives me real hope.
If we had a clinical finisher we would have won. We've said this times but it is so true. Unless Jonte Smith is that man, we almost certainly don't have one in the building. We're not the only ones by any means.
It wasn't just that though. Mostly the chances that we created or that fell to us were not well struck. Without James Henry's goals this season we'd be down at the very bottom with Wimbledon. I've always liked his work rate and effectiveness as he goes about his business in a technically skilled but relatively non eye-catching way, when compared to others.  Very occasionally though he's well off his game as I thought he was here and was surprised that he wasn't removed before the 73rd minute. He lacked energy and wasn't tracking back as he usually does. After one poor second half shot he ended up on the floor. The game continued but instead of springing to his feet and getting back into a position where it would be harder for Sunderland to progress towards our goal he took, in footballing terms, ages to get to his feet.
There were times in the first half when I thought we weren't picking up much in central midfield which is something I've noticed in quite a few games. That's probably down to us being out numbered in that area and with Henry being below par that doesn't help. Another factor here is that John Mousinho plays just in front of the back four and we all know how significant that has been in us becoming a much more balanced entity, so I'm probably being overly picky. Creating a football team is to some extent like trying to complete a puzzle but you've only got so many pieces to play with and placing bodies and strength in a particular zone of the pitch will inevitably mean sacrificing elsewhere.
Initially we looked a little suspect defensively with Curtis Nelson making a couple of mistakes, incredible as that might be. Sunderland were finding a fair  bit of space with energetic movement and were not afraid to try and hit long balls to runners, which thankfully for us didn't quite come off. They either went out of play or were gobbled up by Simon Eastwood.
For all this he hardly had a save to make all game and it was us who created much the better chances in the first period. Josh Ruffels headed a Cameron Brannagan corner straight at keeper John McLaughlin.  We now pose a huge threat from corners and free-kicks provided the delivery isn't sub-standard as Josh Ruffels, Nelson and Rob Dickie are regularly getting their heads on the ball. Fingers crossed more goals will come from this avenue.
Every now and again we produced a bit of marvellous football, none more so than when Jordan Graham attacked down the left. He cleverly stopped and waited for a red shirted challenge to come in before again moving on and cutting inside another opponent. After rolling the ball under his studs he passed to Brannagan who, with his second touch, gave it back to Graham who by now was in on goal. All that was now needed was the requisite bend on the shot to produce a goal of the highest calibre. Unfortunately it went wide. Our loanee was really angry with himself for not giving the move the finale it deserved. That showed how much he cares.
Not long after, we'd fashioned another excellent chance. It was simple passing but with intent. Brannagan to Gavin Whyte to Jamie Hanson out on the right. With the ball at our full-back's feet Brannagan showed for another pass but instead a cross was delivered to Jamie Mackie who got between the centre halves and connected well with his bandaged head. McLaughlin going to his right managed to dive left and pull off a great save. Again I'm probably being too critical but if Mackie had guided the header downward it would have been much more difficult for the Sunderland stopper to have actually stopped it.
For all those chances the one goal that did come in the first 45 minutes wasn't for us. A Sunderland corner from the left dropped out of the sky. Mackie's jump might have had some effect if he'd been 18 feet not 6 feet tall. Our defenders were much more intent on holding and shoving than attacking the ball. Ruffels was doing so near the goal and Nelson and Dickie were at it too. I know this is all now very much part and parcel of the game but we were the ones committing the infringements here and probably got what we deserved. James Dunne, the scorer, only had eyes for the ball and was determined to get it.
Kicking towards the East Stand we were the dominant team but as the game neared its conclusion I had a feeling that our lack of genuine fire power was going to cost us again and we'd end up goal-less for the second game in a row.  I'd not totally written off snatching something though and when it did come there was a lot of emotion to release. Trying to celebrate a goal is frustratingly restrictive in modern football stadia where seats get in the way. Fortunately for me I'm in the back row and a hop over my seat onto the concrete behind means my flailing arms and legs don't inconvenience anyone. There was a lot of nervous energy to let free. I know at my age I should have consigned this sort of thing to history but I can't, yet.
Samir Carruthers hit a long, and may I add accurate, ball from just outside our own area. It was a race between Jerome Sinclair and Dunne. Marcus Browne was up there too along with two other Sunderland defenders. With no-one else in sight the 3v2 didn't favour us. It looked like the ball was dropping more kindly for Dunne than Sinclair. Indeed he had the opportunity to do the sensible thing and put the ball into the back row of the SSU. He had his body between ball and Sinclair, who did not lay hands on but just kept running. At the time I didn't think it was a foul and having seen the replay again still don't. Only Dunne will know what his intentions were but I'd hazard a guess he'd decided to buy a free-kick.
Once he'd gone to ground, our play from then on was excellent. Sinclair and Browne ended up in touching distance of each other where either could have taken the ball on. Sensibly Browne looked to put himself into space whilst Sinclair retained possession. He evaded Jack Baldwin's sliding outstretched leg and ended up with only McLaughlin between him and glory. At this point I was so pleased that he isn't an out and out goal-scorer otherwise there was a good chance he may have just blasted against the keeper's shins. What he did was look up and find the intelligently position Browne who just guided the ball into the net. Our two players deserve huge praise for how they worked this.
It has not escaped notice that they'd both come off the bench, as had Carruthers. At last we'd got strength there which is something else that bodes well for the remainder of the season.
Instead of acknowledging it as a cock up, the visitors surrounded the officials protesting how hard done by they'd been. Some referees and linesmen might have been conned but not this lot. They were much more likely not to give fouls or dish out bookings when they were very much merited.
As is now the norm, a free hit was allowed on an Oxford winger in the first minute or so. Whyte was cynically chopped down where there was no attempt to play the ball. It was one of those where if it had taken place in the second half a yellow card would almost definitely have been shown. Here we just got a free-kick. Show a card at that stage and you are more likely to see unimpeded football being played. There were other deliberate fouls too but it was always going to be one of ours that went in the book first.
As is the way with football fans, the travelling Mackems will naturally view things very differently to us yellows and I will say I've seen a vlog taken from the away section and it did look more like a foul on Dunne from there than the closer up version that proved to me it wasn't.
But for them to protest about any strong armed tactics after the way they'd started the game and the antics of Charlie Wyke when he came on is beyond the pale. In all my years of watching football I've never seen a grappler like him. The way he got hold of Nelson with both hands on more than one occasion suggested he was about to indulge in a wrestling bout. It wasn't even sneakily disguised yet even in full view referee Scott Oldham didn't blow.  Fair play to Nelson, who improved massively following his start, in that he stood up to it all. He's a harder man than he looks. After one tussle Wyke ended up on the deck and took a while to get up. Our ex-captain had put him there. Game after game we have to indulge in the rougher stuff ourselves but I can't recall an instance where we've started it.
Oldham's treatment of Mackie takes some understanding too. Granted he's much closer to the action than us in the stands and may have seen Mackie do something we couldn't spot in the incident that led to our man going off to be bandaged and Sunderland getting a free-kick. To me it just looked like two players jumping for the ball but Mackie does have a reputation and is the most likely of our team to do things he shouldn't. That doesn't mean he shouldn't be treated fairly. Not long after he'd returned, a defender intentionally smacked their hand onto the back of his damaged bonce. Oldham deemed that to be totally acceptable.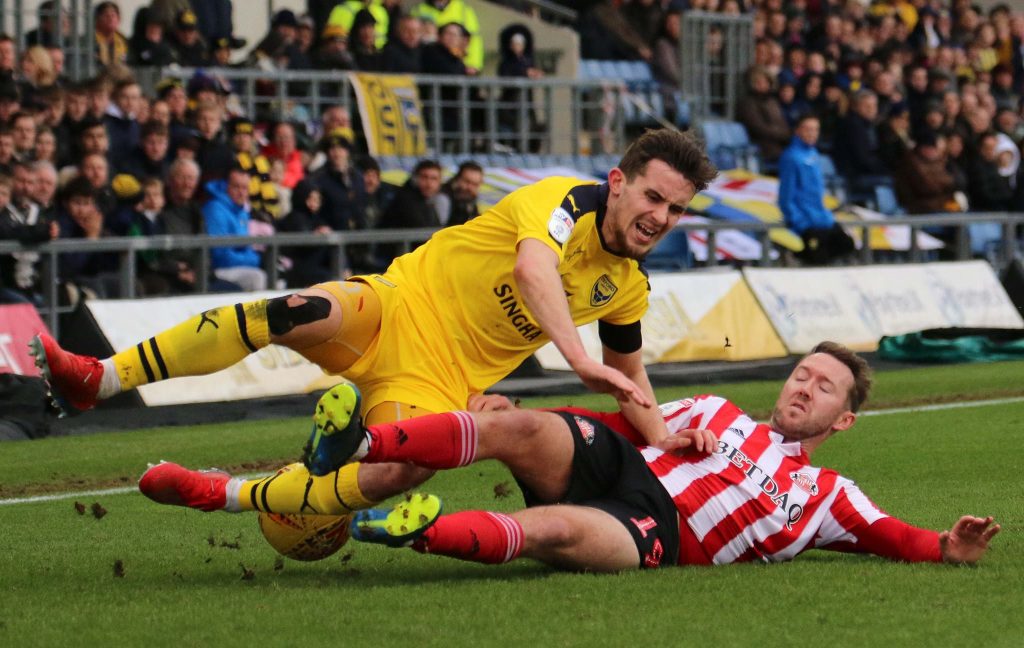 Jamie Hanson being felled by a two footed Aiden McGeady challenge. Referee waved play on. Another example of how bad he was. Pic, Steve Daniels.
Other than the start and the way we defended the corner from which we conceded, our rear guard deserves immense praise. There were other players that could be picked out too but I'll concentrate on Whyte. Even when nastily fouled that doesn't stop him. His pace, control and ability to go past defenders was there as ever. He must be awful to play against. That said he's not the finished article and his delivery into the box and shooting can be significantly improved. Early in the second half when he'd got free, instead of knocking the ball back across the box, he hashed a shot hopelessly wide. Mackie, in no uncertain terms, let him know he'd made the wrong decision.
The overall way we played and the final outcome when it looked like we were going to get nothing made for an enjoyable afternoon at Minchery Farm, where for once there was a proper atmosphere.  With Sunderland being what they are that was probably always going to be the case but with eight and a half thousand home fans present that greatly helped too. Well done to the club for pushing this game. I just wish as a matter of course we'd get this number come along to support the yellows no matter who we're playing.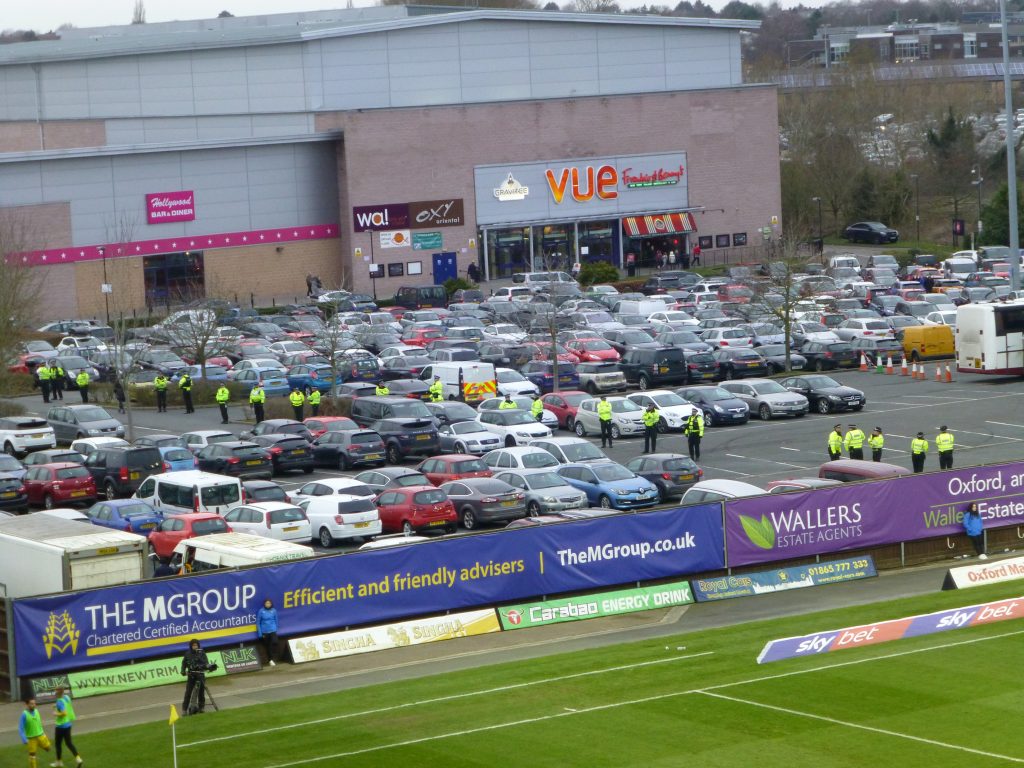 A big gate yes, but I don't know why this was really necessary
For once in front of a big league gate we didn't let ourselves down as has often been the case over festive periods. This was different because with Christmas pudding in bellies many of those in attendance are fairly disinterested hangers on dragged along by friends and relatives as a once a year thing.  Here it appeared that the support was legitimate and probably included many of those who do some but not all games a season turning up. More likely they'll choose Sunderland than tiny Accrington Stanley.
So, without counting any chickens, there's a lot of positives to take from this.
One thing I've not yet mentioned, but feel a need to, is the state of the pitch. It looks terrible down the wings in front of the South Stand.
Sorry to end on a negative when there was much brightness to be had on Saturday.