Article by Paul Beasley Thursday, December 27th, 2018
SOUTHEND AT THE KASSAM
On the face of it we should be thanking the man who wrote the software that produces the fixture list? What more can we wish for than a home game on Boxing Day when traditionally there is a much larger gate than the norm. That's money to be popped into the piggy bank ready for the time the tax man next comes knocking. Then just three days later we're at home again.
But the journeys for the away contingent to the Kassam aren't the most challenging they'll face this season. For the Shrimpers it's just over 100 miles and the distance from the Memorial ground to our place is only 76 miles. Compare and contrast that with our following two league games, Plymouth on New Year's Day and then Fleetwood, both of which are approx. 400 mile round trips. So no, I'm not thanking that man.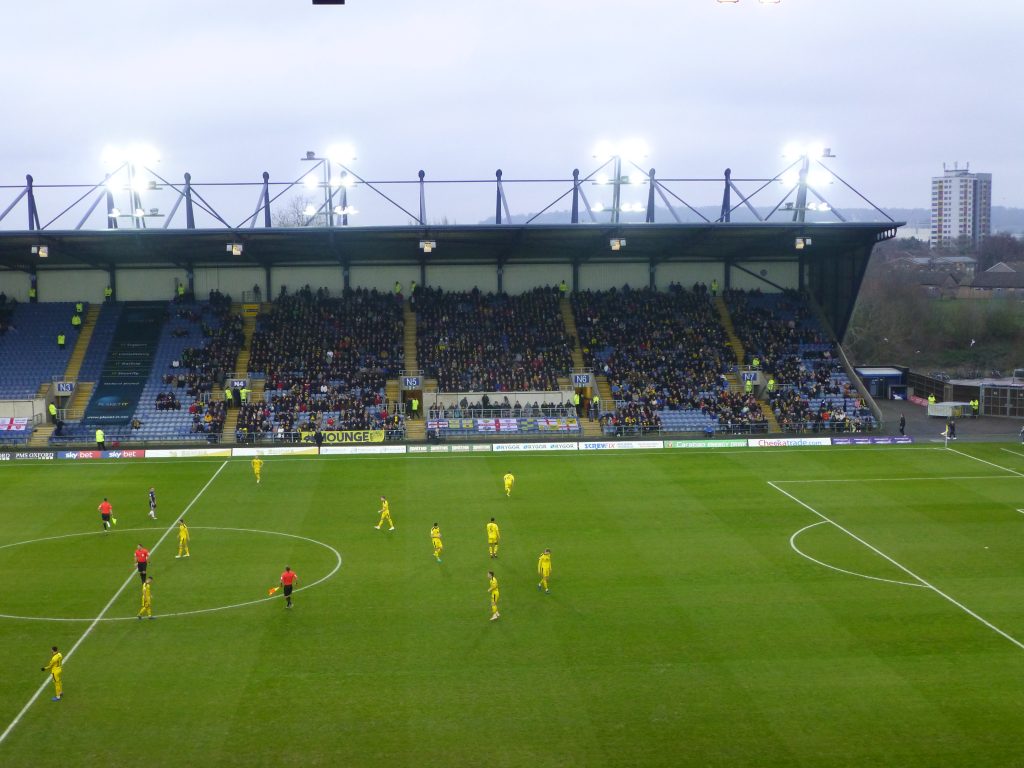 Oxford United 0 Southend United 1
I had intended to double up this and the game against the Gas for FV purposes but so miserable was the experience of the first of these two encounters that it made sense to get matters off my chest sooner rather than later.
It wasn't just the result and the way we played that brought on some feelings of depression; it was the whole package.
Just 22 spectators short of 9k turned up but there was a complete lack of festive cheer and that included the build up to the game, not just the 90 plus minutes of football. Yes, of course there will have been many in the crowd that will have been dragged along for the afternoon and their lack of any feeling for OUFC is a given, but there was nothing exuding from the regulars that suggested they were glad to be there and looking forward to being entertained with another win.
To get a half decent parking spot means arriving quite a while before kick-off and with no pub or bar anywhere near the ground that goes anywhere near satisfying my real ale craving for quality, choice and character I ended up, not for the first time, in the bar at the ground watching the live football – with sound off. We never purchase drinks in there for reasons that should be self-explanatory but I can understand why one or two who have got a thirst on do so. A mate showed me a bottle of Doom Bar he'd bought. Admittedly it was a large bottle but £5.90, come on ffs. I really did not want to be there. The whole soulless thing totally hit home. If only I could be teleported in to my seat a minute before kick- off and away again on the final whistle, that would do me.
Also it didn't seem to me that the club had done anything to provide a spark. It's nothing like the Darryl Eales days when we had an owner living in close proximity. Under his custodianship we never went on a home run as good as the one we were on before this set-back. This is intended to be much more of an observation than accusation as it would be incredibly difficult to pull anything off when access to the stadium on match days is still, as far as I'm aware, very restricted.
Then there's the lack of Ultras. I don't know what's behind their visible disappearance. Are they just very diluted or gone for good? I know they have no right to be a law unto themselves but they are a sad loss and without them the stark reality of our unfinished concrete home is more evident than ever. That said the banners on the back wall of the East stand do help somewhat.
It is though all very disheartening.
Then there was the match itself.
In the first half I thought we were nowhere near as good as we have been in most games of recent times. In the second we were as bad as we have been for a long time and that was when we should have been really going for it kicking toward a passionate home end. Reality was hugely different.
This view doesn't mean I've gone back to the utter feeling of total doom and gloom of earlier in the season. No team plays well every game. After they'd beaten Watford on Dec 4th who would have thought Manchester City would have lost three of their next four league games and dropped to third with Liverpool now being the bookies odds on favourites?
These things happen in football. The goal has to be to banish any poor form ASAP. Given what we did in the first couple of months of this campaign we've not got much of a time slot to get back on track otherwise we'll be back in that bottom four. Fingers crossed this defeat was a one off.
We only fell one place and are still five points off the drop zone but are now three points closer to the very bottom. Many of those below us are starting to stir. Wimbledon climbed two places by beating Argyle and sending them to the bottom. Brizzle won 3-1 away at Walsall and if they reproduce that on Saturday will leap frog us. How nice to be able to win away. Gillingham beat Pompey which is a massive result. Bradford and Scunny who are just below us still lost but the opposition was Sunderland and Luton respectively so that's no real disgrace. Of the teams that started the day just a point above us, Rochdale and Burton, both won at home.
These facts are not pushing me into panic mode, but they are facts.
Perhaps the outcome would have been very different had Jamie Mackie's effort half way through the first period not been disallowed for offside. Although he's someone who gets caught offside almost as often as Beano used to I thought at the time he'd made movement to the ball to perfection. The replay on the Oxford United Official channel on You Tube is inconclusive because Mackie is out of shot when Gavin Whyte plays the ball in, but there is evidence to suggest we were unlucky. The linesman is much closer to being level with our winger than the last man who is stood just about on the edge of the six yard box.  The defenders are mostly on their heels facing the ball when Mackie is making his run. It's a hard job but very easy to stick a flag up when you don't really know what the correct decision should be.
We weren't moving the ball quickly and time and time again we had players who took one touch and possibly another before moving it on. Yes, the Shrimpers closed us down really well most of the time but there were times when the man in possession had time and an easy, and obvious from the luxury of the stand, first time ball was on, particularly to Whyte out on the flank.
When the goal came plenty of those in the crowd that had not switched off due to boredom, had definitely seen it coming. Armani Little, who had replaced Browne in the 71st minute, had been enthusiastic and gave hints of things to come but gave the ball away.
Michael Kightly was thus able to run through the centre of the park with a couple of our guys in pursuit. He played a neat ball to Theo Robinson who went on the outside of Rob Dickie, with Josh Ruffels having dropped inside. The ball that was clipped into the box just evaded Curtis Nelson who jumped, stretched but failed. Onto Kightly's head it dropped. Eastwood fell to the right doing a start jump with the ball passing to his right and over the goal line.
That was it. No rousing finale on this occasion proving to all the day trippers that we have real spirit and depth to this team.
The back line did a pretty good job most of the afternoon. It is however evident that Dickie is not the footballer that Nelson is. Josh Ruffels was again a contender for man of the match, not that there were many rivals on the day.
It was further forward that our problems were evident.  James Henry, although he did have one second half effort that wasn't too far away, had a very anonymous game by his standards. The saying that when he doesn't play well the team doesn't play well, rang true here. We never got a grip in midfield.
Browne didn't have one of his better games and his frustration told when he got into an argument with a colleague, Mackie I think. There was a little evidence again of hanging on to the ball too long but he'll probably again argue that he needs more protection from the officials (I'll come back to the referee again a bit later). That said he appeared very lucky not to get booked in front of the fence when he appeared to produce an outrageous dive. Perhaps he was clipped – after all I am a long way away.
On the other side Whyte was our chief threat. Another strong contender for motm.
Mackie was another who didn't play as we know he can. The ball didn't really stick and as always nothing whatsoever was won by him in the air. This is something that is now really getting to me. Because we were so goddam awful in this area without him perhaps up until now I've overlooked this blindingly obvious weakness. The solution to which does not currently exist in our football club.
Southend were deserved victors. They did a job on us. They had energy and whilst being nowhere near the prettiest footballing outfit we've seen so far, did at times pass the ball effectively. Of course they time wasted. Of course they went down when there was no need. Of course they tried to wind certain players up.  It's horrible. But we'd love it if the boot was on the other foot. This is all part of the game if the referee allows it to be.
That referee was Tim Robinson. Early on he just wasn't giving any fouls, to either side. There seemed to be an unwritten rule book we were all playing to. In a way that's kind of fine as it keeps the game flowing. It is after all a man's game, but then I thought we were having more done to us than we were doing to them. Then when free-kicks started to be awarded consistency was lacking with us appearing to come out of it the worse off of the two.
Later on in contrast to his earlier lack of whistle blowing he didn't have the ability to spot when it had been a case of a player throwing themselves to the floor and not a foul.
His decision to only award four added minutes was to me plain wrong. I think we lost about two minutes to one so called injury when he allowed their rotund trainer on. That little barrel of a man was also summoned on in quite insistent manner by Robinson after a visiting defender ended up on the floor before we were about to take a corner in the dying minutes. How he got there is a guess but I've got my suspicions. More time wasted with the creation of a kerfuffle. Did the trainer come on? No, he didn't.  Who was controlling the game? Not Mr Robinson although I loved it when he booked a Southend player who tested even his patience. Having walked toward the dugout at snail's pace he stopped a few yards short and slowly removed each shin pad. Would we have wanted our lads to do that if we'd been the goal to the good?
Oh, and wasn't Dickie pulled back in the first half when he attempted to get onto Nelson's header across goal following a free-kick.
For all this moaning though, and some will probably say sour grapes, we deserved nothing.
Time for some good news – Jordan Graham. More of him in future FVs and I hope it will be on the positive side.
In the meantime it's the same squad as the year draws to a conclusion.