Article by Paul Beasley Sunday, December 23rd, 2018
DONCASTER ROVERS AWAY
Checkatrade
I've done this subject to death and find it all a bit wearing. I've recently been asking myself whether I should embrace it all as I'm never going to change the world. It's good to re-evaluate our stance on various matters from time to time.
So did I attend the game on Tuesday night? Absolutely not. That Spurs asked for a change in the date of the match from that originally scheduled, and had it granted by the bloody EFL, because their little darlings had better things to do just cemented my view.
We really are 3rd class citizens but have to doff our caps because this abomination of a competition offers really decent money for us L1 & L2paupers. (Has Tiger got a pot to piss in is a question I've heard posed)
The prize money for 2018/19 is £20k for participation, £10k for a group stage win and £5k for a draw, £20k for a round two win, £40k for a round 3 win, £50k for a quarter final win, £50k for being runner up and £100k for winning it. Then of course there's the TV money and the lure of Wembley and a share of that gate.
I really do understand why the players want to do well and end up running out at the national stadium, but that's nowhere near the novelty it once was. Even fans of Spurs first team are getting a bit tired of it all.
Nevertheless I wanted us to win and surprised myself at how pleased I was when those two early goals went in. It's not something I do very often, listening to a Radio Oxford match commentary.
I will concede that we do get the benefit of being able to try out fringe players, youngsters and help ease those back in who are returning from injury or suspension without taking undue risks with league points or getting knocked out of the more important cup competitions. This could all happen though without any U21 outfit anywhere near.
OxVox, HMRC and Sustainability
Also on Tuesday members received another update. This was with reference to Tiger's notes in the Blackpool programme which were in part a response to the OxVox letter to the board in late November. This was a balanced communication with appreciation being expressed regarding the positive news on the Academy, Under-18s and Under-23s and for the answers that were given to the questions posed. But there is real frustration that these questions have not been fully answered.
This is what Tiger said, ""There will always be rumours and speculation. I would love to explain why the situation got to that point, and I received a well-worded letter from OxVox asking for exactly that explanation. It is right for fans to ask those questions. I have agonised over what I can say in reply. In time I will be able to answer them all, and I promise I will do, but at the moment there are things that simply cannot be divulged."
The Trust's way of playing matters is now: "Rather than issue endless ultimatums to the board, we would like members to know that we will continue to press the board for answers and it is the words above that we will remind Tiger of each time we meet or communicate with him, until such time that we feel supporters have the answers they deserve".
A difficult and slightly uneasy situation I think you'll agree. It could be 100% correct that nothing much is said for reasons we don't and may never know. However what does that say about any financial mess OUFC were and possibly still are in?
It could also be that this is all a smokescreen for what is currently happening behind the scenes at our football club. What is "in time"? Could be January 2019, ten years hence, or light years from now. I'm always somewhat sceptical when no clear(ish) timeframe is declared. Or are there reasons why this is so?
A day later the Oxford Mail reported that the winding-up petition had been dismissed in the High Court and that the sum involved in the case brought by HMRC was just under £150k including legal costs. United "settled the matter earlier this month, several weeks after the petition was filed". Back to Tiger's programme notes where he blamed the situation "not by our own negligence but by outside factors".
I've got no idea what they could be this long into his reign or why the club can't even give a hint as to what they are. Also given that the amount was bound to be made public when the High Court case took place, why was Zaki Nuseibah not more open at that last OxVox meeting?
There's a lot here that doesn't feel right to me, as I've said before, but let's hope this is now an end to the matter, and anything similar in the future, and that in the fullness of time we'll be given information that makes us feel more assured as to the future of OUFC.
It's all about sustainability isn't it? A buzzword maybe but absolutely vital going forward.
We heard it many times in that Oxvox meeting and it is being regularly churned out. Here's what Dan Harris said in the week after the decision was made to release some U16s who had been part of the Academy for a long time, "Ultimately as a club we have to set ruthlessly high standards to enable us to move towards our aim of being a sustainable Championship club and this brings with it difficult decisions".
 The opposition's form
Prior to this fixture Rovers occupied the last play-off slot, although if Barnsley had one more win instead of a game in hand they would be one place lower.
The challenge for us was fairly similar to the one we faced at Peterborough a fortnight ago but probably even more of an ask because Donny have a better home record than Posh do.
Since three straight defeats at the end of October / beginning of November our opponents have won four and drawn one of their five league games. They've also seen off Chorley 7-0 in an FA Cup replay and dispatched Charlton in the next round. They've hit the back of the net seven times in the last two games and have not conceded in the last four in all competitions. In John Marquis they have the joint second highest L1 scorer on twelve and he's registered in each of his past four games.
Doncaster Rovers 2 Oxford United 2
There was surprisingly little on the roads for the festive period meaning we were parked up in Doncaster just gone 11:30. There's half a dozen pubs listed in the Good Beer Guide within close proximity of each other in the centre of the town. It's not a place with architectural beauty and it's evident that there's not a lot of money sloshing around, but as was the case last year you're totally accepted in whatever pub you chose to have a pint in.  There's no edge at all just genuine, but not over the top, friendliness. We'd done the Plough, the Leopard and the Corner Pin back in April and did them again. The new venue for us was the Draughtsman Alehouse. I knew it was in Station Court and assumed it was near the station. If I'd been aware it was actually on platform 3b we would have found it much sooner. It was worth the search though as with all the others there was a reasonable but not over bearing choice of beer and every one supped was of high quality.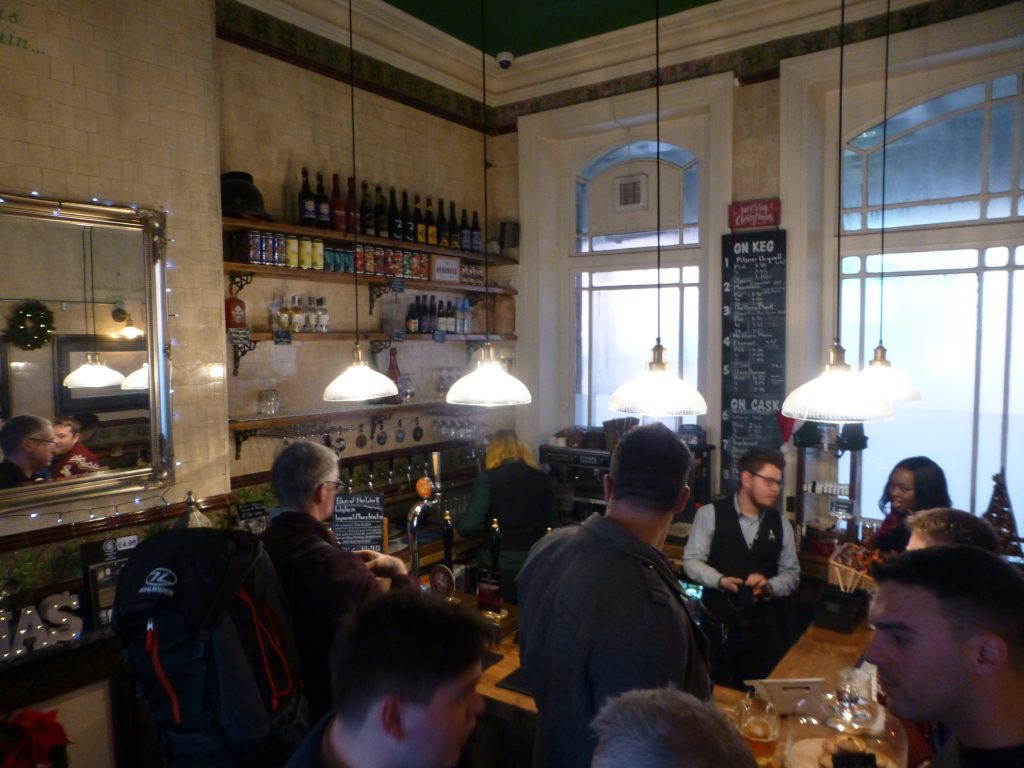 Draughtsman Alehouse, worth the search
When I referred to the likely similarity to the Peterborough game I had no idea that there would be so much that mirrored it. The same score. 1-0 down. 1-1. 2-1 down. 2-2. And the second equaliser coming late, although at the Keepmoat the final few minutes provided a lot more drama as we couldn't have gone closer to the wire having been disappointed a few minutes earlier.
I thought a draw was a fair result but am in a considerable minority on this. The blokes I travelled with thought we deserved more, as did the Oxford fans I spoke to after the game. DRFC forums and home fans that Oxford fans had chatted to walking back to their cars were of the opinion we were the better side. The stats can be used to support this case too. We had 54% possession. We had 13 shots, five of which were on target to their six and three. We also had twice as many corners as they did.
Perhaps, having seen it all before, I'm very reluctant to get carried away about the side we currently have in any way shape or form.
There's no doubting though that we started the game the brighter of the two teams and created a few chances. Even then though I thought Donny looked a decent outfit. They defended quite solidly and blocked well.
But as we all know and my mate kept saying, "goals change games" and that was very much so in this encounter.
After Rovers went one up from the penalty spot in the 20th minute it was they who were in the ascendancy for the remainder of the first half. I couldn't see the incident clearly enough from the far end of the ground, even though I was wearing my glasses, to tell if it should have been given or not. A few around me, who clearly have superior eyesight, straight away said it was justified.
I'd got some distance walking to the ground having left the Corner Pin to discover I had an empty pocket where those glasses should have resided. On ringing the pub I was told that they'd found them and had given them to fellow Oxford fans in order that I could be reunited with them at the game. Thanks to Mr Duggan, Mr Gelder and co.
I didn't need any spectacles to watch TV replays and conclude that it was a penalty. Perhaps slightly soft yes but Rob Dickie – it had to be him – did have a handful of shirt. He's just not subtle enough in the way he does these things.
Simon Eastwood made a valiant attempt but Ben Whiteman hit it so well that he had little chance.
It was now our turn to do the defending, which we did, to ensure that there was no further scoring before the break.
The game continued in pretty much the same fashion after the re-start but "goals change games" came into play again.
We levelled in the 64th minute. It looked like Jamie Hanson was going to hit a high free-kick into the home side's box but the unmarked James Henry took a step towards him and the delivery was along the ground to feet. Henry turned and slipped Gavin Whyte in on the angle of the area as his closest potential marker collapsed to the floor. I'd guess he tried to turn and fell. Free and with his second touch a low shot was too much for keeper Ian Lawlor to block it. A good finish.
It was now our turn to again be the top side of the two and when we went behind for a second time in the last minute of normal time this was against the run of play. Two minutes earlier Karl Robinson had made our one and only substitution when Jamie Mackie was replaced by Luke Garbutt. Marcus Browne went more centrally, Josh Ruffels was moved to where Browne had been and our oncoming player went to left back. This presumably was an attempt to win the game.
Doncaster were trying to do likewise and when their second came had got numbers forward. I felt a bit uneasy when I saw this and thought they'd got a little too much space down their left flank. Garbutt had to stretch with his left leg but was never going to get the ball clear. After it fell loose Alfie May had it in the back of the net in a flash.
I thought that was it. Played pretty well but going to come away with nothing because that's the way things can be in football.
The six added minutes did give a tiny bit of hope though and with a second or so left, that hope turned to excited leaping about in and on the seats in the away end.
No one could get a head on Garbutt's well flighted free-kick. As it dropped, Ruffels controlled expertly with his left and in almost the same movement curled a right footer that couldn't have been more accurate past Lawlor and in off the post. That has to be one of the best bits of L1 skill seen anywhere in the country on this particular afternoon.
There was no time for anything else. That was it. Phew!
Without going through each player, here's a few thoughts in the final analysis on one or two of them but it goes without saying that each contributed in a genuine team effort.
I thought Whyte had a really good game and on the day was better than Browne but this may have been down to the attention the defenders give to our man from West Ham.
Up front Mackie put it in as usual but didn't get a lot of joy and what he was doing wasn't as noticeable as it sometimes is. For all the accurate passing football we played there were naturally times when we have to hit the ball long, none more so than when we're all marked up so Eastwood has to give it a whack. I don't think we won a single one of these or similar with possession usually being surrendered. I'm not blaming Mackie for this as he's up against taller markers but it is a part of our game that could be improved upon. But if someone else were to come into the side after January as a replacement, we'd miss so much that Mackie brings to the party. Team, and squad, building is a constant and never ending challenge for any manager. There are so many decision to be made within the next few days, some of which will be in our hands and some which won't.
It's sad that Ricky Holmes just isn't fit. When he's fully functional and on form he's a pleasure to watch but we're just not getting the game time out of him to justify him still being here I'm afraid. A couple of weeks back we were told he'd seen some super specialist and it was all looking pretty good. That was obviously false hope as he is off for yet more scans. I feel really sorry for the bloke but one has to wonder how much football, if any, he has left in him.  From a selfish Oxford United perspective this will have an even greater impact if the Hammers recall Browne to be farmed out higher up the food chain. There is of course the likely signing of Jordan Graham.
Whether we like it or not the squad will be somewhat different in a month. Nothing stays the same in football, it can't.
So with half the league season now over we're still just five points above the relegation zone. That though is a much better position than form suggested would be the case back in early October.
If we keep winning at home and drawing away we will continue to climb the table but there's no way we're going to pick up 36 points from our remaining home fixtures. Nor are we going to draw every away game between now and May. We very much could do with some wins on our league travels but meanwhile I'm very contented with the performances we're now putting in and results being achieved on a consistent basis.
Finally, the usual heartfelt Christmas best wishes to all fellow Oxford United supporters, and those connected with the club. Have a good one and I'll see some of you in the SSU on Boxing Day.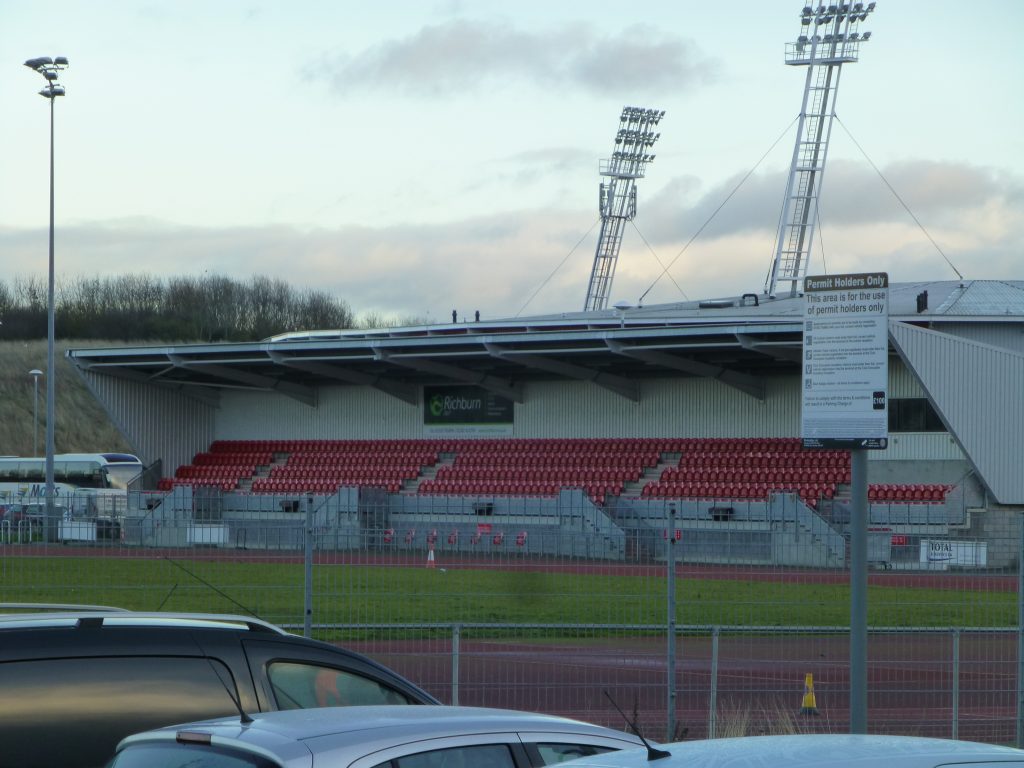 Whilst we've only got three stands seems like Donny have a spare one just outside ready for emergencies