FA Cup First Round Replay
It's one o'clock on match day. In a couple of hours I'll be heading to Nailsworth. The BBC weather forecast informs that the temperature will feel like -1 degree. It's not a place where a visitor is spoilt for choice of pubs, although to be fair the same can be said of the area around the Kassam. On arrival one has the choice of either parking near the ground and getting stuck in traffic (Kassam again) or parking in the centre and walking up that bloody hill that feels like Everest. It sure is a knackering climb.
I've looked forward to some games more than this. Then there's the fear of being knocked out by a team from a lower division. Confident? Not sure what to think. Not a clue which players will be available and which will be picked bearing in mind there's a highly important league game in four days time.
I'm not going to count any chickens with regard to a trip to Home Park a week Saturday. This got me thinking, what do Forest Green, as vegans, not count in such circumstances?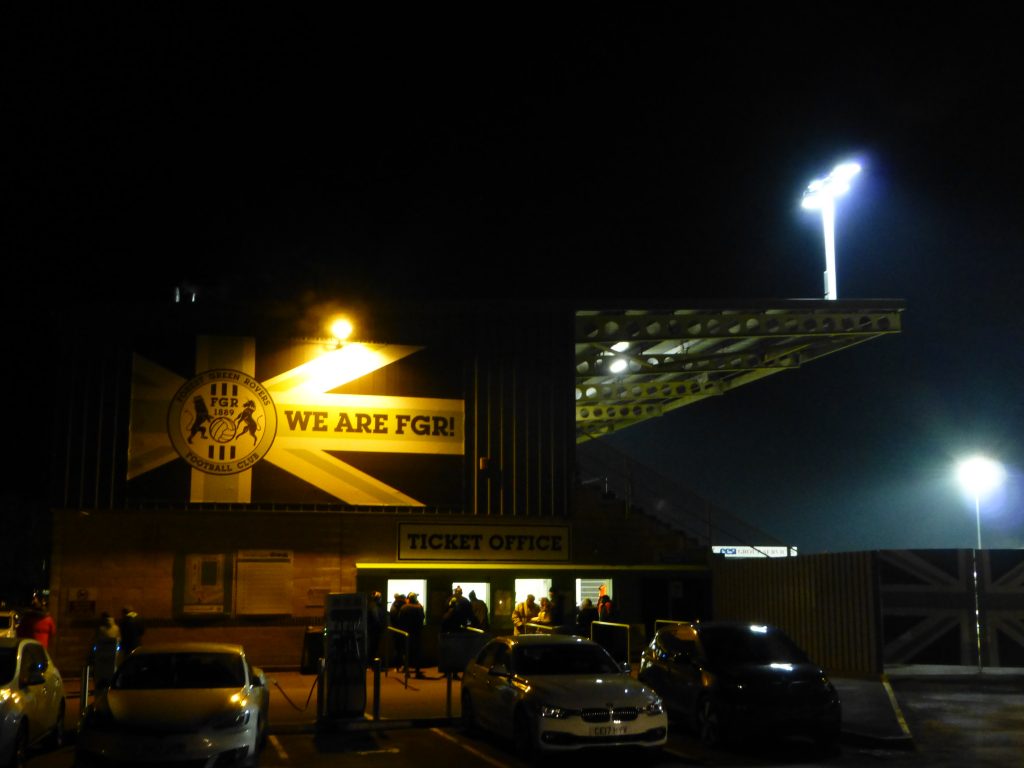 Forest Green Rovers 0 Oxford United 3
As predicted it was bloody freezing and the trek up the 45 degree gradient was a tester. Nor was this on the face of it a game to warm a shivering spectator up. There wasn't a lot to get excited about and there was never any edge of the seat stuff (okay we were standing) nor real tension as to the outcome long before the end.
But on reflection there was a huge amount to admire in our performance as an organised tactically aware unit and in individual displays. This was a case of job done in thoroughly professional manner and it's no coincidence that we've disposed of two teams from L2 in cup competitions this season in efficient style, putting aside the blip at the Kassam against our hosts here. Last season we went out of the Carabao to L2 Cheltenham and to L2 Port Vale in the FA Cup. One terrace wit informed those near him that we'll walk L2 next season.
Early on I couldn't see how we were going to score. FGR did look marginally more likely to register with their tactic of bundling as many bodies as they could muster into our box to get onto the end of corners and the like. There was one almighty scramble when it seemed that one of our guys lay on the ball and smothered it into his body. This naturally meant penalty appeals from the home side which were ignored. A voice near me opined that they'd handled first anyway. There was so much going on that I have sympathy for referee Trevor Kettle. (And that's saying something).
So perhaps there was some exciting stuff going on after all. I'd probably been numbed to it because of the weather.
From that incident John Mousinho came away with the ball only to be taken out by Nathan McGinley. It was quite nasty and it's our job as fans to do our bit and try and make the card a red one, but truthfully probably no more than amber so yellow it was.
It was in the 35th minute that we took the lead and a well worked effort it was. Curtis Nelson played a long low ball to the feet of the alert Josh Ruffels who quickly controlled and fed Gavin Whyte. This was incisive football at pace and when pace is involved Whyte's your man. He ran parallel to the edge of the penalty area before setting up Cameron Brannagan. Keeper James Montgomery couldn't hold the first time shot and James Henry was on it like a flash to score.
From here on in I thought our class told and it was evident we were the superior outfit individually and collectively. In the car on the way home a mate said he thought we looked fitter than they did. I'm not sure that's the case. When one team is on top giving the other the run around that's how it can appear. We knocked the ball around well, retaining possession and found space intelligently if not spectacularly. Having gone a goal up all we needed to do was keep the ball. Although from some of the comments I heard I think we've got a fan or two who have not grasped this concept. Truth be told they probably had very little understanding of this game or football in general.
The second half had hardly begun when the lead was doubled. Jamie Mackie robbed a defender out wide and slipped the ball to Whyte. A couple of turns later he'd angled himself to fire another low accurate pass to Ruffels. The local lad's quick drag back and change of direction made it all look so easy. His perfect ball to the advancing Mackie was dispatched first time from the edge of the six yard box. More excellent play. Rovers had been taken apart.
With twelve minutes to go Marcus Browne ran from his own half leaving McGinley with two options. One was go towards him and try and make a tackle. In all likelihood if he'd done that he would probably have been skinned. The option chosen was to back off but this proved costly. Browne's speed, control, and two-footedness saw to it that we netted another quality goal. He had the look of a man from a higher level.
The stats on the BBC website show Forest Green as having 52% possession which may show me up as having been a little blinkered in my view as to how we controlled matters once we'd got our first. But it's what you do with the ball when you've got it that counts.
It doesn't happen that often, watching a game at almost pitch level, but it does give a different perspective. I really noted how our defenders, Nelson in particular, was reading situations and positioning himself to snuff out danger. In the last nine games in all competitions other than that mad six minutes at Glanford Park we've only let in one goal, a penalty at the Valley. I believe that this confirms what I said at the time that it was just a blip. Strange how some people wanted Karl Robinson to go after that but don't think the constant clean sheets mean he should stay. Surely he has to be given credit for turning things around?
We will let in more goals as the season progresses but the fours at Barnsley and Pompey don't look on the cards any more. Or the three at home to Accy come to that.
As I said in the last FV we're now able to change the back line, well the full-backs, and continue to prevent our opponents finding the back of the net.
No-one had a bad game. Simon Eastwood caught and punched as necessary. I was quite impressed with Luke Garbutt, particularly coming forward and was intrigued by the selection of Jamie Hanson in the other full-back berth. As a mate pointed out, it's to give them game time and see what they can do in different positions. All good by me as long as it doesn't mean throwing a game. Hanson did fine.
The Nelson / Rob Dickie partnership is now looking a very impressive pairing indeed. We know how good our former captain is but RD has come on a treat in the last couple of games. He has become a towering presence winning most aerial battles and is now also bringing the ball out from the back with confidence. Yes, confidence such an important thing in football.
What we see of Mous I could almost cut and paste game after game. He's so vital to what we're doing now.
Ruffels fitted back into midfield as if he'd not been away. His versatility is a tremendous asset and he showed he is quite skilful too.
Brannagan was busy as was Henry. Pity Whyte got injured. He was down a long time before he was able to get treatment and go off. Fingers crossed our injury curse has not struck again.
It was so good to have Mackie back. I love the way he plays. He didn't give the defenders a moment's peace and if they had a little lapse in concentration when in possession he'd soon nick the ball off them.
I've got to stop this. Although the yellow garden looks way rosier than it was I don't want to go OTT because the next defeat will be around some corner. We know from the first match that if Forest Green could have finished we'd be having a free Saturday on December 1st. In this second encounter they had 12 shots but none on target. None of these misses were quite as horrendous as witnessed ten days earlier but we have to bear in mind that at some stage better teams with better finishers will find the back of our net. I also noted that they were getting a bit of joy down their left flank in the second half.
But as always it has to be said that you can only beat the team in front of you. With that in mind I'm expecting a harder challenge at Valley Parade on Saturday after the Bantams came away from Peterborough with a point the previous week. They're also still in the FA Cup but their replay victory wasn't as emphatic as ours, only having got through on penalties against National League opposition.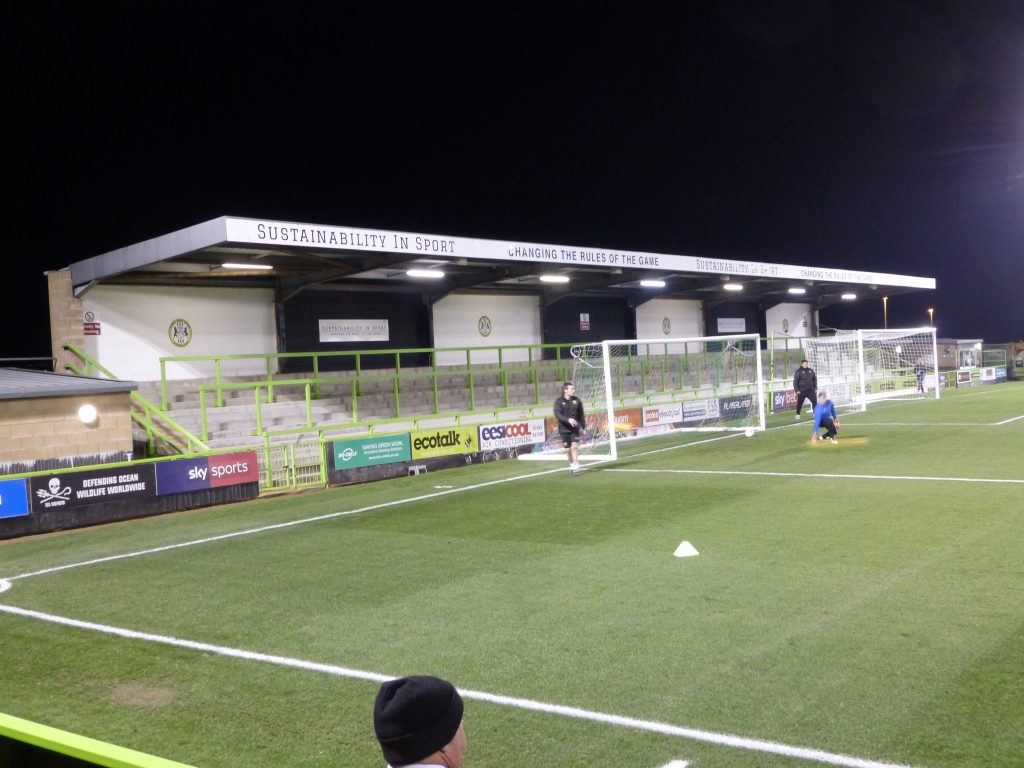 Would have been quite easy to have given us this covered end