Article by Paul Beasley Sunday, September 23rd, 2018
WALSALL
Pre-match thoughts
The Saddlers come to the Kassam in the last play-off slot on the same points as Barnsley and Sunderland. We all know where we are languishing. Yet in the previous four league games we've picked up the same number of points as our opponents, five. I'd also argue that we played reasonably well against Burton, Sunderland and Wycombe.
Yet still it's the merchants of doom with the loudest internet voices. Robinson has to go if we don't win the next x number of games. We're definitely going down. Worst strikers we've ever had. Brought in a load of rubbish. Why doesn't he give the youngsters a go? And on and on.
Stating the obvious we're not in the greatest of shape. But I'll wait until we've put on a display that has been somewhere between average and awful before having a real go.
For some anything other than making the play-offs will be seen as failure. At the moment that looks about as likely as us having the leading scorer in L1. There are those that cling to the "look what Plymouth did last season" straw. Not me. I'm not sure what my expectations and hopes really were before the season started, but I did write "it would not be an unmitigated disaster if we were to firmly establish ourselves at this level". By that I mean solid mid-table with an eye on the coveted sixth spot. I'd very much settle for that now.
I think we'll improve but by how much is questionable. I don't know if it will be sufficient to propel us away from the danger zone.
There are many things the fans have a right to be angry about and one of those has to be the recruitment of players with a history of injury. Even possibly with a current one hidden away in them that was either undetected or ignored when they had their medicals before signing permanently or on loan. We've lost Jamie Mackie for a month or longer. I was looking forward to seeing him play when he signed as he scored four in the Championship last year. But the clue is in his record of just 33 starts and 20 appearances as sub in three years at QPR. Goals scored six. Other than putting in that shift at Sunderland, his contribution so far has been negligible. Not match fit, now this. Another salary paid with little likely return. Déjà vu. It really does feel like last season. And it's not just injuries. For Dwight Tiendali read Tony McMahon. Another apparent wasted salary. Scandalous. Unless they both return re-invigorated and do the business. Chances of that happening?
We've now learned that Marcus Browne came with something other than skill and now he's out for three weeks. At least he's given us a bit of excitement so far but we're after hardy souls to see us through a long hard campaign. Why is it that some players never seem to get hurt and others have a season ticket for the treatment room?
I'll leave Ricky Holmes to one side as long as the injections are doing the trick.
But throw in that Fabio Lopes has a knee problem alongside Samir Carruthers, Simon Eastwood and Robbie Hall and we seem to be down to those barest of bones.
Is there something we're just poorer at than other clubs when it comes down to it? Quality of the medicals? Training methods?
Currently just 15 fit players according to the manager.
Right, now let's get positive. Shandon Baptiste has signed a deal until 2023. That should have been lauded in equal measures to all the negative crap that is being thrown out there but those fans who hold an almost empty glass will fail to see the reflection of our potential super star staring back at them. They'll just see L2 beckoning.
Directors
Someone asked me before the Wycombe game if I knew anything about our two new directors. My answer was an absolute no. In Darryl Eales's time at the club we had quite a few come and go from the board and to be honest my thoughts were, who are these people, what do they bring to my football club and what's in it for them? I just left it at that without bothering to do any research.
I suppose it was a bit daft Tiger making up 100% of the board membership but now he's one of three so won't just be talking to himself. He says Saki Mohammad Nuseibah and Horst Joachim Franz Geicke are very exciting appointments.
It's hard to find out anything about the former other than what is in David Pritchard's article in the Oxford Mail (and for some reason also included in many similar sized local papers across the country – well at least on their web sites). Nuseibah is 33 years old and studied at Oxford University. His background is in engineering and he has a post-graduate diploma in financial strategy. He was a trader at Deutshe Bank for six years and has been with an independent financial group since 2013.
Being at Oxford University would appear to fit with Tiger's idea of using the Oxford brand worldwide to grow the football club. How that will work I have no idea or whether there is an awareness of the town and gown divide and where the touristy / visitor element slots in. For every Kotaro there's tens of thousands of visitors who pass through probably unaware that Oxford United exist. And even if they did, would they care? I can't see people in far off lands walking around their city centres wearing the yellow of Oxford to rival the red of Old Trafford. We can but hope.
Geicke is a 63 year old born in Hamburg. Wikipedia describes him as an entrepreneur, investor and official in Asia. In 2015 a magazine ranked him the 270th richest German.
I think it's fair to say he's rather successful and I watch with great interest, and perhaps a little trepidation, as to the role he will play. I wonder what would happen if he went head to head with another property owner much closer to (our) home.
Below are some quotes lifted from Handelsblatt Global Nov 2014.
He is the founder of two investment companies that manage about $15 billion, and yet his career almost died before it started – because of cashews. In 1981, Horst Geicke brought back three tons of cashews from his first visit to a trade show in Guangzhou, China, instead of the mushrooms ordered by his father, which were supposed to be processed in his cannery in Hamburg.
When his father reacted with the words "too incompetent for the family business," Mr. Geicke said, "I went to Hong Kong and tried my luck there."  Today, based in Ho Chi Minh City, Vietnam's financial metropolis, the 58-year old investor is one of the most prominent German entrepreneurs in the Far East.
He is an investor and fund manager in nine different companies. He founded the Pacific Alliance Group (PAG) in 2000 with an investment of $200 million. Today, five partners manage its $12 billion in funds, and it is one of the largest investment companies in Asia.
After accompanying Helmut Kohl, the former German chancellor, on his first trip to Vietnam in 1995, the Asia expert recognized that the socialist country in South Asia stood on the edge of a boom, just like China. In 2003, with $5 million of his own money, he founded VinaCapital, a corporation that invested in the Vietnamese stock and real estate market. Three years later, the fund's assets had grown to over $2 billion.
His recipe for success is that he is never the first to venture into difficult markets. He prefers cherry-picking, usually after the first wave of bankruptcies hits a newly industrializing country.
He also hates yes-men: "Without opposition from reliable people on-site, I never would have gotten this far," Mr. Geicke said.
In private, the star investor has had plenty of strife. The divorce battle with his Chinese wife filled the Hong-Kong gossip columns for years. She was awarded more than 50 percent of his assets, which has so far prevented Mr. Geicke from being included in the "Forbes" rich list for the Chinese banking metropolis.
Fans Forum
If I'd bothered to go to the forum I might have learned more but as it was a grey day heralding a temperature plummet and the beginning of Autumn alongside Mrs FV having a cold we decided to just pop along for the match and rely on feedback for any believable / meaningful communication.
I knew the relationship with Firoz Kassam was pretty dire but had not realised it had quite plumbed the depths it has. What is going on at the moment is vindictive in the extreme and to what end?
It's true that the club does not have access to the stadium until 12 noon on match days but the away team kit man is allowed in to the visitors' dressing room an hour and a half earlier.
The club aren't allowed to stock Singha beer in the ground on a match day.  I do find this hard to believe but apparently Karl Robinson gave Joey Barton a bottle of that beer and it was taken off him. I'd like to have seen that incident. Was it handed over with grace? And who to? Who are the shits working for the stadium company in the ground on match days when in theory the breeze blocks are temporarily ours. Is it in the contract that they can be poking their noses in? Bastards.
This isn't from the fans forum but there is other evidence of the spitefulness of the Stadco.
The Maurice Evans lounge 2018/19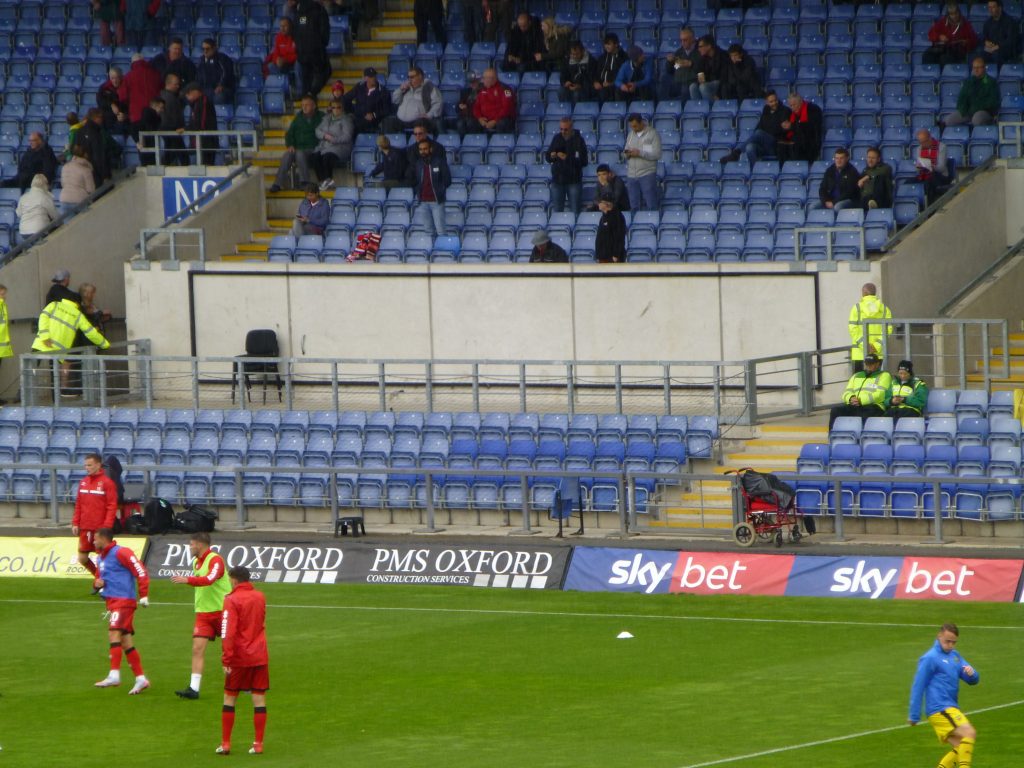 No advertising allowed here. Remember the cover up and before that the  MGroup sign. This stinks.
Options away from the Kassam are being considered but as people are told time and again but some are too stupid to grasp that's a) very expensive as we're tied in at £1m ish p.a. for another seven years. I hope Dave (I think that was his name) – a post-match caller to Radio Oxford – was listened to when he put so much of the blame on Ian Lenagan and Nick Merry.  He said he'd seen the signed agreement. I've covered this so many times but it's ruining our football club. Do these people dare show their faces in Oxfordshire? The same should be said about FK too.
I don't think I've felt more pessimistic about OUFC since the relegation to the Conference. But there's always this tantalising bit of hope dangling before us. Possibly add Erick Thohir to Nuseibah and Geicke and we might have something a bit special on the horizon despite the seemingly insurmountable stadium challenge. Or just the usual pie in the sky bullshit we've heard so often over the years.
Regarding Thohir, I've just picked the name up from the forums. Perhaps I've got the wrong guy. This sounds unreal. In October 2013 International Sports Capital HK Limited, led by Thohir (60% ownership), became the majority shareholder of Inter Milan acquiring a 70% stake. Part of that stake has now been sold to a self-made billionaire but Thohir remains as chairman even though he is the second largest shareholder.
However until anything is signed and sealed and there is some genuinely positive news on the ground situation I'll remain a pessimist.
On that score there's the matter of turning around our on field problems.
But
Another bleak day so second bottom we stay – Oxford United 1 Walsall 2
In my final analysis we probably deserved to lose by more than just the one goal. Yes it looked like we should have had a penalty right at the death but a point would just be papering over the cracks. And let's not forget that if we'd been awarded that spot kick we would still have had to convert it in order to achieve that. Given the standard of our finishing, how likely would that have been?
After this display I'd say it's now totally fair for the foul mouthed critics to have a pop. They've got evidence with which to work. Do it and move on.
I've not been and probably still aren't a Robinson out person but after his comments on Radio Oxford it is not hard to turn on the man. He should know football better than me but he spouted so much bullshit it seems to me he is living in a world of utter delusion.  I forced myself to listen to his interview again in case I'd made it up. I hadn't. If this is how he's going to interpret a match I'd say he's no manager.
"The performance was good". No it ****ing wasn't.
"We had more shots than the opposition". So bloody what. That so called shooting was woeful.
"Jamie Hanson made a silly error that cost us. The opposition don't seem to do that". (Or words to that effect.) That's because they're usually rather better than us.
"We dominated territorially and were on the front foot". Whether we dominated territorially or not is debatable but tactically Walsall won hands down. If that was our front feet they need replacing with twenty new outfield front feet. This was shocking. We might have had 55% possession but it is what you do with the ball when you've got the thing that counts. The Saddlers were quite happy to try and take us on the break.
"Everything we did was productive".  Now you're just being silly.
"We played forward quicker". Not in the game I watched we didn't. Or perhaps he added something I missed like, "than the walking football team does".
Then a repeat with "we dominated territorially all over the pitch". He's now going off the scale.
"For whatever reason it doesn't seem to go in". I'll give you a reason. We're poor finishers. Take a look at Sam Smith and Jon Obika and the role they play and service they get (or don't).
"For a team in the top six we're better than them". No, no, and thrice no.
For the first quarter of the game I thought it was fairly even with our main threats being Gavin Whyte and Holmes. The latter showed his ability to go past players and get in a position where they could not tackle him without conceding a foul. It all looked quite promising but at the final whistle I was berating RH and would have had him down as one of the last players to consider for MOTM. Not the sponsors though.
In that early period we hit the frame of the goal, had a pinball episode in their six yard box where we thought the ball just had to cross the line and hooked a well worked free-kick just wide.
In the final count though Walsall hit the woodwork more than we did and once they went ahead it began to look ever more evident that there would only be one winner, although soon after we almost scored when a Curtin Nelson header brought a fine save from Liam Roberts.
Truthfully we lacked that deep inbuilt belief and enough winner / captain types to turn things around.
One of the many criticisms I have on this showing was that we lost most of the physical battles. Compared to the men in red we looked weak.
For their first goal Baptiste was out jumped and although we had two men close it was a red shirt able to send the ball on its way for Morgan Ferrier. Where we were in the SSU it didn't look offside. Replays show Cameron Norman sleeping and playing the attack on side. He was even slower in raising his hand to make a claim than Nelson.
Walsall already had looked dangerous, they didn't need gifts. I thought in such circumstances keepers were supposed to come out and face the attacker. Jon Mitchell just stood on the edge of the six yard box and ended up getting nutmegged. He was probably fearful of giving away a foul and getting dismissed after that previous experience. Playing here cannot be doing his confidence much good.
Overall we were weaker defensively than Walsall. Norman was up against a very difficult opponent but it is beginning to show that he is being asked to step up too many levels in too short a space of time. John Mousinho did his usual frustrating thing of getting caught on the ball too close to his own goal for comfort and I saw no captaincy from him. Luke Garbutt I thought did okay and the pick of the bunch was Nelson. I can see why our ex-captain doesn't want to sign up for much more of the crap around him. As a group we never looked as solid as the Saddlers when they set up their defensive unit.
After being out for three games Jamie Hanson needed a bit of time to find his feet, front or back, but I thought he was doing okay even if some of his passes were going astray. At least he was looking for it but it was his cock up that led to us going two down. A square pass was nicked and with their pace and our lack of marking we were undone. Zeli Ismail was the second Walsall player who showed us how to find the back of the net.
There was another bit of Robinson surrounding this. He said the players were told "not to force it". "Their eagerness let them down". Firstly, I don't get how not forcing it tallies with supposedly being on the front foot. Secondly, that sort of pass can never be called forcing it. Thirdly, the way the game was going shouldn't we have been trying to force it?
For me this whilst perhaps not being quite the worst performance of the season it was the most worrying one. Worrying because the players gave the impression that they didn't want to be out there. Worrying because we didn't play as a team. Worrying because too many players were clearly playing for themselves.
We never properly clicked. Instead of moving the ball on quickly to the player in space some distance away we took one touch, two touches or even three. By then even if the ball did end up where it should have done a few seconds earlier, our opponents were set. As often as not though, we failed to even spot that option and played the pass back into traffic.
Holmes's greed really pissed me off. He's a good footballer, but come on. To compound my anger about his display was the way he gave away a few free kicks as we were trying to mount some kind of assault to gain a home point. (A home point ffs. Three should be the fecking norn).
I wouldn't say we are totally screwed but the chances of us being a league two side next season is in my mind greatly increased after this.
We are nowhere near solving the striker conundrum. There were callers to Radio Oxford slating Jon Obika, but ineffective that he was in the half hour or so that he had, I'd say he was better than Sam Smith. Looks like we're totally fecked in that department. What drugs have our recruitment department been taking over the last couple of years when they're faced with the task of getting a man to play ahead of everyone else?
Jeez this is depressing in the extreme. At least when we were in the game early on we did a bit of shirt pulling and standing in front of free-kicks to stop a quick delivery as the opposition do every week, but even that fell away as we became second best. I don't condone it but if it's needed then bloody do it. Do whatever needs doing to get points on the board. Stop pissing about.
Yes we got a goal back but that means sweet FA when it does nothing to turn the result around. That result being another home defeat at the Kassam (spit) Stadium.
I should be looking forward to the visit of Man City. A one off. Nothing to lose and all that. But given the state we're in and what OUFC are doing to my head at the moment I'd rather stay in bed for 24 hours this coming Tuesday with the blankets pulled firmly over my head.